Slacklining Above Dettifoss waterfall is Just Insane!
Stuck in Iceland, 11 months ago
5 min

read
362
Would you ever dream of going slacklining above Dettifoss waterfall? Most people are quite happy experiencing the beautiful waterfalls of Iceland on the ground. If you have the means you can go on a helicopter tours to experience Iceland's natural wonders and see the country from the air. But there are daredevils that are not happy with such mundane ways of traveling in Iceland. Enter the French performance group Houle Douce. They have been on a journey from France, to Greenland and then to Iceland. 
Walking across a delicate line above raging glacial river
Their performance reached a peak with them slacklining above the 100 meter high Jökulsárgljúfur canyon by the enormous Dettifoss waterfall. Their slackline was 270 meters long. Underneath their hundred meter high rope, the frigid glacial river Jökulsá á fjöllum raged below. The river is fed from the Vatnajökull glacier and in it is the most powerful waterfall in Europe.
I managed to get a hold of Daniel Laruelle who with his friends Théo Sanson and Nicolas Pouchard slacklined across the canyon by Dettifoss.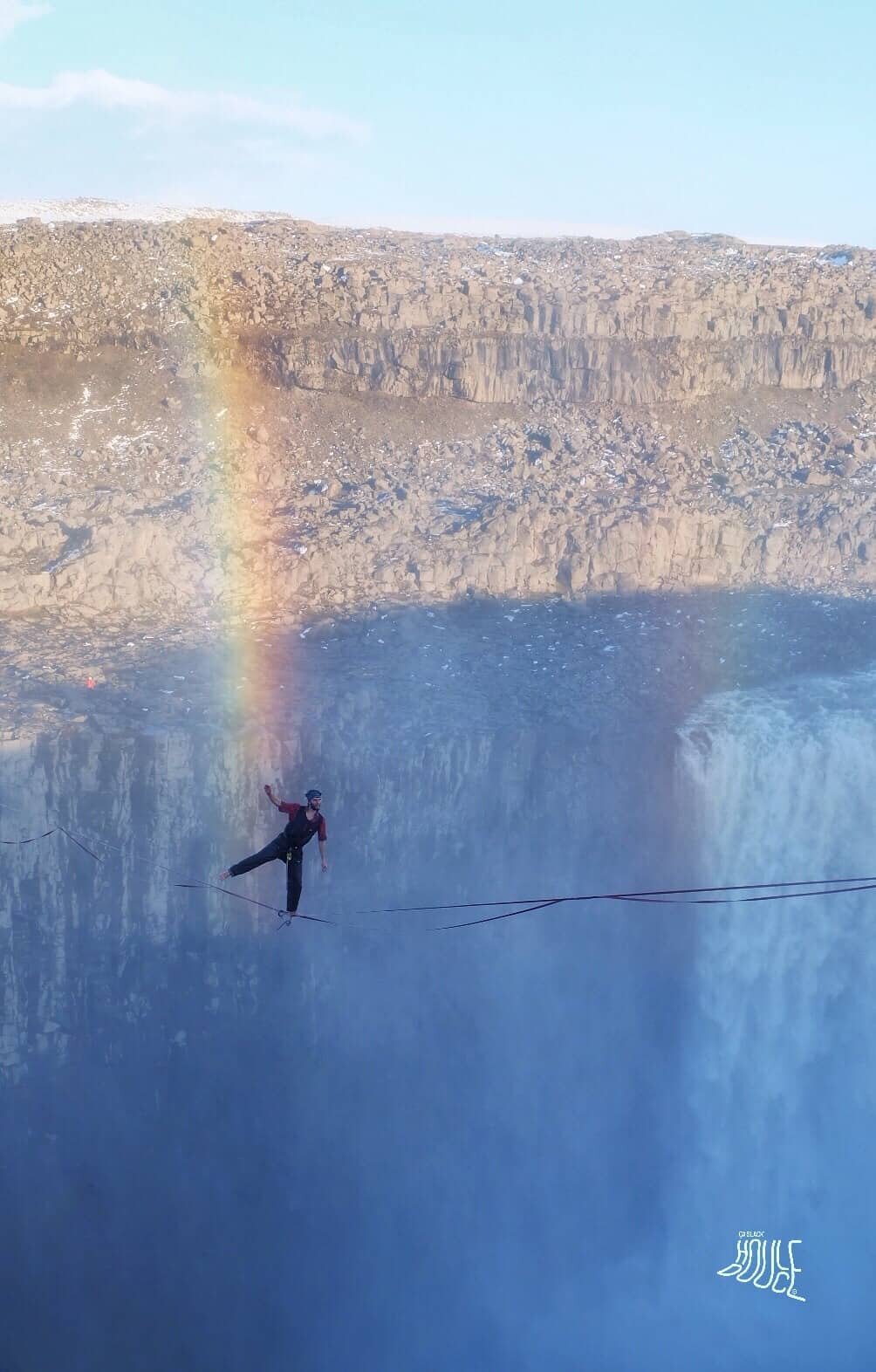 Thank you Daniel for agreeing for an interview. Can you tell me about your group, your journey and other notable places where you have slacklined?
Hi there, yeah of course no problem! I've been part of the slackline team Houle Douce for two years now. The group based in Marseille, France are a multi-disciplined co-operative. We are made up of circus artists, architects, musicians and we all share a passion of highlining!
We were invited to be part of The Elemen'terre Project which is a documentary initiative in which we sail around the world on the boat the Pen Duick VI. In June we sailed across the Atlantic Ocean from France to Greenland. After one month of performing, highlining, climbing with artists from all over the world, we sailed to Iceland! This beautiful country has been full of surprises for us! We arrived in Reykjavik where we made excursions towards Silfra, Hveragerði, and on the Golden Circle. Next we sailed on the west coast of Iceland to Ísafjörður. We performed a musical slackline show at the Edinborgarhús! Next after some whale watching excursions with the boat we sailed to Húsavík! In a few days we will begin the return trip towards France with a layover in northern Scotland (if the weather will allow us)!
This year we've performed in the Ivory Coast, China, Spain, France and next year's line-up is promising to be even more packed with traveling and highlining!  
Why did you come to Iceland and choose the canyon by Dettifoss waterfall?
After such great weather in Greenland, we realised that we were missing the cold a little. So with a name like Iceland, we figured we'd be destined for the COLD!
Dettifoss was a childhood dream from Théo since some years now. He arranged the permissions to rig the line months before and we were looking forward to this project since the begging of the journey! The raw power if the water is what attracted us to the project. It creates a strong contrast with the fragility and concentration needed when walking on a highline!
Slacklining about the canyon by Dettifoss is not for the faint of heart. And to top it all off you were playing trumpets and saxophones while slacklining What were you playing and why is that part of your performance?
Houle Douce are the only group in the world that specialise in musical highline performances. Playing guitars, accordions, saxophones and trumpets together on highlines has become part of a regular performance for us in Houle Douce. Since some years now I've performed music while walking on highlines and so joining the group was just the perfect progression to my journey as a performer!
Sport and art are disciplines that are found together. For us, bringing sound into the sky via our slackline rigs is really a way to combine these worlds. With our lines, we can really rig a stage anywhere we like. Between buildings, cliffs, hot air balloons… it's proof to me that not even the sky is the limit!
What were the main challenges you faced while slacklining here in Iceland?
Here in Iceland, we were shocked by the weather. In a day, you can often experience all four seasons! While rigging in Dettifoss, we were faced with snow, rain, sun and rainbows everywhere!
Along with the snow came the cold. Camping in the snow, walking barefoot on the lines, the wind picking up while we're on the lines. These are all challenges that we've faced while slacklining in Iceland!
What safety measures did you take when slacklining above Dettifoss waterfall?
Contrary to popular belief, highlining is actually an extremely safe sport when performed correctly. At all times we have a backup line rigged under the main line on which we walk. The backup is connected to independent points from the main line and when we are out on the line, we are always connected to both lines via double aluminium leash rings and a threaded leash connected to our climbing harnesses. We always have someone at the anchor in case of a problem with the line and we ensure to check both anchors each morning before stepping on the line.
Did you manage to explore other places than Dettifoss, if so what were they?
Yes we certainly did! Westfjords was the most incredible place we visited. Sailing around the coast from anchorage to towns was simply mind blowing. We also spend time in Reykjavik and close to the Golden Circle. We are currently in Húsavík preparing our departure towards France.
Any places or activity here in Iceland you want to recommend?
Hitchhiking! Step out of the towns with a tent and thumb a ride into the nature. The landscape here is mind blowing. Rolling hills and sulphur discharges. Check out each night for northern lights and check out the Westfjords area!
Text by Daniel Laruelle
Important!
Please note that Daniel´s group had permission for their slacklining which was granted by the local rangers. Needless to say, do not try anything like this unless you know what you are doing and have all necessary permits.
[amazon_link asins='B01LZWDIPM,B007S3MHMG,B01M3WNJFN,B00SLLGE14,B008GT1DSA,B019ZZSEQW,B06XVZJJ1Y,B01BEB4TY6,B01N26KCHW' template='ProductCarousel' store='stuckinicelan-20′ marketplace='US' link_id='12bba160-c4f8-11e8-a4b1-8badde3124ac']
Related posts