Most tourist come to Reykjavik before they head out to the rest of the country. A great way to get perspective of the scale of the vast interior and glaciers here in Iceland is to visit City Hall which displays a vast 3D map of Iceland.  You will find the map downstairs in the basement.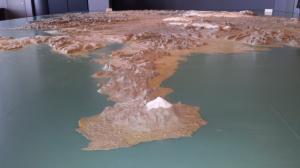 How to get there and opening hours
The City Hall is situated in the center of the old town, right next to the pond. Opening hours at the  are 8.00-19.00 on weekdays and from 12:00 – 18:00 on weeekends. There is no entrance fee.
Written by Jón Heiðar Þorsteinsson
Ready for a Road Trip in Iceland?
Support this blog by getting a great deal on renting a car from Budget.
Related posts