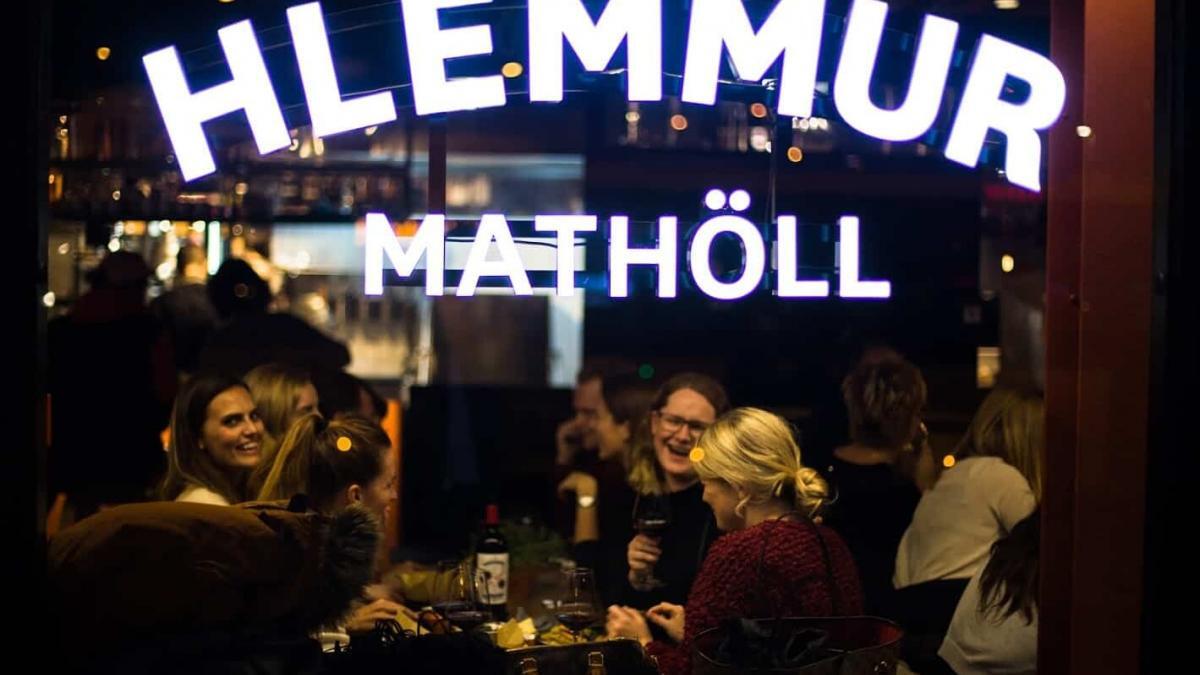 Hlemmur food hall – one of our favorite places in Reykjavik
admin, 1 month ago
2 min

read
133
One of our favorite things to do in city travels is visiting food halls and markets. Some of our favorites are Foodhallen in Amsterdam and the late Papiröen in Copenhagen (God rest its soul). In 2017 the city renovated the old bus central Hlemmur and turned it into a food hall. We were over the moon. Hlemmur used to be home to a filthy candy shop and ticket sales desk that was never open. Now Hlemmur food hall (Hlemmur Mathöll) was opened, much to our delight.
Hlemmur Mathöll is our firm favorite
Since Hlemmur opened in 2017, three more food halls have opened in Reykjavík. There Grandi mathöll and Höfði mathöll. Finally, there is Kringlan mathöll within the shopping mall. These food halls are all fine, especially the one in Grandi, but Hlemmur remains our firm favorite.
Globalized gourmet with Icelandic ingredients
Among the restaurants featured in this tiny food hall (well, we ARE in Iceland, what did you expect?) are the restaurant
Kröst
 It makes its mark by pairing gourmet Rib-eye burgers with champagne.
It also serves one of the best duck confit dishes I have ever had,
Flatey pizza
, a very good Napolitan style pizza parlour
.
Fuego Taqueria
serves LA-style tacos. Báhn mi has lovely Vietnamese sandwiches.
Jómfrúin
 offers nordic style open sandwiches.
Rabbar Barinn
sells fresh vegetables and amazing lobster soup and sandwiches.
The ever-popular
Brauð og co
 has lovely bread and pastry,
Te og kaffi
supplies its fabulous espressos and cappuccinos and Jæja is a new place for salads
.
Our favorite restaurant at Hlemmur Mathöll is …
Skál! is our favorite restaurant in Hlemmur mathöll. The Michelin mentioned restaurant serves innovative small dishes made from local ingredients, from the creative mind of my personal favorite Icelandic chef Gísli Matthías Auðunsson. Try the smoked carrots or the lovely skirt steak. Go for the ever-popular Arctic char for a feast for the eyes and tastebuds. They also have a lovely selection of beers on tap, nature-wines and each week they present a new cocktail on tap as well, that is created from local spirits and ingredients.
Lovely spot for lunch or fun-filled dinner
The atmosphere at Hlemmur mathöll is always bustling, fun and carefree. A lovely spot for lunchtime with your spouse or a fun-filled evening with friends. Stuck in Iceland highly recommends!
How to find Hlemmur Food hall (Hlemmur Mathöll)
Related posts