New Year's Eve in Reykjavik – Celebrate in Iceland!
admin, 3 years ago
12 min

read
77
After reading this, and many other stories like it about the craziness that is New Year's eve in Reykjavik we decided to celebrate the holiday with a four day trip, using Reykjavik as our base.
The New Year´s Eve in Reykjavik experience starts with Icelandair
Non-stop Icelandair service between Denver, Colorado, USA and Iceland's capital makes getting there a breeze (roughly a 7 and a half hour flight, so not bad at all). The minute you step onto an Icelandair transatlantic flight, you feel like you're already in Iceland. Smartly dressed flight attendants hand you an ice cold bottle of Icelandic Glacier as you board.
[amazon_link asins='1517548314,0241248655,1250111420,1786575485,1787014460,B0736FX14N,1910023604,1631215140,1743219954′ template='ProductCarousel' store='stuckinicelan-20′ marketplace='US' link_id='9ac310e0-140f-11e8-84bb-bbb256030355′]
Enjoy Icelandic music and simulated northern lights on board
Music from Icelandic bands play as you settle into your seat, where a pillow and blanket are waiting for you. There's a pretty extensive in-seat entertainment system with current movies and TV shows too, including a few from Iceland. On some flights with new LED lighting in the cabin, a simulated northern lights display on the ceiling relaxes you as the plane cruises over Canada and Greenland.
Our flight from the Mile High City landed around 6:30 a.m. Getting into the city isn't hard at all since there are plenty of buses that take you into Reykjavik, all scheduled to your flight's arrival. But, make sure you take some time to explore the recently redesigned Keflavik airport. It has a number of great food and shopping options…and don't worry, your bags will be waiting for you in baggage claim when you're done.
Get your booze at the airport for New Year's Eve in Reykjavik
Since we were celebrating New Year's, we needed some libations. You will too. I can't stress this enough: Buy what you need in the Duty Free Shop at the airport. It's 50 percent cheaper and much easier than buying liquor in town. Some things in Iceland are quite expensive, especially liquor. It's also heavily regulated by the Icelandic government. If you choose not to buy at the airport, good luck finding an open government controlled liquor store.
There are limits to how much alcohol you can buy at Duty Free. So choose wisely. We picked up a nice bottle of champagne, a few bottles of wine, some Brennivin and a bottle Icelandic gin.
Sorted.
Early Arrival in Reykjavik
Landing as early as we did in Iceland can pose some problems, especially if you're staying at a hotel or guest house. Check-in time is usually in the afternoon sometime — But no worries, you can book tickets to the Blue Lagoon. It's a nice relaxing way to unwind from your flight (and has plenty of space for your bags.) We however, failed to plan ahead. Lesson learned, if you want to go this route, book tickets before you land in the country. With tourists flocking to Iceland for the holiday, the Blue Lagoon may fill up quickly.
Better luck next time, I guess.
The free for all experience
Instead, we bought a ticket on the FlyBus provided by Reykjavik Excursions into the city. Be prepared, it's a bit of a free-for-all once you have your ticket. Travel tip: load your luggage on the right side of the bus before getting in line to board. Also, have your ticket handy — they'll check it. If you see one bus filling up, wait for the next. It's not more than a 20 minute wait.
Since our check-in was later that afternoon, we needed to stash our luggage. I recommend getting off at the BSÍ Bus Terminal and storing your luggage there. Ample storage lockers are located in the main terminal. For a few bucks you can stuff two or three lockers with your carry-on luggage as well as large suitcases. While they look small, they can actually fit quite a large piece of luggage. A self-made code is all you need to get your bags when you return.
From there it's a moderate walk into the city, or, use a taxi. There are plenty waiting outside the terminal.
Sweet treats
But where to go?
Not a lot is open that early in Reykjavik. Museums typically open around 10 a.m. We decided to check out Bakarí Sandholt. It was very warm and inviting with freshly made pastries and quiches. We found a little table in the corner, ordered a pot of coffee and a quiche and began to plan our day.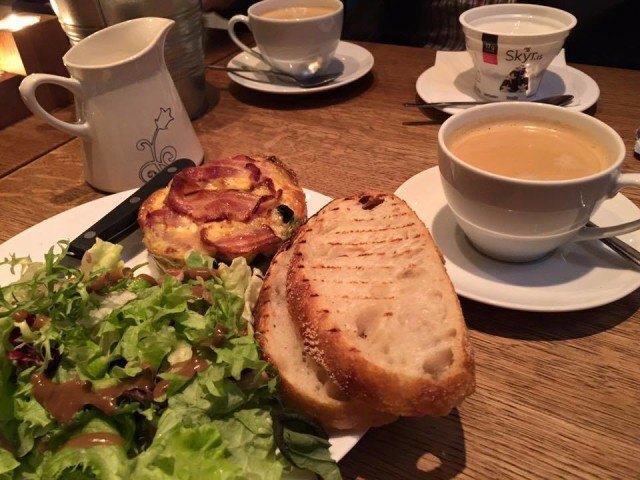 Prepare for darkness
It takes a bit of getting used to, but there's only about three and a half hours of sunlight a day during the winter in Iceland. So be prepared for midnight conditions at 10:30 a.m… but the city is beautiful in the dark, especially during the holidays. Nearly every home has some sort of illuminated display and the cobblestone streets glisten with melting snow under the soft glow.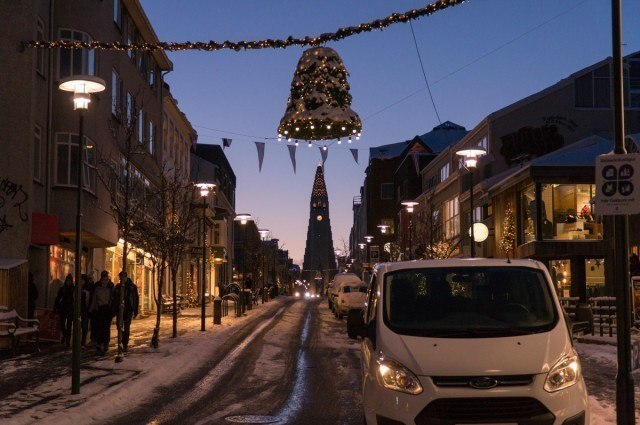 Getting Out Of The City
While Reykjavik has plenty to offer for a medium sized European city — including amazing restaurants, museums, and shopping — the real beauty of Iceland lies outside the city limits. We chose two day-long excursions, one planned, the other not. Both were booked through Reykjavik Excursions.
Enjoyable trip around the South Coast of Iceland
Due to a very severe winter storm pounding the island's interior, our original planned trip was postponed for a day (and thankfully so). On a whim, we decided to tour the southern part of Iceland; a full day excursion taking visitors to multiple waterfalls, a glacier walk, and trip to the seashore. The weather was quite poor, but since we were already properly prepared with snow pants/waterproof slickers and jackets, hats, and gloves we were able to stay (relatively) warm as we toured the southern coast.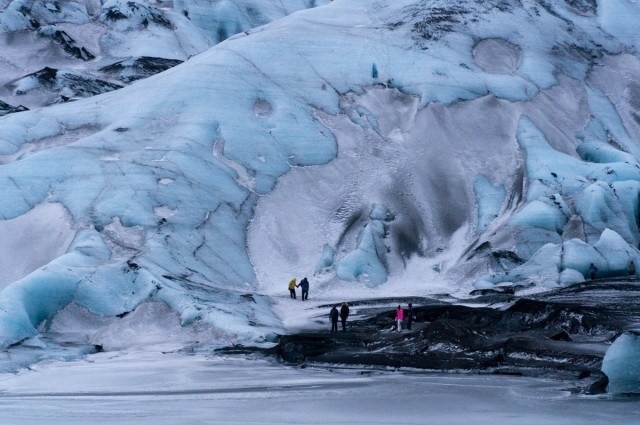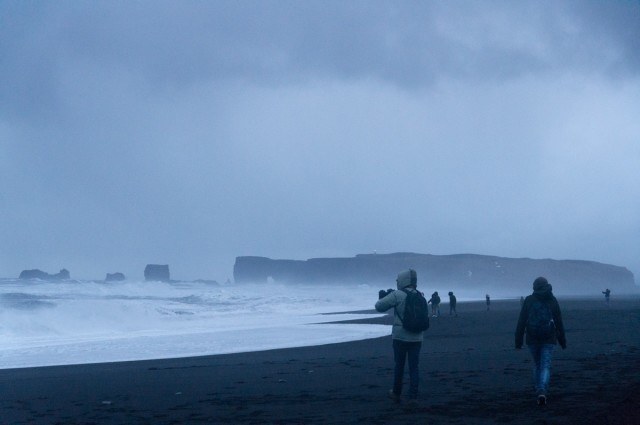 While we enjoyed the tour, and had an amazing tour guide (who even sang icelandic lullabies on our return trip to Reykjavik), you may find renting a car or small SUV easier and more enjoyable in the long run. There will be much less running back and forth to a bus, waiting for stragglers, or a rushed lunch. Simply, you can go at your own pace. On the other hand, for a little less on your own shoulders planning, the tour was a fine option touching on all of the key sights along the southern coast of Iceland.
This was our original plan, and well worth the wait.
With the weather improving in Iceland's interior, our tour into the glacier was back on. Into the Glacier is an attraction that opened in May of 2015 near the top of Langjökull, the second largest glacier in Iceland. The crown jewel of the trip is the chance to explore a man-made "ice tunnel."
We left the BSÍ Bus Terminal at 9 a.m. in pitch darkness as snow gently fell. On our way to the ice tunnel we stopped at Hraunfossar, a series of waterfalls gushing with vivid blue water fresh from Hallmundarhraun lava field, joining the river Hvita just below Barnafoss.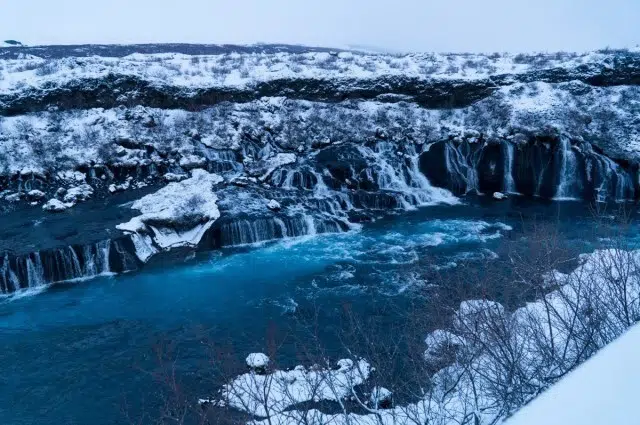 Enjoying the peaceful and serene location
With the morning sun rising, it was quite a peaceful, serene location. Make sure to take a walk across the bridges to see the wider landscape. Even in cloudy, snowy conditions it's simply stunning.
The snow began to pick up in intensity as our bus dropped us off for lunch at Hótel Húsafell. A beautiful resort, the lunch was simply amazing. We were treated to an amazing spread with the most delightful Kjötsúpa — that's traditional Icelandic lamb soup.
Entering military grade transports
Following lunch we boarded massive, imposing specially modified glacier vehicles. These things looked like military grade transports, totally up to the task of taking our small group onto the glacier in a quickly intensifying snow squall.
Experiencing a true Icelandic snow storm
Typically the trip from the hotel to the entrance of the ice cave takes about 45 minutes. Our trip? Two hours, in intense white-out conditions. Snow swirled outside our transport as it slowly made its way up the glacier, stopping every few minutes to reverse, deflate its tires and slam forward creating a path through the deep snow. That's the amazing part, by deflating their tires, these hulking crawlers can float on the snow, clawing their way up the landscape. Inside, the group was nervously quiet, but our tour guides were calming and assured us that things were going OK.
Three transports made the trip up the glacier in a caravan. When we reached the halfway point, the base camp, we were able to get out, stretch our legs and experience a true icelandic snow storm.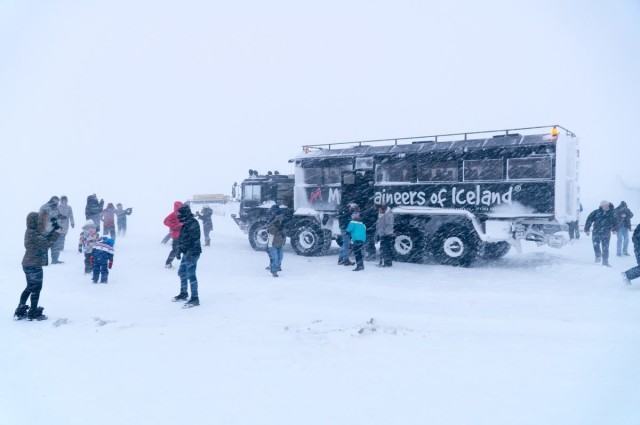 Digging into the glacier tunnel
Snow and wind whipped our faces as we braved the elements,completely exposed besides the massive snow trucks. They were our best friends on this trip. When we made it to the entrance of the ice cave, it was buried and the tour team had to dig it out before we could descend into the glacier. You'll later encounter a helpful placard that cheerfully points out, "there would be no sign or hint" of the tunnel if snow wasn't constantly swept away.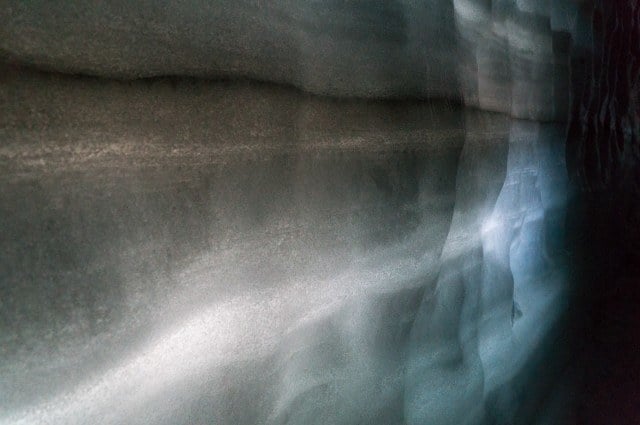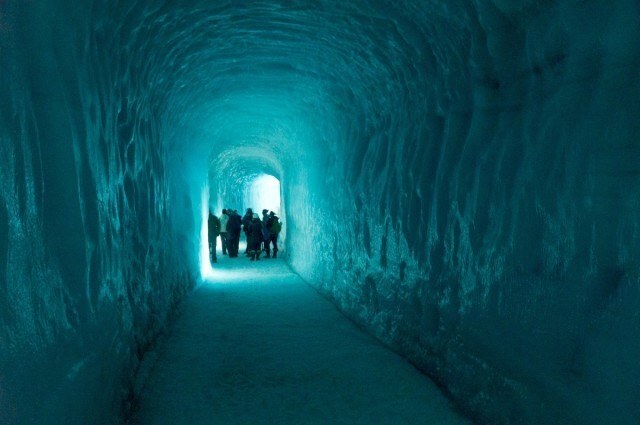 Entering the mild climate of the ice tunnel
There couldn't be a bigger difference between the two environments. Outside on the glacier, the wind howled, snow leapt from drifts and fading daylight was at a premium. Inside the cave, the air was still, the temperature cold – but tolerable – and you're greeted by soft electric lights illuminating the incredible layers of the Langjökull glacier.
The tunnel itself is 500 meters long and took 14 months to excavate. It circles around an amazing crevasse that cuts through the interior of the glacier. The views offered by that crevasse are extraordinary, and truly unique. Several chambers dot the tunnel, including a chapel. No marriages had been held there yet, but our guide assured us that one was planned and upcoming.
Incredible experience
Following the hour long tour, we left the tranquil and calm environs of the ice cave and ventured once again into the snow squall outside. The short walk from the cave entrance to the snow trucks was worth it…our guides had a snack prepared for us of chocolate milk, orange juice and a nice warm pastry. Just enough to satisfy for the quick ride down to the hotel.
It was an incredible experience… a must see. No matter the weather.
New Year's Eve in Reykjavik
There are three must do things when celebrating New Year's eve in Reykjavik:
 Attend a neighborhood bonfire
Watch Áramótaskaupið on television
Watch the fireworks at the Hallgrímskirkja
Icelanders love their fireworks. In fact, the sale of fireworks over the holiday season is a huge revenue booster for ICE-SAR, the Icelandic Association for Search and Rescue. Nearly 500 tons of fireworks are exploded during New Year's, with some eager Icelanders starting to light them off a day or so in advance.
On New Year's Eve day there were numerous booms as ordnance of all sizes shot up into the sky. The pace and intensity of the explosions grew as darkness fell. We were told that many icelanders have a turkey dinner before heading out to the neighborhood bonfires which take place on the outskirts of town.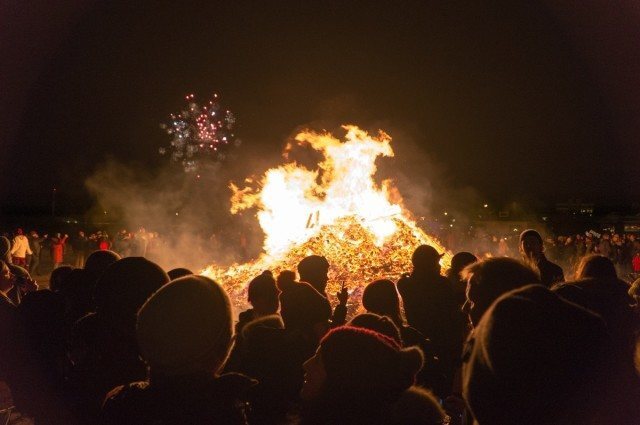 We walked from our AirBnB in the center of town to a New Year's Eve bonfire in the Ægissíða neighborhood of Reykjavík. As we walked, we could see neighbors gathered outside their homes lighting everything from sparklers to large rockets which exploded with color and huge concussive booms that shook the neighborhood.
Experiencing the Áramótaskaupið at New Year's Eve in Reykjavik
Hundreds had gathered at the Ægissíða bonfire, many of them tourists. That's what you find on New Year's, many, many tourists. Especially as the clock approaches 10:30 p.m. and the showing of Áramótaskaupið nears. We were assured that once the show started, the streets would clear and the city would fall silent. Sure enough, once the clocked rolled over to 10:30 p.m. the fireworks stopped, the city became quiet, and the only people left roaming the streets were tourists.
95% watch this TV show on New Year´s eve in Iceland
There are stats that say over 95 percent of Icelanders watch Áramótaskaupið on New Year's. The show takes what, to an American audience, looks like a Saturday Night Live-style look back at the big stories of the year in Iceland. Fortunately, our Icelandic friends gave us the scoop on what we'd possibly see on the show. Even though the show is entirely in Icelandic, we could tell many of their predictions came true.
Following Áramótaskaupið, it was off to Hallgrímskirkja for fireworks, revelry and the dawn of a new year.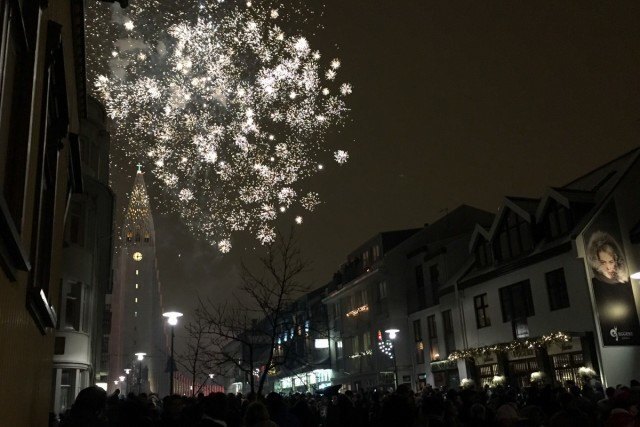 In fact, the fusillade of fireworks was so intense in new year's eve in Reykjavik. It was so bright and amazing, that the crowd barely paused to countdown to midnight. The thunderous cheers eventually bled back into the staccato thunderclaps of the rockets which lasted all night. We, just getting started, headed off to an amazing Icelandic house party.
What a way to start off a new year.
Iceland Travel Tips for a New Year's Trip To Reykjavik
Arriving Early into Reykjavik?
Plan ahead to fill the time before check-in for your accommodations.
Finding ANYTHING open during New Year's is hard — very hard. Be prepared in advance so that you have adequate food supplies for both New Year's Eve and day.
It's winter, so have adequate warm clothing and something more than sneakers when it comes to footwear. We shouldn't have to say this, but you'd be surprised.
Words and videos by Nate Heffel, photos by Jim Hill.
Related posts