Kirkjufell Mountain Pictured in all Seasons From Dusk to Dawn
Stuck in Iceland, 6 years ago
4 min

read
363
Everybody who wants to visit Iceland without thousands of tourists during the summer month and who wants to experience more about the living and nature on this beautiful island should spend at least a few days on the Snæfellsnes peninsula.
Just a 2.5 hour's drive from Reykjavik you can experience all of Iceland in miniature. Wonderful lava fields, stunning coastlines, magical glaciers and fantastic waterfalls. Almost every year I spent a part of my holidays on this beautiful peninsula and it still attracts me. A special place on the north side of the peninsula has particularly impressed me. Very close to Grundarfjörður you can find an extraordinary shaped mountain looming into the sea, called Kirkjufell.
It is easy to understand why it is called Kirkjufell (church mountain) when you view it first. From the side it is remindfull of a nave, from the front side you feel like looking at a church tower.
Directly across the street you will find another wondrous spectacle of nature. A small river flows through an old bridge and plungs as a beautiful waterfall, which runs over several stages, down into a small lake and from there through a little passage under the street right into the sea.
Many years ago when I visited this place for the first time in summer together with my wife, we arrived there at late evening when the sun was low on the horizon. After I had taken some pictures we had almost decided to leave, when we discovered that the little lake at the base of the falls was completely calm and showed an almost perfect mirror image of the Kirkjufell . I have never seen this lake so still and waveless as it was that night.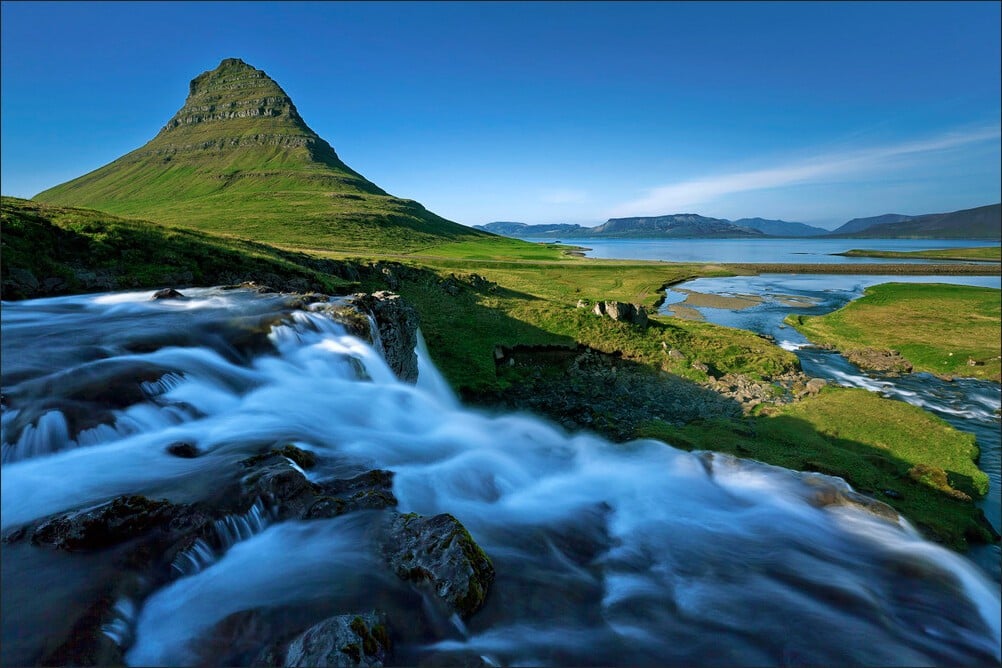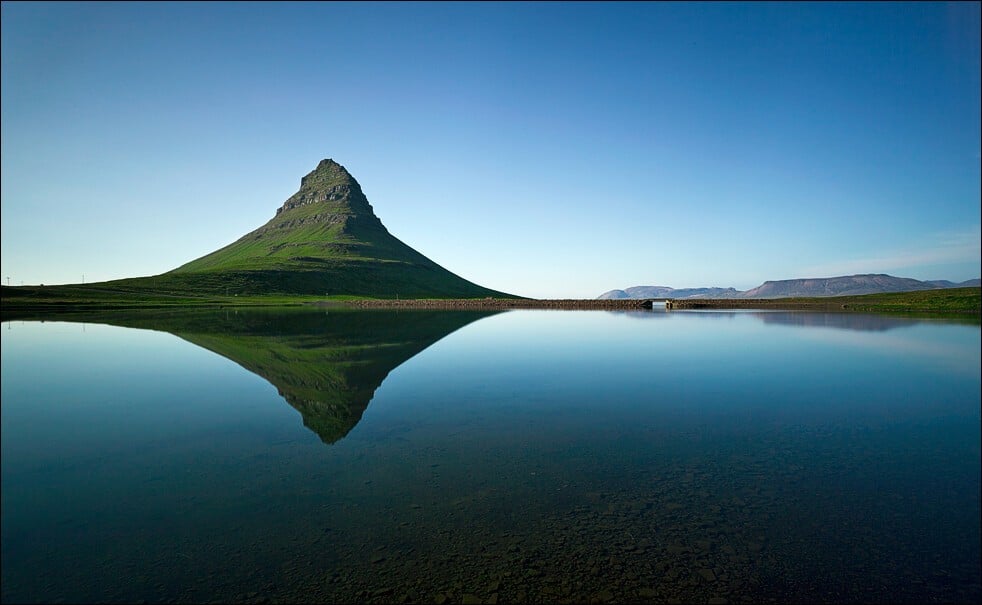 When we returned to Iceland some month later in autumn it was clear that we wanted to return to this magic mountain, this time at sunrise. In deepest darkness we started from Reykjavik to Grundarfjörður to be there right in time. Even though the sun barely came out from behind the clouds this morning, it was a wonderful experience to see the mountain and the surrounding landscape in the most gorgeous autumn colors.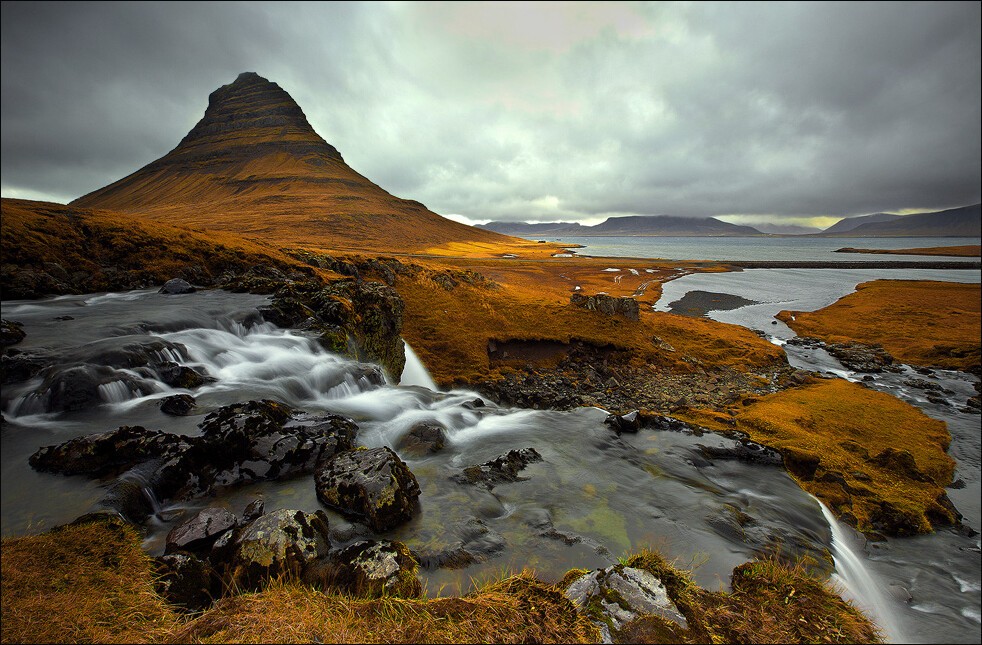 The year after that visit we took my parents with us on our trip to Iceland to show them the beauty of this island. Of course we had planned another trip to Kirkjufell Mountain. It was great to see this fantastic mountain again, this time in the lush green of summer, lit by the bright shining sun.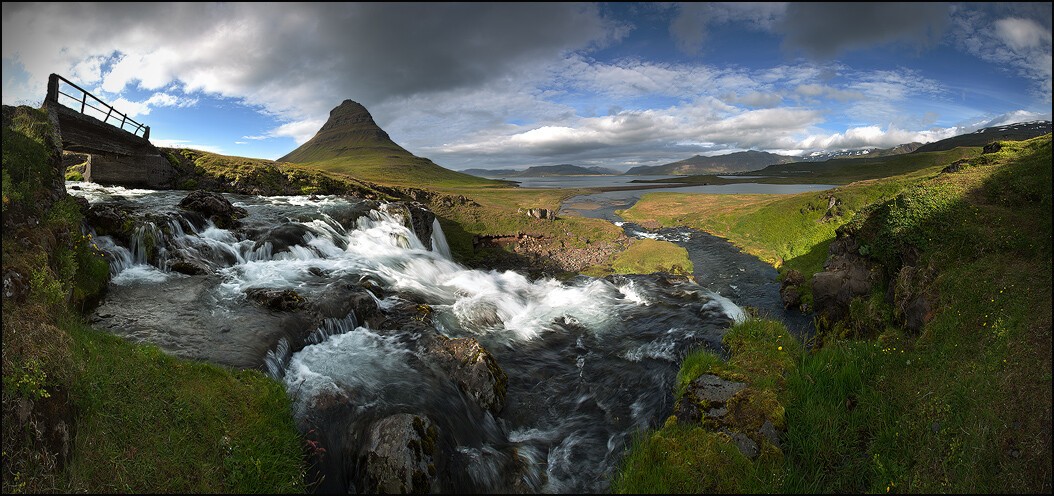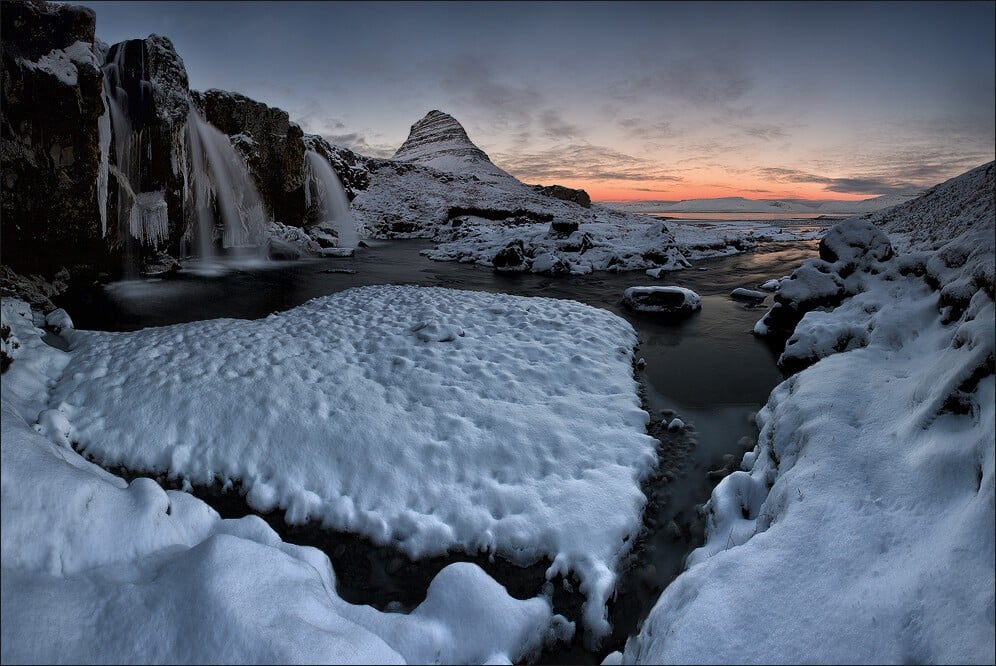 The most memorable experience which I had at this wonderful place was in November 2012. When I arrived in the late afternoon the sun was already beginning to sink below the horizon and the sky was colored into a beautiful soft red. After taking some shots in the ice cold wind which blew that evening, it was great to warm up inside my car, waiting for the night to arrive. The aurora forecast promised the best conditions. After a few cups of hot coffee the darkness slowly descended on the landscape. Around half an hour later a real wonder of nature started. Beginning with a small green stripe on the horizon right above the Kirkjufell a night full of northern lights started. With increasing darkness the green glow became more and more intense until it stretched like a strong bright band across the sky. The further the night progressed, the more intense became the glow since the entire sky was colored into green light.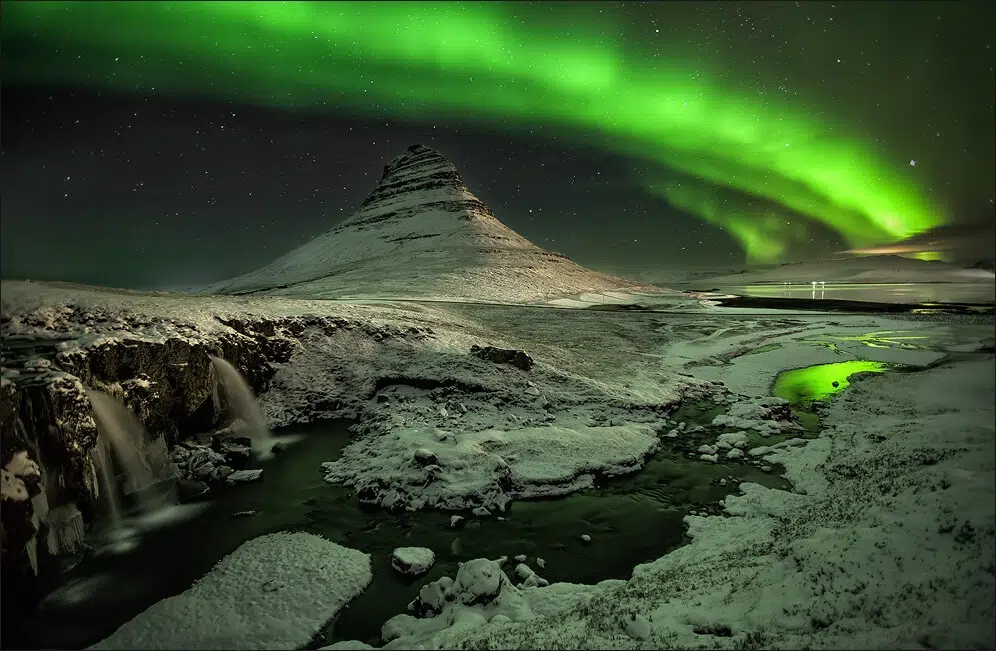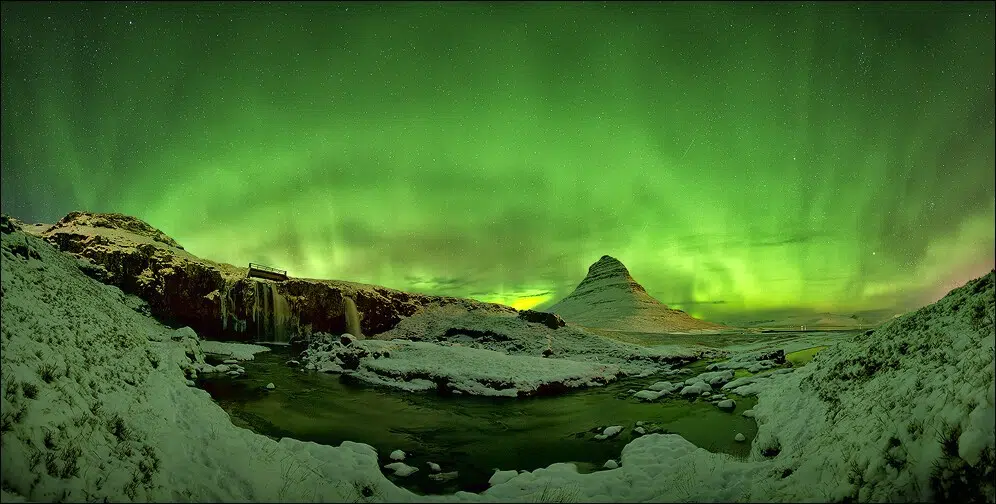 For me one of the most fascinating nights I've ever spent in Iceland with a sight that made me forget every degree of coldness.
Words and pictures are by Martin Schulz. He is from Germany and has been addicted to Iceland since 2007. Martin has visited Iceland twelve times and explored it from the shore up to the highland interior. Martin works as an audiologist  and maintains the IT infrastructure of a medium-sized enterprise.
Martin is an accomplished photographer and focuses on work with filters (grey and graduated grey filters) and long exposure techniques. Martin has done voluntary work with hearing impaired children in Africa (Namibia) and likes beer, Whisky, rock and heavy metal music.
You can explore his photography work on photograpy site and his web site and contact him directly if you are interested in purchasing his pictures. We are really grateful for his contribution. This is his second entry on Stuck in Iceland, previously he shared his experience of visiting Brúarfoss waterfall and Thingvellir.  
Ready for a Road Trip in Iceland?
Support this blog by getting a great deal on renting a car from Budget.
Related posts