Iceland Road Trip Memories Captured in this Stunning Drone Video
admin, 7 months ago
7 min

read
339
Iceland road trip memories are precious. Those who embark on these life changing tours do their best to capture the moments. Sometimes people create travel videos that are nothing less than epic. One such video is a ´Iceland´ drone movie created by the German traveler Christian Koch. You can follow Christian on Instagram, Youtube and Facebook.
So many beautiful places in one video
The video shows Iceland road trip memories from a 15 day trip around Iceland in September 2018. It is six minutes long and features the song Eyes Wide Open by Tony Anderson. The video opens with a magnificent shot of Reynisfjara Beach in South Iceland. Then you are taken to the highlands, the area around Landmannalaugar. The waterfall ´Háifoss´ and its neighbour ´Granni.´ The world famous wreck of DC3 plane on Sólheimasandur and the fantastic canyon Fjaðrarárgljúfur is also featured. I am was happy to see Vestrahorn mountain make an appearance. Brúarfoss waterfall, Hengifoss waterfall, the church near the renowned Hótel Búðir on the Snæfellsnes peninsula and Kirkjufell Mountain are also in the video.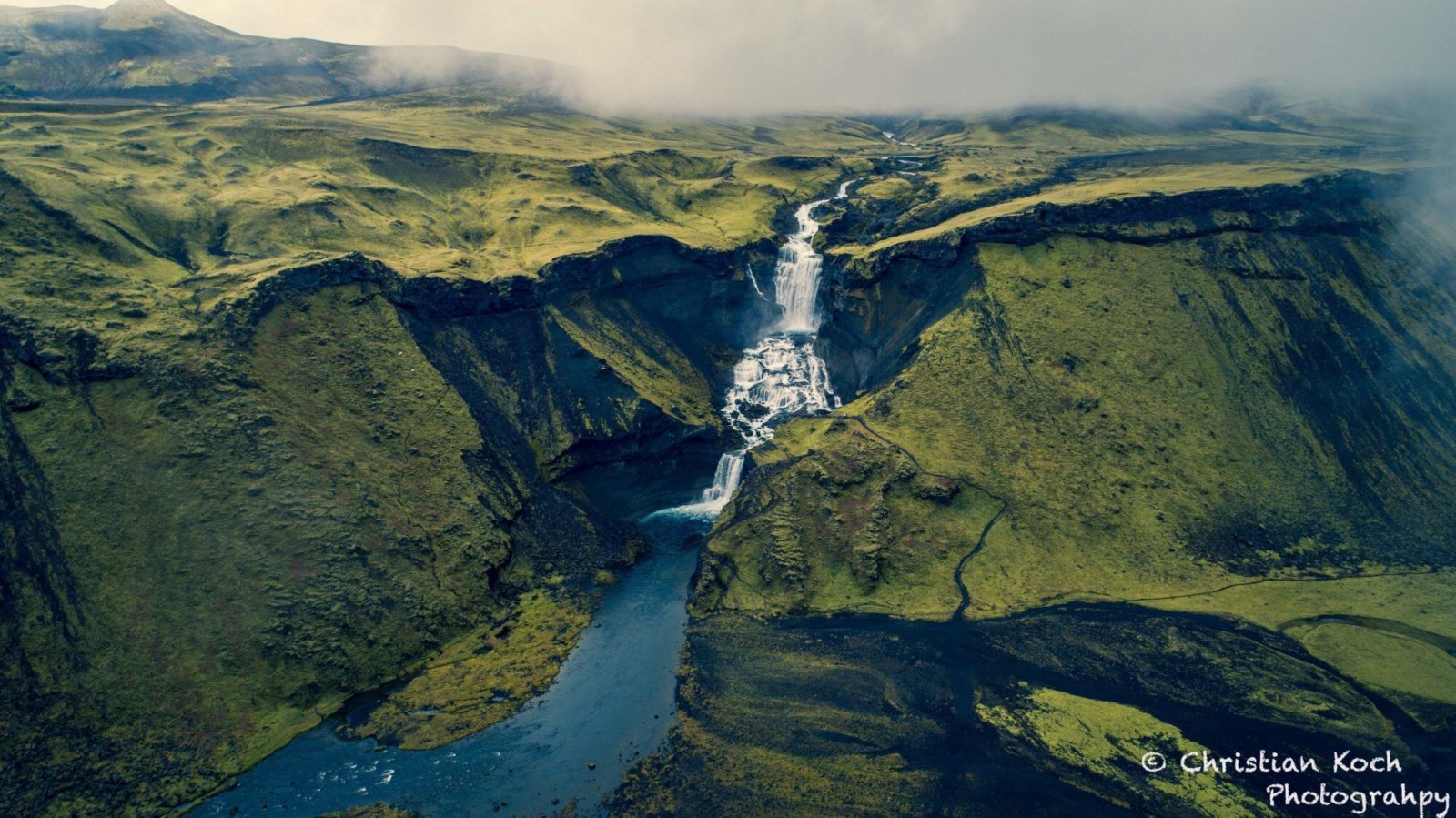 Hello Christian and thank you capturing your Iceland road trip memories in such stunning way. What made you come to Iceland in the first place?
Thank you for getting the opportunity to tell my story here on Stuck in Iceland. The reason I went to Iceland is, I´m a nature lover and enjoy being out in the nature and taking pictures of beautiful landscape. And in which country could one explore the raw nature of fire, water and ice better than in Iceland?
This video is a result of a road trip, can you talk about what can of car you rented and how your trip went?
I planned to visit iceland in May. But I found out that May would be to early to see the northern lights and highlands, so I planned the trip for september. I rented a Land Rover Discovery 4×4 and started at Keflavik Airport. The trip was planned one year ahead. I marked interesting points in Iceland in my Google maps account time by time when I saw interesting places on the internet or even if I only had a picture without a name like the craters at the beginning of the video, I watched hours at Google maps to find the place that matches to the picture.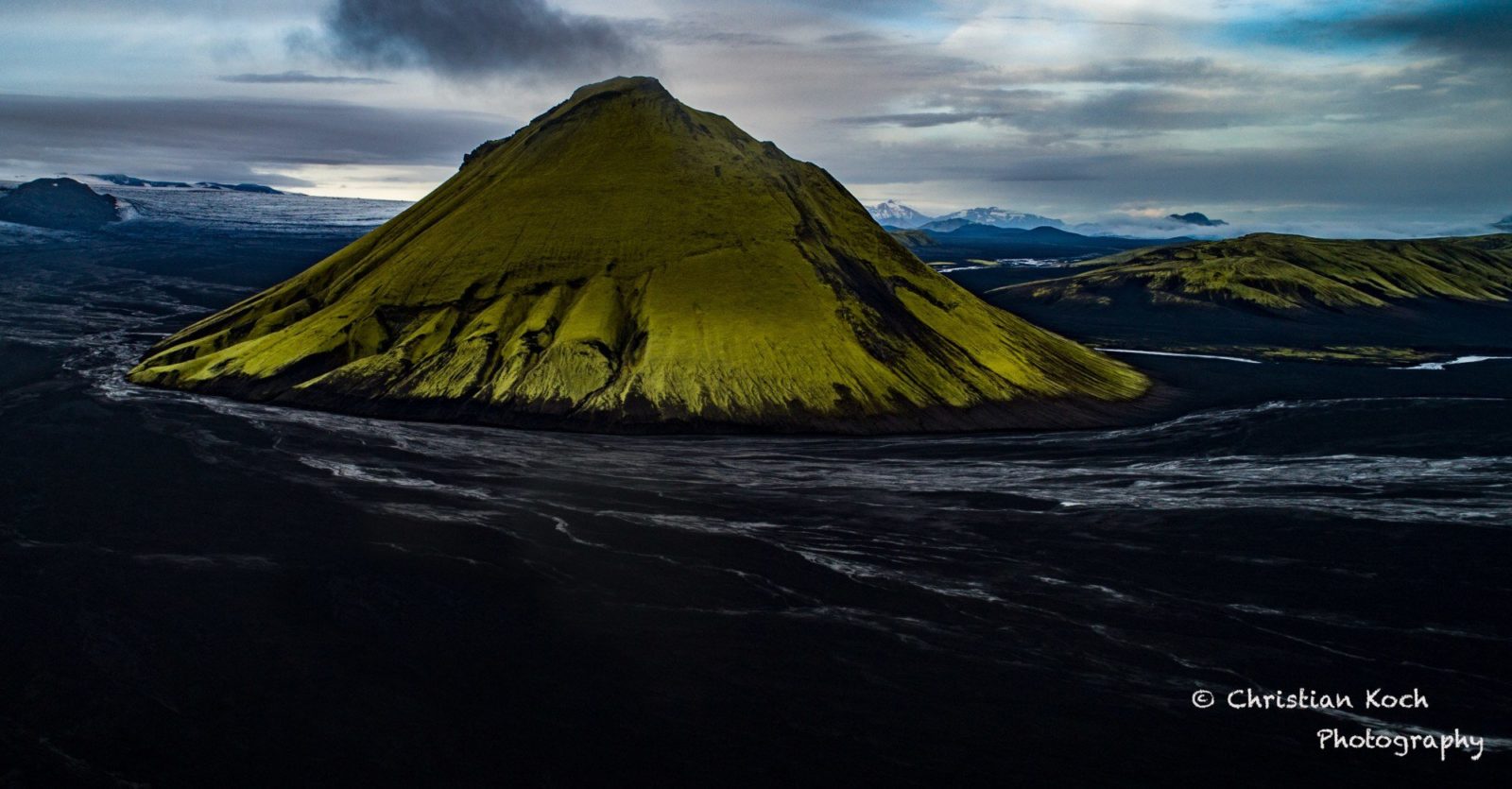 A list of awesome places in Iceland
My goal was to reach the highlands before first snow and highland roads are closed, so on the first day I went to Háifoss waterfall and its neighbour Granni waterfall. I moved on to Sigölduglifur, Bláhylur, Ljótipollur and Landmannalaugar the next day. Stayed the night at Landmannalaugar and went again for a hike. There I discovered Ófærufoss waterfall, Mælifell, Reynisfjara Beach and Solheimajokull glacier were also went part of the trip. There, I got some really epic shots for the drone movie. I went on the ring road and visited magnets for travelers such as Vík, Dyrhólaey, Seljalandsfoss waterfall, Skógafoss waterfall, Foss a Sidu waterfall, Fjaðrárgljúfur canyon and Jökulsárlón Glacier Lagoon.
Seeing the DC3 plane at Sólheimasandur at sunrise
I recognized that I have to get up early now, otherwise I would have to stay in the line to take some pictures. So I went up at five in the morning to see the famous DC 3 plane wreck at sunrise. Laki is an epic place, never saw so many volcanic craters before in my live.
At Vestrahorn mountain
At sunset I stayed at Vestrahorn and had dinner and got some really nice pictures of the sunset. Svartifoss waterfall, Brúarfoss waterfall and Hengifoss waterfall are all worth seeing. I also went to the north like Lake Myvatn but the weather changed and got bad and windy, only at Hverfjall crater I was able to start the drone. I decided to move on and drove all the way to Kirkjufell one of the most photographed mountains in Iceland.
Heading to the highlands
I already missed the highlands. My trip took me to Kerlingarfjöll a geothermal area and went there for a hike. It was so windy again that it was not possible to start the drone. Four days before I went home I got my first flat tire in Iceland here. The F35 gravel road is not in the best condition with all the potholes. I put on the spare tire. Gullfoss and the Geysir had a lot of travelers from the Golden Circle. Þórsmörk is perfect for a hike to Magni crater and you are close to the famous volcano Eyjafjallajökull.
Flat tire at the worst time!
On my way back when I crossed one of a few river ford I got my second flat tire two days. This happened just before departure and I had no spare tire. I was 20 KM away from the camp ground of Seljalandsfoss and without mobile phone signal I crossed river fords and was back very late to the Seljalandsfoss camp ground. Frozen and tired, I used the shower at the campsite. I fell asleep immediately as excitement spread, I looked out of the car:  "Northern Lights brighten the sky"
The northern lights appear
This evening I made the most beautiful pictures of the northern lights. And all the pain was forgotten. The next day I was towed and taken to the workshop. Otherwise I would be "stuck in Iceland" hahaha.
Made it to Reykjavik a few hours before my plane started at september 23th at 7 in the morning with amazing memories of the best vacation in my life so far.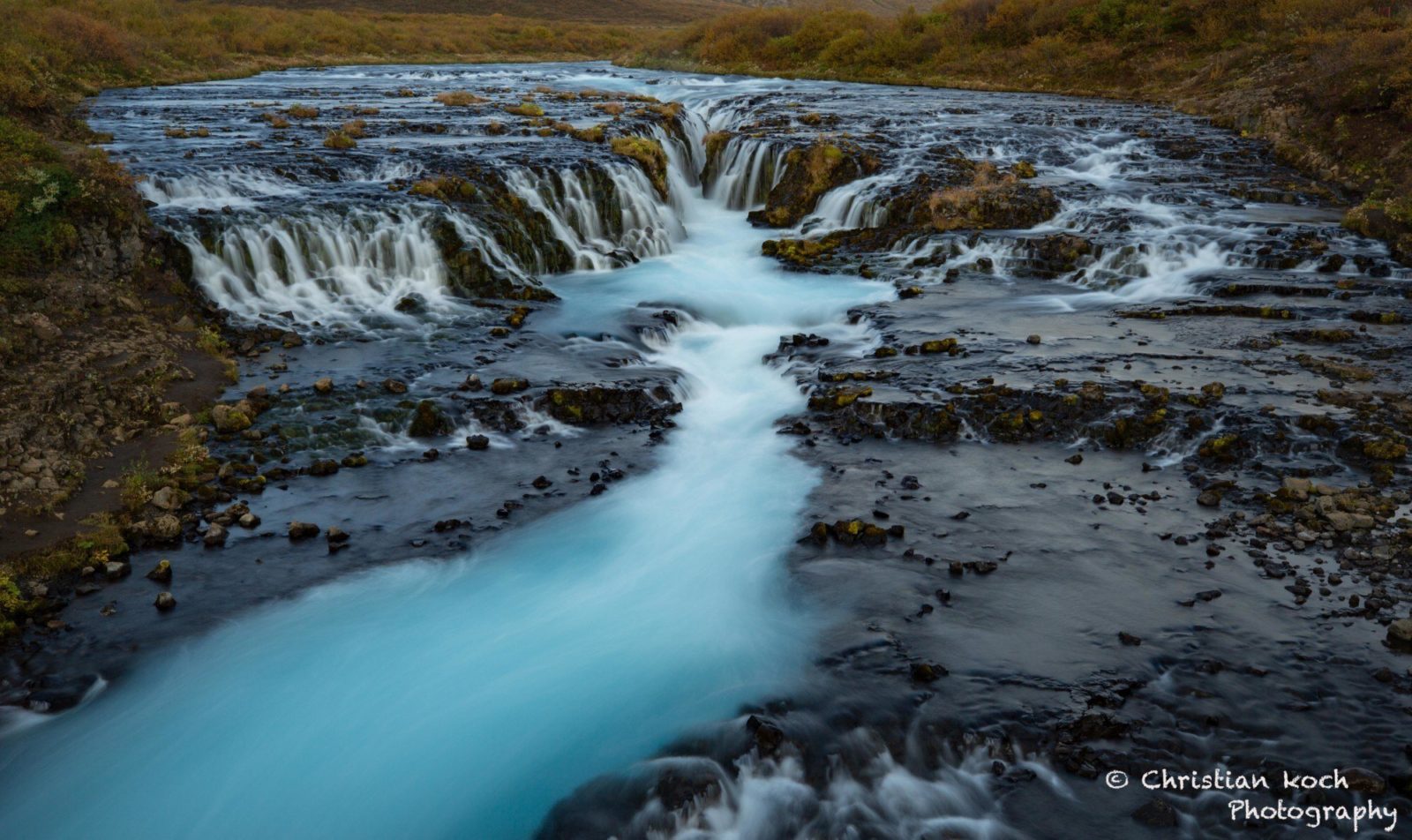 Can you talk about the equipment used in the video?
I used a Canon 5D Mark III with a Canon 16-24mm f2.8 lense one of the best lenses for landscape and northern lights, I also used a Canon 24-105mm f4 to be flexible to take other shots. A Manfrotto MT190XPRO4 tripod and some ND filters for long – term exposure photos of waterfalls. For areal photos and the video on YouTube I used a DJI PHANTOM 4 PRO+ drone and to be flexible I had four drone batteries and a car charger to charge the batteries during I´m driving the car, that saved me a plenty of time. To carry the drone I used a Manfrotto Aviator D1 drone backpack
What was the most striking thing about Iceland, compared to other places you have traveled to or your home country?
The most striking thing about Iceland was the weather conditions that changed very quickly. The higher prices especially for beer and food (I really like icelandic beer). I live in Bavaria the beer state of Germany so it´s a big compliment to the icelandic beer brewers. A other thing I recognized was the less of people and buildings if I traveled outside of the tourist attractions. I love being alone at the nature, that´s why I loved the highlands of Iceland so much.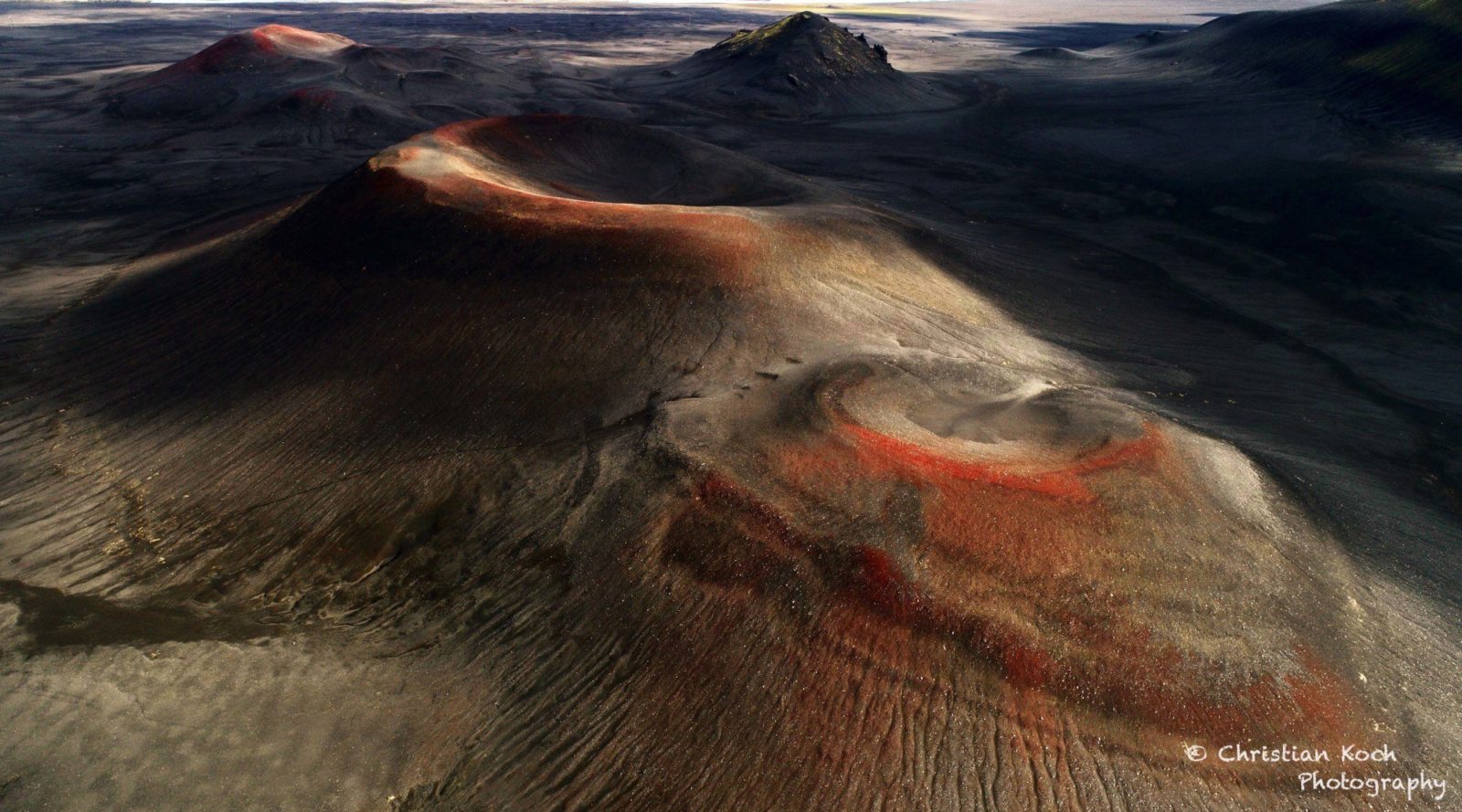 You obviously went to lot of beautiful locations but do you have favorite destinations or activities in Iceland?
The raw nature of the highlands in Iceland (Landmannalaugar, Laki, Blahylur and the volcano crater close to it) also a favorite are waterfalls like Foss a Sidu, Svartifoss, Brúarfoss,Ófærufoss – there are hidden and less of tourists. I never saw the northern lights in my life before and with a KP4 aurora and the dancing of the green lights you feel like a small fish on this earth.
What advice would you give to someone traveling to Iceland for the first time?
Be spontaneous. Weather changes quick, so check road and weather conditions and aurora forecast, be prepared before you starting your trip to Iceland time is to short to waste your time. Bring warm clothes, Respect the wild life and the nature – no off road driving!!
Don´t take a risk when you taken photos. This is especially true at Reynisfjara Beach, Dyrhólaey (do not climb over barriers), drive save when you are crossing rivers at the highlands.
Just great advice! 
Watch the stunning Iceland drone video by Christian Koch
Related posts