Iceland Dog-sledding Video – See the Stunning Landscapes of Iceland
admin, 3 years ago
5 min

read
198
Gemma Suyat visited Iceland in the summer and made an Iceland dog-sledding video about her adventures. Suffice to say she went from one extreme to the other. Stuck in Iceland is lucky to get to show her film and she agreed to answer a few questions about herself and the trip.
Hello Gemma, thanks for the interest in Stuck in Iceland travel magazine. Can you tell me a bit about where you come from and what is your background?
I was born in London and have spent my whole life living here. I work in advertising but travelling has always been one of my greatest passions. So I do my best to ensure time outside of the office is spent experiencing new surroundings or planning my next adventure.
What was it that first piqued your interest in Iceland?
Coming from London I had become accustomed to the fast-paced way of living, where there's something to do around every corner. So I ventured out to a lot of European cities with the same-ish vibe as it felt familiar and I knew I could comfortably navigate around them. However as I got older, my criteria for what made a great holiday soon changed. I started enjoying the outdoors a lot more more, whether it be hiking, going for walks or just being away from the chaos of the city.
This is what lured me into picking Iceland as a destination. I had seen pictures, read many blogs, heard about the diverse landscapes and I just knew had to get out there. I had always dreamed of going to New Zealand and I remember someone once telling me I should go to Iceland – easier to reach and just as beautiful.
Is this your first trip to Iceland? And will it be the last?
This is my first trip to Iceland and it is certainly not the last. I will be returning and for a much longer period of time, there's so much more I want to see and do again! It's one of my favourite places and I can't count the amount of times I've recommended it. It was also my first time travelling alone and I couldn't have picked a better place. I met so many great people, both Icelanders and fellow travellers, and there was something special about my time there. I can't quite put my finger on it, or describe it in words, there was just a good-natured buzz to the whole trip.
Can you tell me a bit more about the Iceland dog-sledding video? Some of the spots where it was filmed, some anecdotes on the places, favorite spots?
The first part is a series of clips from time spent wandering around Reykjavik. There's so many little gems to be unearthed from the quirky cafe menus, to the museums to the quaint and cosy coffee shops. The second half focuses on my excursions outside of Reykjavik. I have to start with the dogsledding as it's my fondest memory. We drove to Skálafell and took another truck out to get closer to the Greenlandic huskies. It was so surreal seeing them through the window and once out, I couldn't quite believe what was about to happen – dogsledding with huskies on endless white snow. I remember thinking I couldn't be more far away from London. The dogs made it all the more worthwhile and despite my hands literally freezing, I didn't want it to end.
Another one of my highlights was hiking around Reykjadalur. It was a beautiful hike, we got to see such a contrast of landscapes from intense greenery, to steam valleys, to magical waterfalls, to natural hot springs which we of course took a dip in.
You'll also see clips from our visit to Jökulsárlón. For me, this was one of the most beautiful examples of Iceland's natural gems. The view was unbelievable and definitely worth the lengthy drive from Reykjavik. On the way back we stopped at Seljalandsfoss. It was almost hypnotic watching this waterfall and the more waterfalls I saw, the more amazed I was at the unique settings they resided in.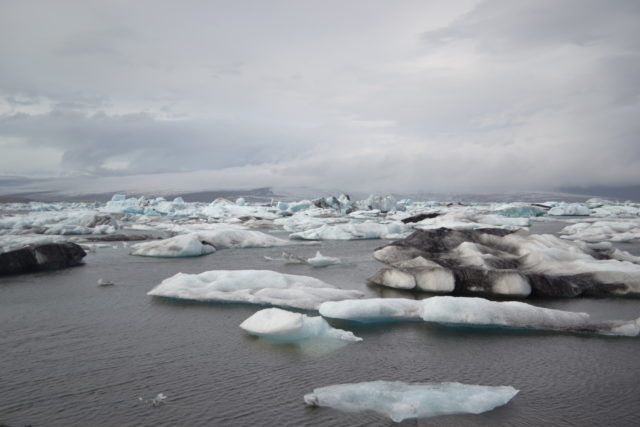 The rest of the footage is taken from the iconic Golden Circle route, Þingvellir, Geysir and Gullfoss. There was so much more I could've filmed but it would almost be criminal to not just take everything in with my own eyes and give the camera a break.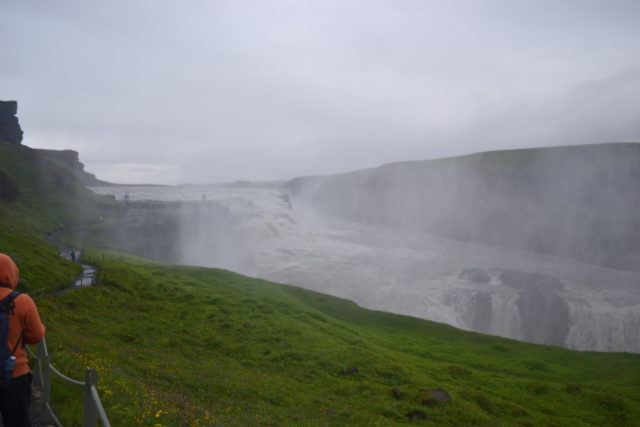 Did you hear any stories about the places? There is a lot of folklore about basically every spot.
During one venture into a lava tube cave the tour told us that these were believed to be home of trolls and elves.
Although it was summer when I visited, someone once told me deep into winter when the days are extremely dark is when you'll find elves dancing in the Northern lights.
I couldn't believe there was even an elf school in Reykjavik! (editor: we don't really believe in elves but they sure make for good stories)
A question we almost always ask: What advice would you have to people coming to Iceland for the first time?
Hire a car and don't plan too much in advance. I loved the atmosphere in Reykjavik, and stayed in hands down what's my favorite hostel of all time (KEX). But my best days there were the ones where my roommates and I would decide to rent a car and drive. We would google a place, get a car and ask the hostel reception for directions. There's a certain level of planning you can. But believe me, day to day you'll meet someone new who'll recommend a new destionatin. It will happen again, and again. You will find yourself having to move things around wishing you hadn't made any commitments.
One other piece of advice is to be ready to continuously stop along the way. You'll pass waterfalls, see beautiful horses in the distance that you'll want to get closer to. Stop again to take in an amazing view over a cliff. If you're travelling in summer like I did, you'll park up and enjoy the midnight sun. The landscape is so diverse. We'd go walking at all hours in search of views and were never left disappointed. I'm not the most patient person in the world. But I had all the time in the world for the Icelandic landscape.
Photos courtesy of Gemma Suyat
Related posts