Dettifoss waterfall is the most impressive waterfall in Iceland. Get on the Diamond Circle and pay your respects to the king!
We love waterfalls and we are lucky enough to live in a country where water flows freely and abundantly. There are many really nice waterfalls in Iceland. In the south of Iceland you have such gems as Seljalandsfoss waterfall, Gljúfrabúi waterfall, Skógafoss waterfall and Glymur waterfall. These are all wonderful and well worth visit. But will all due respect, none of those waterfalls is Dettfoss waterfall.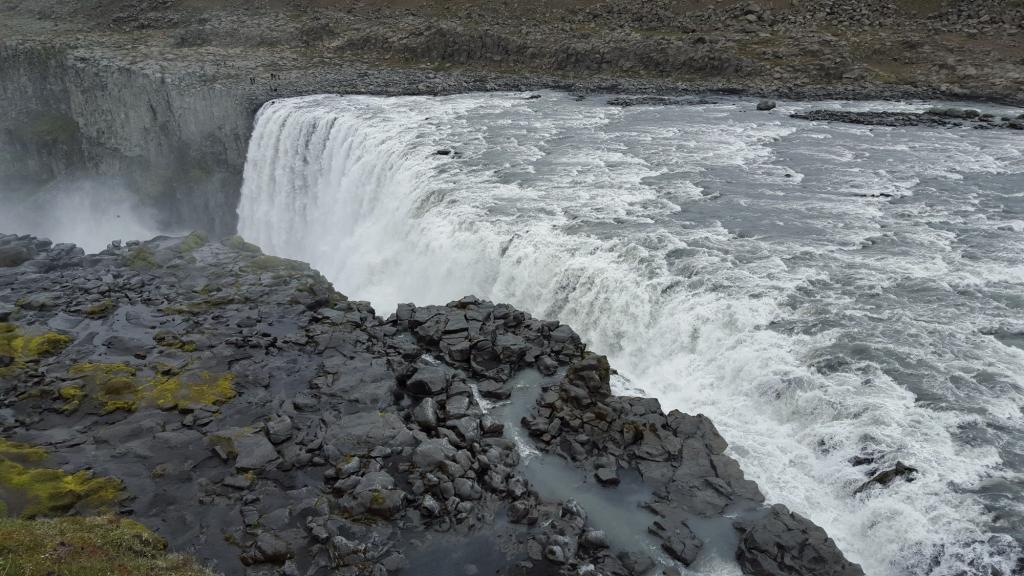 Epic Dettifoss waterfall
Dettifoss waterfall is a massive 100 meter wide and 44 meter high wall of frigid glacial water. It is the most powerful waterfall in Europe and thunders down the canyon carved through the millennia by the glacial river Jökulsá á Fjöllum. This 206 meter long river originates in Vatnajökull glacier. When you stand next to it you feel the vibration in the bedrock and the thunderous roar of the waterfall makes you feel a bit small.
Claim to fame
Dettifoss was featured in the Alien prequel film Prometheus. If I understand the scene correctly, Dettifoss is the place where the engineer of life on Earth sacrifices himself to start the evolution of life on the is planet. I hope I didn´t get that too wrong. But it is a fitting place for such an origin story.
Be careful at the edge
And you have to be careful near this monster. Too many go way too close to the edge to get a good picture. Well, please don´t die for your holiday snaps. That gorge is not going to be a nice place to fall into.
Visit the nice neighbour
Close to Dettifoss is the waterfall Selfoss. It is framed by some really nice basalt rock formations and is really photogenic. It is an easy 10 – 15 minutes from Dettifoss. In fact you can see it from the
Attractions near Dettifoss Waterfall  and the Diamond Circle
Dettifoss is just one of many fantastic destination on the so called Diamond Circle in the north east of Iceland. Other destination on that route include Husavik, the whale watching capital of Iceland, Ásbyrgi and Lake Myvatn. I have actually created a Diamond Circle road trip plan which I hope helps you to enjoy this great part of Iceland.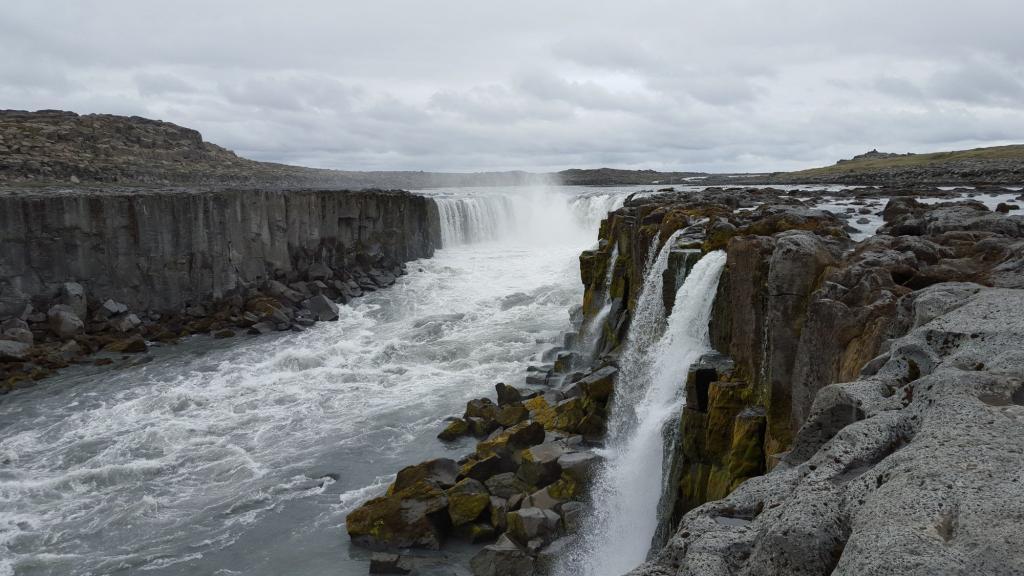 Tours and trips featuring Dettifoss waterfall
Dettifoss Waterfall is featured in many tours and trips which you can book right here and now Here are a few nice examples:
So make the trip to Dettifoss and check out his little cousin of Selfoss while you are at it.
Video of Dettifoss Waterfall
Accommodation near Dettifoss Waterfall
Dettifoss waterfall is a bit off the beaten path but nevertheless there is accommodation available in its vicinity. You are in rural north eastern Iceland so most accommodation is going to be in guesthouses or in local farms. Use the search widget from Booking.com below to find the right accommodation for you.
How to get there
From Lake Myvatn take highway 1 and turn on road no. 864. Don´t drive fast. The landscape is beautiful.

[amazon_link asins='B00SWUMS5U,B07F7L554D,B0778Z38KP,B002QMH52G,B07B5R3QTZ,B01M6TIHW2,B07BH66D6M,B07CVK599K,B07G4KV9M3′ template='ProductCarousel' store='stuckinicelan-20′ marketplace='US' link_id='82d9f9ab-bacf-11e8-aa58-2170fedee500′]
Related posts