Iceland Waterfall Perfect for all Seasons – See the Great Brúarfoss
Stuck in Iceland, 6 years ago
4 min

read
499
Martin Schulz is the author of this article on the perfect Iceland waterfall Brúarfoss. You can experience Icelandic waterfalls such as Brúarfoss waterfall and many others on great tours here in Iceland.
Addicted to Iceland
Martin has been addicted to Iceland since 2007. He has visited Iceland eight times and explored it from the shore up to the highland interior. Martin works as an audiologist  and maintains the IT infrastructure of a medium-sized enterprise. He is an accomplished photographer and focuses on work with filters (grey and graduated grey filters) and long exposure techniques. He has done voluntary work with hearing impaired children in Africa (Namibia) and likes beer, Whisky, rock and heavy metal music.
Get Iceland photographs
You can explore Martin´s photography work on photograpy site and his web site and contact him directly if you are interested in purchasing his pictures. We are grateful for his contribution.
Iceland is a country of monumental nature
Everybody visiting Iceland can discover the biggest natural wonders like the waterfalls Geysir, Gullfoss or the glacial areas very easy by car right next to the road. So did I. From my second visit I searched for all the smaller and especially the less known spots.
Finding the waterfall
Before I came to Iceland for the third time, I saw a quite nice picture of a little Iceland waterfall called Brúarfoss (Bridge Waterfall). This Iceland waterfall derives its name from a natural stone arch over the river . I was fascinated by the thousands of small waterfalls running into a deep blue gap and my photographer's heart started beating faster. I started searching on several maps. After a while I was able to print out a plan of the area where this little hidden gem called Brúarfoss is. In late October on a very rainy day I set out with my wife early in the morning from Reykjavik. We took road 1 up to Mosfellsbær and drove to the Laugarvatn area where the Brúarfoss is situated in a large summer house area.
Although I had seen a lot summer house areas I couldn't remember such a huge one. We drove for an half an hour but got lost in one of the numerous road. We were lucky to find a nice man (the only person we met on our whole trip on that day) He was smoking in front of his summer house and showed us the way.
Crossing the flooded path
Full of enthusiasm my wife and I dressed up into our raincoats and started the short walk. After a few minutes on a quite good walking path we crossed a small bridge and found another small path leading through little trees and bushes right to the Brúarfoss.  This should have been easy. However, it had been raining for a week so the area was flooded. The path we wanted to take was inundated with water. We decided that I would try my luck while my wife waited for me.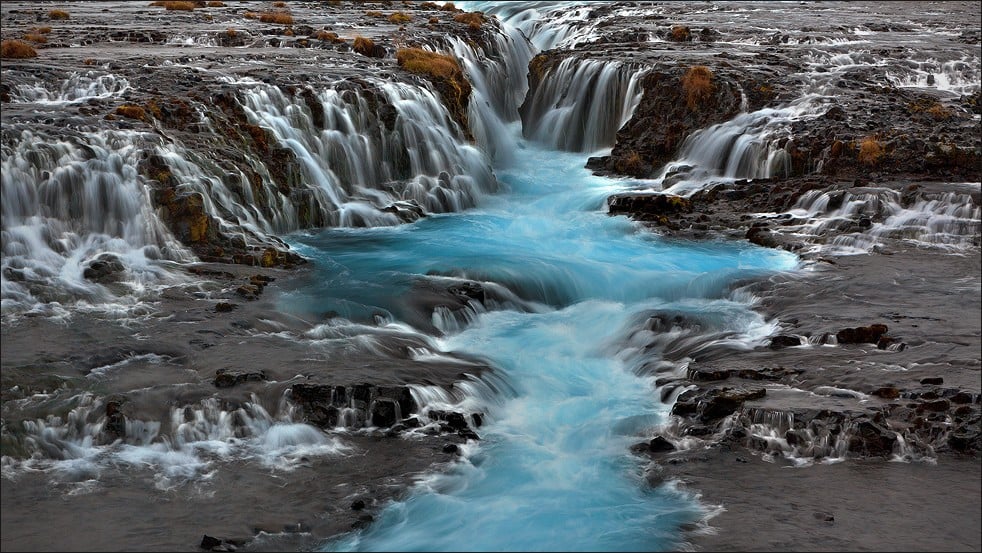 Crossing a slippery path
Right after the first step I felt the cold water running into my shoes. The path was slippery and the water was about 15 to 20 cm deep. However,  it didn't take me longer than 10 Minutes to reach the waterfall. What I saw was really terrific. The whole river Brúará turned into the waterfall. Thousands of small runlets were running down a step of about 2.5 meters. A deep cut was in the middle of the river. The water bubbled along with a fast drift.
The awesome Iceland waterfall
The water had a fantasic blue color. I stood on the bridge and watched the water flow right underneath me. I couldn't get enough of all those impressions. The rain became heavier. I covered my camera and did my first shots of this absolutely awesome waterfall. Back at the car we were really happy to feel the warmth of the seat heating.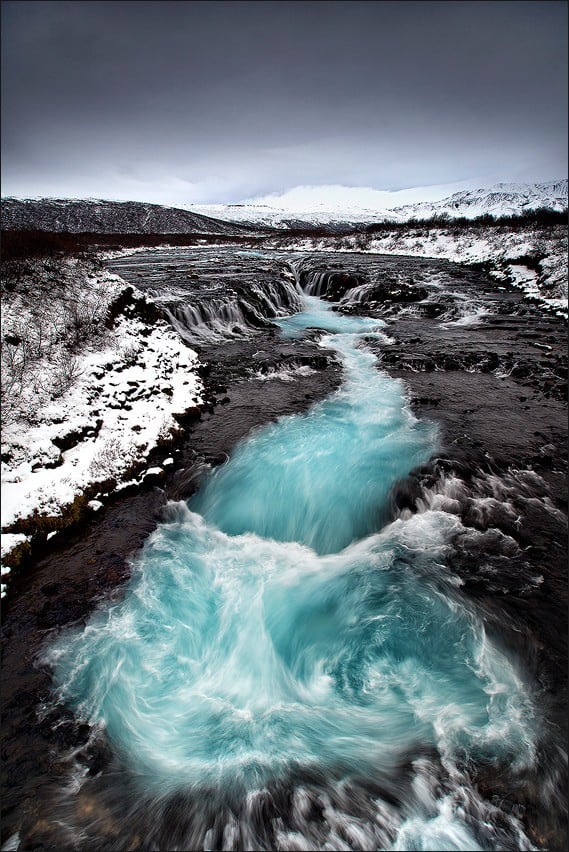 The way out of the summer house area was quite easy.  Since that time we returned several times to the Brúarfoss, in summer, in autumn and in winter.  The beauty of this little waterfall fascinated us. I hope my photographs can bring you a little bit of that feeling we had while watching this hidden gem.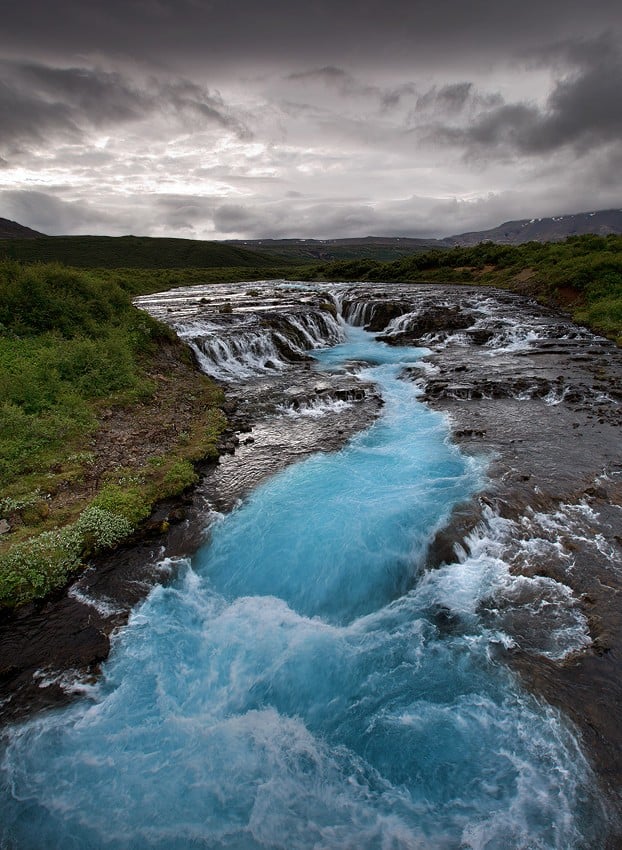 How to get to this beautiful Iceland waterfall
Take road 1 up to Mosfellsbær. Turn into road 36 to Þingvellir. From there take road 365 to Laugarvatn and in addition take road 37 in the direction to the Geysir. About 2-3 kilometres after you crossed road 355 you will reach a large summer house area on the left side. Take the first road into this area and drive straight ahead. Just follow this way since you reach a bigger path with two tracks. Turn left since you reach the end of this road. There you can park your car. Follow the little foot path right over the first bridge and further till you reach this special Iceland waterfall.
Related posts