Captain Slow Crosses Langjökull Glacier on a Snowmobile
Stuck in Iceland, 2 years ago
3 min

read
137
It is a privilage to run a travel magazine like Iceland Travel. You get great opportunities to join fantastic trips and activities with our partners. Sometimes cool things pop up and one certainly did last June. One of our partners, Mountaineers of Iceland, were looking for help to get 10 snowmobiles across Langjökull glacier. I jumped at this change since I had joined them on a pretty snowmobile tour once before.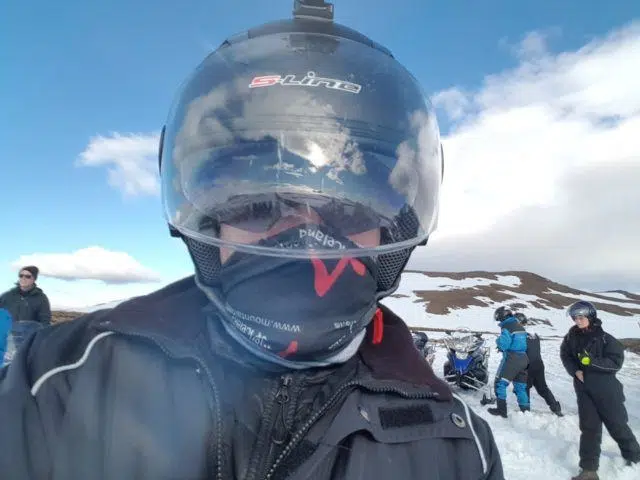 The zenith of Langjökull glacier is approximately 1450 meters high. It´s about 14 – 15 Kilometers where it is at its widest. Just to be clear, you can essentially expect all kinds up weather up thers so I knew it could be tough.
Langjökull glacier has been made famous by its massive ice tunnel that has been carved into the deep of the glacier.
We arrived at Mountaineers of Iceland on a Wednesday afternoon where we met our co workers who had joined this adventure. The guides told us about the safety measures Mountaineers take to make sure that they keep track their guests.
When we got the glacier we dressed up in overalls, waterproof shoes over our hiking boots, gloves and helmets. A truck took us to the edge of the glacier where new snowmobiles waited for us. I felt kind of cool when I sat down on my allocated beast of a snowmobile with my helmet visor down. That feeling would fade when it became clear that I was one of the slowest drivers in the group.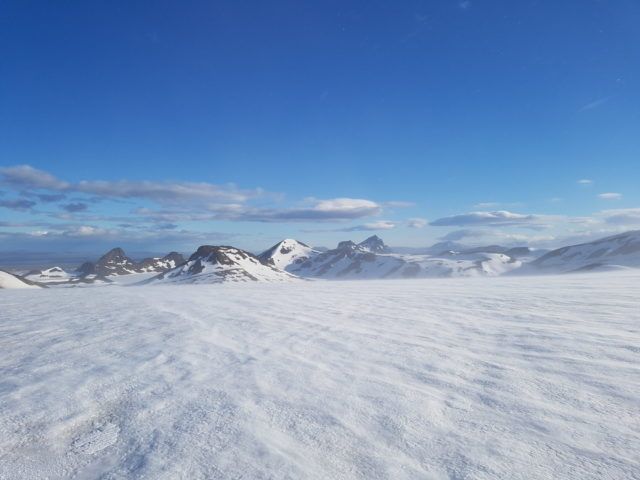 We started our trip at the edge of the glacier in a single file. My slowness became apparent when a snowmobile all of a sudden zoomed passed me and took its place in front of me. Some people just don´t appreciate the pleasure of slow travel!
Our first stop was at an incredible ice cave. I love exploring these caves with their layers ice, soil and ash. It reminds one of how short time we are all allocated on this beautiful Earth.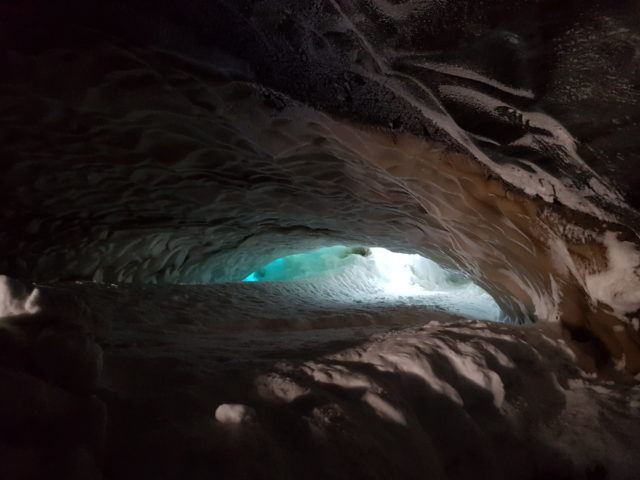 When we moved up to the glacier itself the weather got worse. As we got higher crosswind pushed on us and and visibility deteriorated. Snow blew across the ice sheet, creating making visibility virtually zero.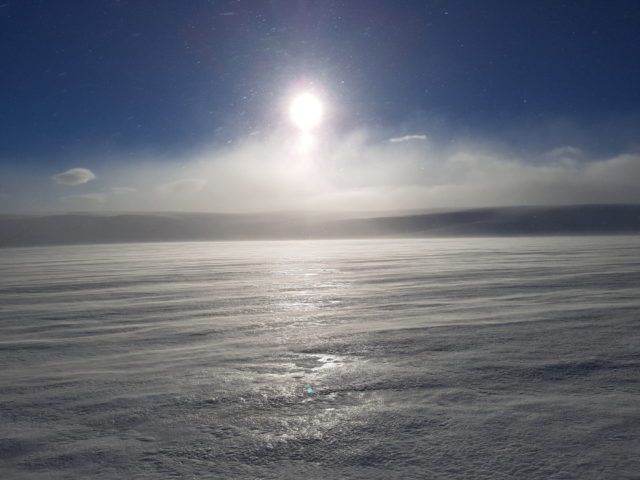 My breath condensed and froze on the inside of my helmet´s visor. Keeping up the next snowmobile in front of you while doing of 30 – 50 KM an hour was like playing the world´s most challenging video game. All I could see was a vague black shape, sometimes distant, sometimes close. Most of the time I didn´t see the tracks of the snowmobile in front of me.
Things got really interesting when we started to descend down the side of the glacier. Going down a steep hill while not seeing much is, well, mentally challenging. You want to stop but that would mess up the whole convoy. And you would lose sight of the snowmobile in front of you. Then we hit a near total white-out, the weather became atrocious (or even more atrocious) and I was really straining to see the snowmobile in front me. All of a sudden the snowdrifts stopped and the fog lifted and and I saw things clearly. A line of neatly parked snowmobiles waited for us and we added our vehicles to the line.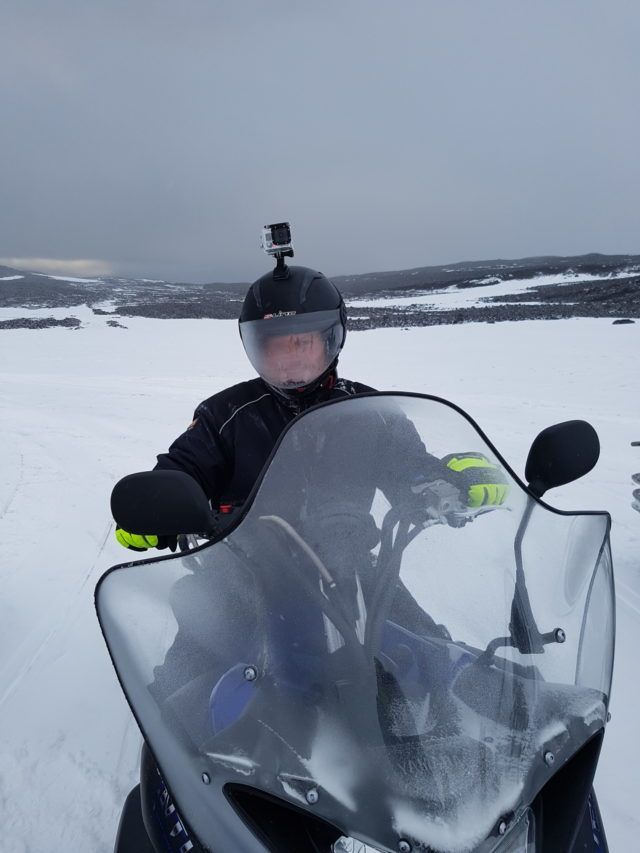 What an adventure.
Related posts