When you work in the travel industry you are constantly thinking about new ways to create new and more immersive experiences for your customers. We at Iceland Travel took a close look at how we could do this for our road trips (or self drive trips). We decided upon creating an innovative Iceland road trip app for our customers.  It it is exclusive to customers who book one of our 38 road trips. The app shows in the customer´s trip, hotels she stays on and about 2,500 of points of interest. We source the points from our web site or from the Icelandic Tourist Board.
Find the must see places in Iceland in the Iceland Road Trip App
The application is included in a tablet we give to our customer at the start of each road trip. By using it is easy to discover the important places to experience on each journey. The most popular tours are Ring Road Highlights, Around Iceland and Golden Circle Self Drive.
The Iceland Road Trip App – Iceland Travel Companion – features list
The Iceland Travel Companion has the following functionality:
Thousands of points of interests and services
Book activities straight from the app – where ever you are in Iceland
Safety guidelines
Linds to the app of the  Icelandic Meteorological Office and The Icelandic Road Administration
Itinerary and GPS road guide to accommodation for each journey
A map view for single days or the entire trip
PDF travel book about Iceland in English, Swedish, French, German and Dutch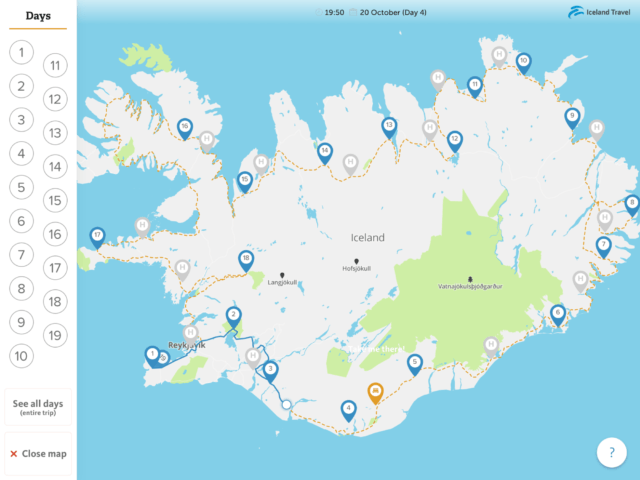 Related posts