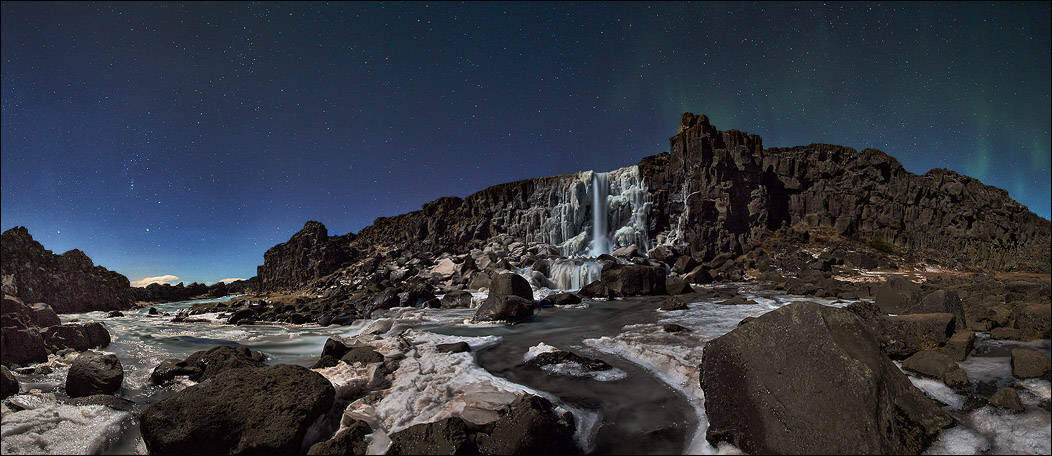 The Stunning Images of Thingvellir at Night
Stuck in Iceland, 6 years ago
5 min

read
273
Martin Schulz is a 38 years German who has joined the ranks of guest bloggers on Stuck in Iceland. He has been addicted to Iceland since 2007. Martin has visited Iceland eight times and explored it from the shore up to the highland interior. Martin works as an audiologist  and maintains the IT infrastructure of a medium-sized enterprise.
Martin is an accomplished photographer and focuses on work with filters (grey and graduated grey filters) and long exposure techniques. Martin has done voluntary work with hearing impaired children in Africa (Namibia) and likes beer, Whisky, rock and heavy metal music.
You can explore his photography work on photograpy site and his web site and contact him directly if you are interested in purchasing his pictures. We are really grateful for his contribution. This is his second entry on Stuck in Iceland, previously he shared his experience of visiting Brúarfoss waterfall.
Thingvellir is a very special place. Located in the South-West of Iceland, north of lake Þingvallavatn, it is absolutely worth the short drive from Reykjavik. Although the historical importance of Thingvellir is mainly relevant to the Icelanders you can also feel the magic of this place.
The heart of the Icelandic commonwealth
Even at the time of settlement the law giving "Thing assembly" (Althingi) took place at this place once a year. Laws were passed and as well court verdicts enforced. Therefore, this meeting is one of the oldest parliaments in the world that was only abolished in 1798 by the Danes. On the 17th of June in 1944, the Republic of Iceland was proclaimed exactly at this place and also the celebrations for the 50th anniversary of the republic took place here in 1994.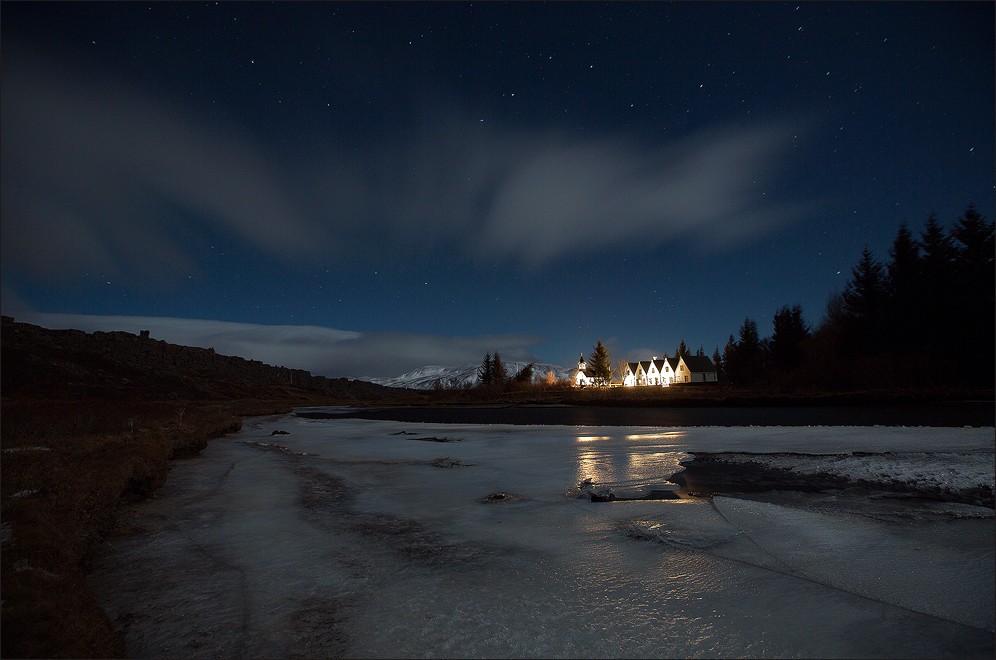 Found by the Goatshoe
The ancient book Íslendingabók reports that Grímur Geitskór (literally "Grímur Goatshoe") was instructed by the first settlers to find a suitable meeting place. He conducted a long search and he probably selected this place because it was easy accessible from all settlements and also had enough water, pasture and food in the form of fish from the Öxará river that runs through Thingvellir. It is also reported that this land conveniently belonged to the public because the original owner was convicted of murder and sent into exile.
Where and when other tourists fear to tread
I have visited Thingvellir many times, either late at night in summer or in autumn in stormy weather. I selected those times to avoid the tourist crowds. When we came to Iceland in November 2012, we had not actually planned another visit there, because we wanted to arrive in the village of Vík on our first day. But a really heavy storm made the drive to Vík impossible and so we booked a hotel room in the town of Hveragerði. Right at the evening when the storm started calming down I decided that this could be a great night to visit Thingvellir again and discover this place with the full moon shining bright. The forecast promised cloudless skies, so the conditions for my visit were just perfect.

Thingvellir is outstanding during winter
Even during the day Thingvellir is a very impressive place. But in a winter night it is even more outstanding. Only illuminated by the full moon, it was an indescribable feeling to walk through the Almannagjá. To see how the cold moonlight was reflected in the "Drowning Pool" while knowing that at this place death sentence were enforced in earlier times was really impressive and strange at the same time. When I reached the law rock Lögberg I felt the ice cold wind blowing right into my face. But the awesome view down to the illuminated church made me forget everything else. To see how the moonlight lit up the whole area and was reflected in the water of Þingvallavatn was breath taking. After a short walk down I found a good place near the river to set up my camera. Several shots later I kneeled down, trying to escape the ice cold wind, in the hope to view some northern lights about this area. But none appeared.
After an hour of waiting I was totally frozen and warmed myself with a hot cup of coffee in the car and decided to drive near Öxaráfoss to try my luck again.
Because the full moon lit up the whole canyon, it was possible to find the way through the rocks almost without a flashlight. The dark towering cliffs seemed to be full of faces and figures and were even more fascinating than at daylight. When I finally reached the Öxaráfoss waterfall I was amazed.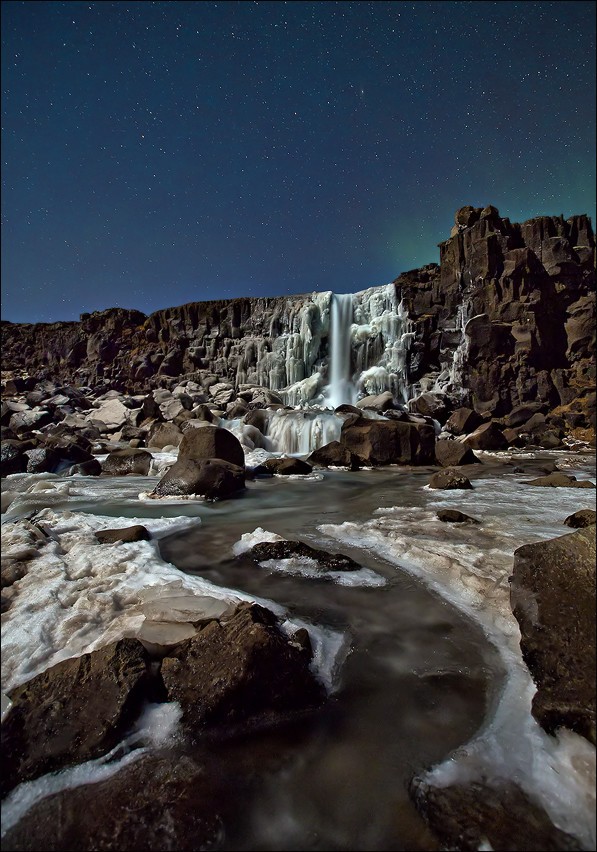 Frozen feet and hands amply rewarded
Almost all of the waterfall and the Öxará were icy, shining white in the moonlight. Only a small flow channel was still open. A beautiful sight which was completely different from what I have previously experienced. I carefully balanced on the frozen river until I found a suitable place for my camera. Already the first image showed me that the sky behind the waterfall was slightly colored green. A faint aurora was the reward of cold hands and feet. After a long time of just watching I started taking pictures. Because of the moon shining so bright everything was lit up so well that I was able to take fantastic single shots and panoramas from that awesome scene. This stunning view made me forget again the ice cold wind blowing through the canyon. Only on my way back I felt how cold and tired I was. I was really happy when I arrived back at our hotel, just in time to wake up my wife and go to the dining room for breakfast. After several hot chocolates, bread and a hot shower, I just fell into my bed with my thoughts still dedicated to this outstanding place: Thingvellir.
How to get there?
Book a trip with Sterna Travel on the Golden circle here on the right of this page. 
Related posts