Twonderful black beach of Reynisfjara is on the South of Iceland. As our readers will probably have noticed by now, we are found of that area. Reynisfjara or the black beach is featured in many tours that are available for online booking right now.
Stunning photos from Reynisfjara Black Beach
So we were quick to contact Samantha Sheldon from the UK when we saw her dramatic photographs from Reynisfjara beach on Facebook. She graciously agreed to be interviewed here on Stuck in Iceland but first here are the basics about Reynisfjara beach.
The basics about Reynisfjara Black Beach
Reynisfjara is some 180 kilometers from Reykjavik (perhaps 2 and half hour drive) and it is an easy drive on the ring road (Highway One). When traveling from Reykjavik you turn on road 215 to get there. It has pitch black sand and lots of pebbles which are great for skipping stones! It has a really nice pyramid shaped cliff of basalt columns called Gardar and a shallow cave with basalt columns that looks really cool. In the sea towards the nearby (and really nice village of Vík) lie the dramatic looking sea stacks called Reynisdrangar. Bird lovers will find a lot of seabirds there such as puffins, fulmars and guillemots.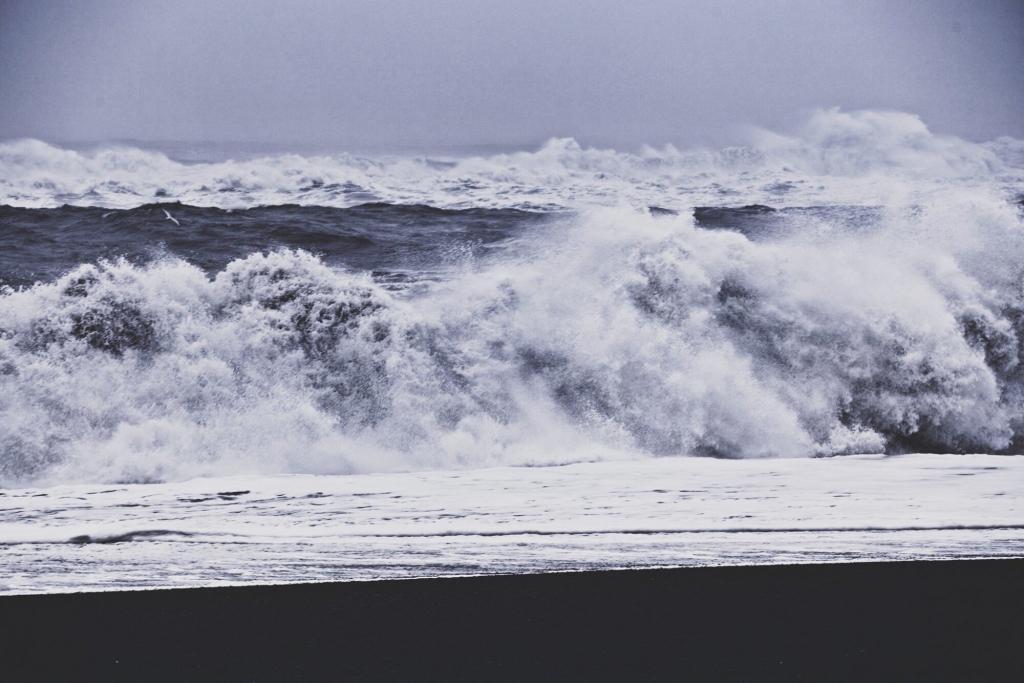 When did you visit Iceland and was it your first trip here?
I visited Iceland February this year (2015) and it was my first time! I've wanted to go for years and had finally convinced my family to take a trip there. It was definitely the best country I have ever visited!
Tell us about the dramatic pictures from Reynisfjara Beach you took, what is the backstory to them?
I went out on a day trip to the South Coast on my own (I was staying in Reykjavik so was quite a coach journey there). I wanted to go because it looked incredibly beautiful and I'm a photographer so wanted to get as many pictures as possible! By the time we got to Reynisfjara Beach it was insanely windy (I could hardly hold the camera still!), we parked up on a cliff top and watched the waves for a while and I've never seen anything like it! The sea looked very aggressive but was very cool to watch and experience.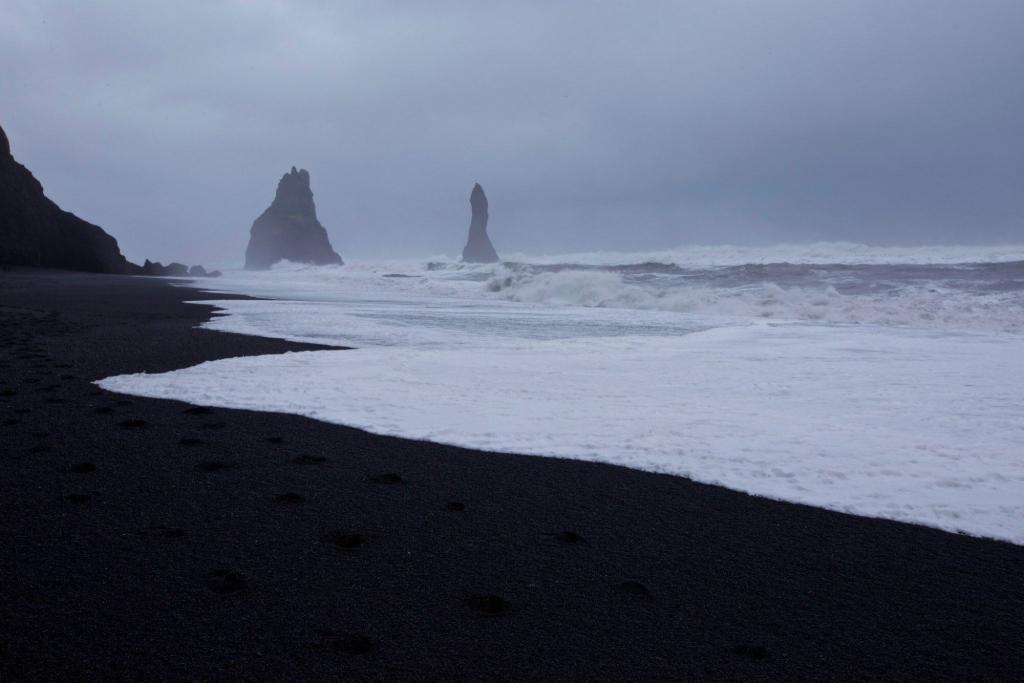 Can you tell us about about more places you visited here in Iceland and would like to recommend to our readers?
During my day trip to the South Coast, I visited Eyjafjallajokull and trekked up the glacier, it was amazing and very interesting to learn about the eruption in 2010. The landscape surrounding it is also very beautiful and was lovely to wander around and explore.
Anything about Iceland that you liked or disliked in particular?
Honestly, I don't think there's anything about Iceland itself that I can say I disliked, I loved every part of it! The people are so friendly, the landscape is beautiful, the food is amazing and it's one of the safest countries in the World! What more could you want?
One thing I might add – don't go whale watching whatever you do… (unless you enjoy spending 3 hours on a boat with lots of very seasick people! Also you probably won't see any whales…).
What advice would you give to those who are visiting Iceland for the first time?
Although all of the touristy areas and coach rides are very cliché, if it's your first time visiting, I would definitely recommend doing them. It helps you get to know the country a lot better and once you've done them, you can visit again, hire a car and explore Iceland for yourself with a lot more knowledge on where you're going!
Anything you would like to add?
Everyone should visit Iceland at least once in their lifetime. It was probably the best week I've ever experienced and I wish I could go back everyday! (I may even move there if I get the chance to in the future)
Words of warning
The waves at Reynisfjara can be ferocious and have proven to be lethal and yes by this
we actually mean that people have been drowned when swept away there. The waves can sweep in at a moments notice. Their force is such that a grown up will have difficulties saving her or his life. So please be mindful of this and be careful.
The cave with the basalt columns is pretty cool. People do try to get as close as possible to the Reynisdrangar sea stacks. Please be mindful of not being caught out when the high tide comes in.
Park your car in the parking lot. Do not drive it down to the beach itself. It will probably get stuck in wet sand and before you know you may have a submerged car which is ruined by saltwater. Good luck getting an insurance company or a car rental company agreeing to absorb that cost!
Remote Working Tip
While you`re busy exploring the stunning beaches in Iceland there are times when you simply have to access your office work, Get instant remote access to your online private work space from anywhere on any device(PC/Mac/android/iOS) with high performance citrix vdi from CloudDesktopOnline. Learn more about Azure managed services by visiting Apps4Rent.com.
Related posts