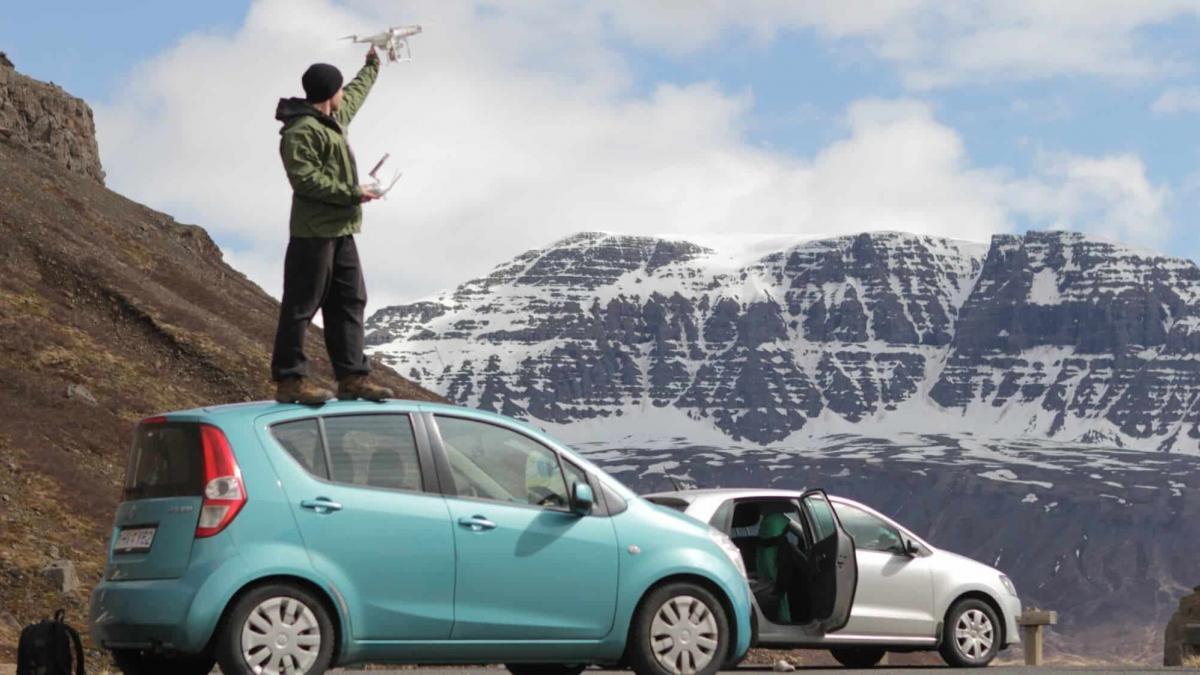 From time to time we get sent videos or pictures from travelers that have visited Iceland and enjoyed their stay here. We simply love to get these as they show an authentic and often surprising viewpoints on Iceland from people that have enjoyed visiting the country. One such video came recently from Yann Bissonnette who created a pretty awesome drone video entitled Iceland from the Sky.
Gritty and rugged Iceland drone video
We loved it from the gritty and rugged quality it has and the Parkour moves thrown in for good measure. It is the Iceland we know and love. We must, however, discourage aspiring filmmakers from climbing on top of turf roofed houses (since we are a family friendly blog) even if the found the moves impressive. The footage from Skógarfoss and Gullfoss waterfalls were especially inspiring for us but as people may have found we have a thing for waterfalls. Yann was kind enough to agree to answer a few questions for us here at Stuck in Iceland.
Can you please give us a little information about yourself?
Hi there!
My name is Yann, i'm 24 years old and i am from Montreal, Canada. I have a lot of passions in life including: Parkour, slackline, adventure, travel, Photography, videography. I love to explore and live for new adventures, with me, it's always a crazy story. Travel is great and I absolutely enjoy making videos to tell my story. About 2 years ago, I created my Photo/Video business: Hybrid Dynamic Media, it started slow but now it's growing more and more, thanks to the help of my lovely girlfriend! My goal is that we can live off of that, traveling the world to photograph and record captivating stories.
Was this your first trip to Iceland?
Yes it was, and it's certainly not my last! I felt at home in Iceland so I will surely go again.
Thanks for sending us the Iceland from the Sky video, can you tell us how you got the idea for it?
I've always been interesting in airplanes, helicopters and all flying things, when drones came out, i knew i had to get one. In school, i studied in electronics and my end of school project was a quadcopter, I built it all and programmed it all with a colleague, I was proud. A couple of years later (last year) I bought my first drone, a DJI Phantom 1, I was blown away. It was amazing, i was so happy of my purchase, i could finally see the world from above. Then two of my buddies (Curran and Mike) told me they were going to Iceland, on the spot, I knew i had to go, I knew i belong there. I finally had enough money to make this trip possible, I was so happy. I contacted a lot of people to get sponsors, because we wanted to make a film about our adventure, and video gear cost a lot. The only one who replied back was Dany at Canada Drones. He watched my videos and liked them, so he accepted the challenge and sponsored me. He gave me the amazing new DJI Phantom 3 to take this journey with me. I knew this video would be amazing!
What were the challenges you faced creating the video and how did you overcome them?
First of all, going to Iceland, I knew it wouldn't be easy, and I was right. The wind was really strong, but the drone performed amazingly is such harsh conditions. Also, it was raining often so every time we had a break from the rain, I flew. We were camping for 12 days so it wasn't easy to find power, but i managed to charge the battery in the car while we were travelling from spot to spot.
What were the favourite places and things to do you found on your trip?
That is such a hard question… Every inch of Iceland is so beautiful, and I fell in love with every place we've been. We stumbled upon some amazing spots, we climbed a big mountain (where it was nearly impossible to stand up on top because the wind was so strong). We did flips on top of houses, we saw some beautiful horses  But i think my favorite place was Jökulsárlón lagoon. I got some amazing pictures there (check them out on my website).
What advice would you give to those who are travelling to Iceland for the first time?
Stay as long as you can! A stay in Iceland is alway too short. You always want to stay longer. Also, be sure to bring a lot of layers because it can be very cold. Five minutes later the sun can come out and it's suddenly warm! Also, if you rent a car, make sure it's a 4×4, we got the cheapest car because we didn't want to pay and got stuck so many times (it was fun though).
Do you plan to return to Iceland and if so what places would like to see?
I will surely go back to Iceland one day. I want to go back during winter so i can see the northern lights and explore the highlands.
Anything you would like to add?
I would like to thank you for sharing my story, hope you enjoyed the Iceland from the sky video. I would also encourage everybody to follow their dreams and to go where your heart leads you. Live now, it's the good time to do what you want. I often hesitated to go to some places. I didn't when it was time to go to Iceland and i will never regret it. Also, please take a look at my website: http://www.hybriddynamicmedia.com/ And last, If anybody reading this has a company and need someone to film, let me know, my dream is to be able to travel the world and live from my travel photography/videography!
Thank you Yann and we hope that your dream will come true!
Related posts