All my traveling these days starts early in the morning. That is actually great since it ensures that you make most of the day.  But it has to be said I am not a morning a morning person. But waking up for snowmobiling on Langjökull glacier was not a problem. I was so excited about going snowmobiling on Langjökull glacier that I woke up four times on regular thirty minute intervals starting at 5:30 before the alarm on my phone actually went off. For those who know me know how out of character that is.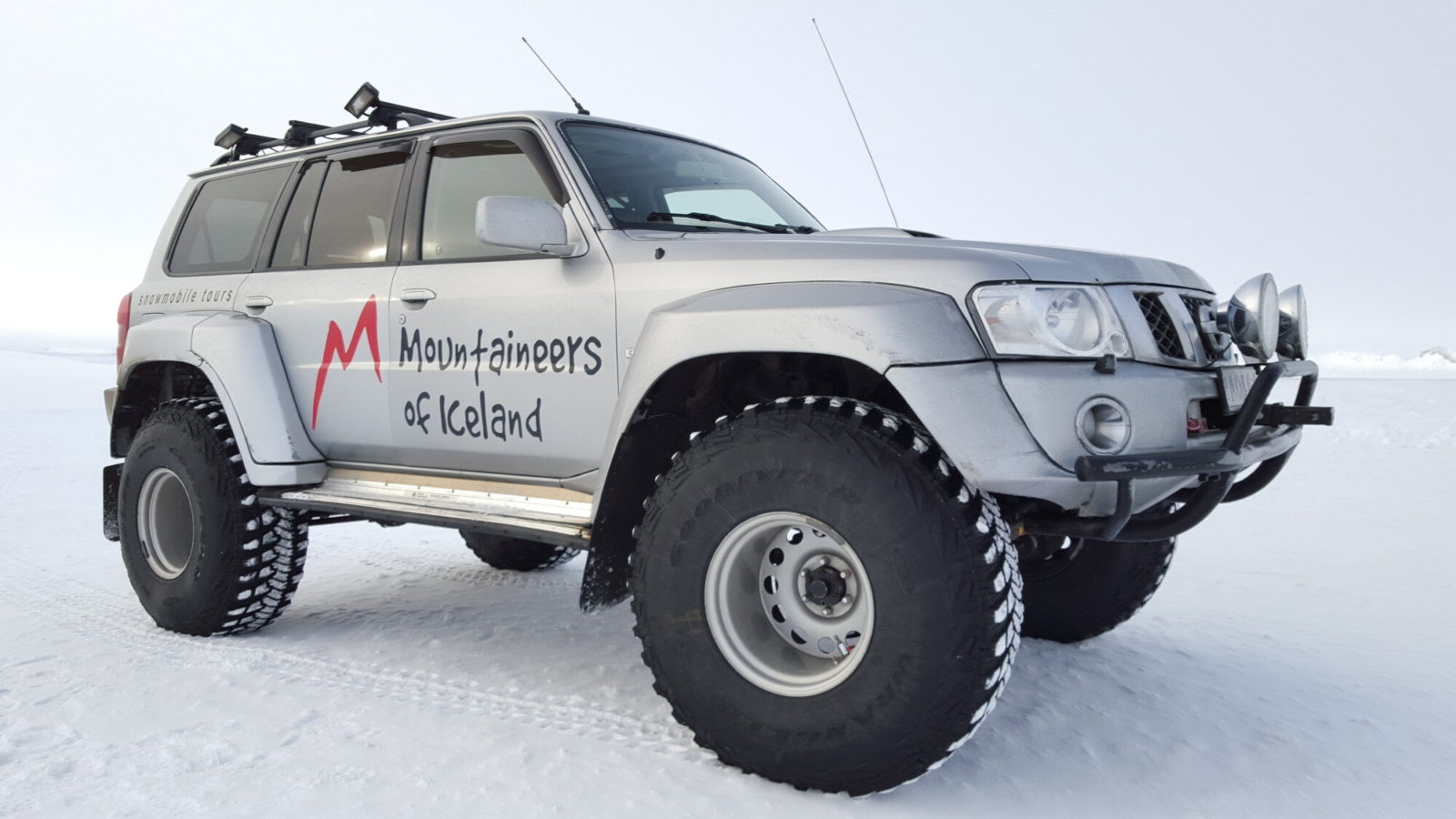 A great guide
I was ready when the guide called me to get directions to my house. And soon after that the super jeep was in my driveway. Its rumblings and sheer size made my cat a bit nervous. I hit it off with the guide immediately. Hreinn Heidar is a no nonsense, easy going guy, who is a member of the Icelandic SAR, a wizard around cars and engines with a great sense of humor. He is the kind of guy you want to have by your side in a pinch.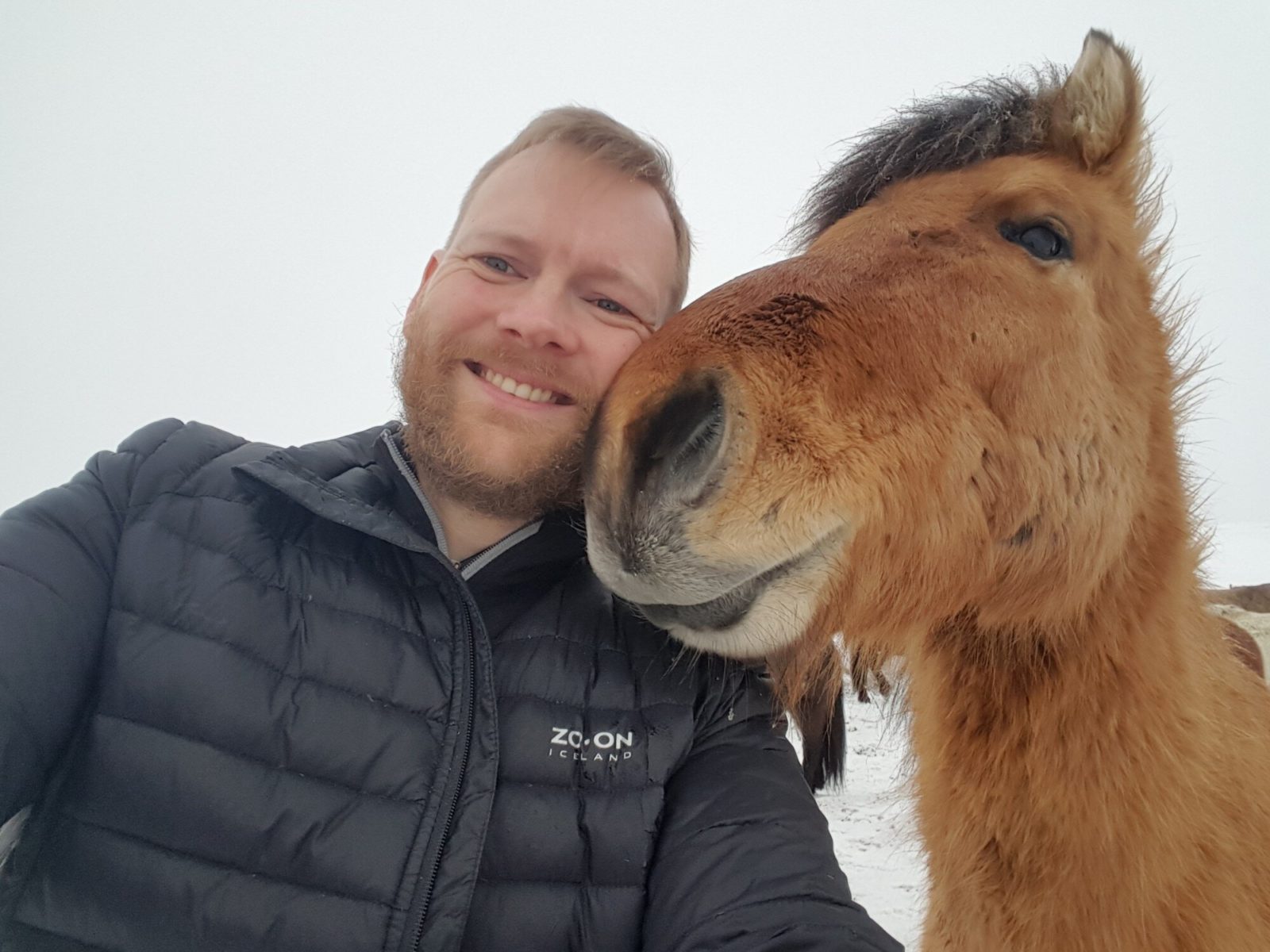 We went downtown to pick up a Swedish couple, they turned out to by a pair of engineers from Stockholm and the guy was a an experienced snowmobiler. As it turned out he was and I wasn´t.
Video highlights from the snowmobiling trip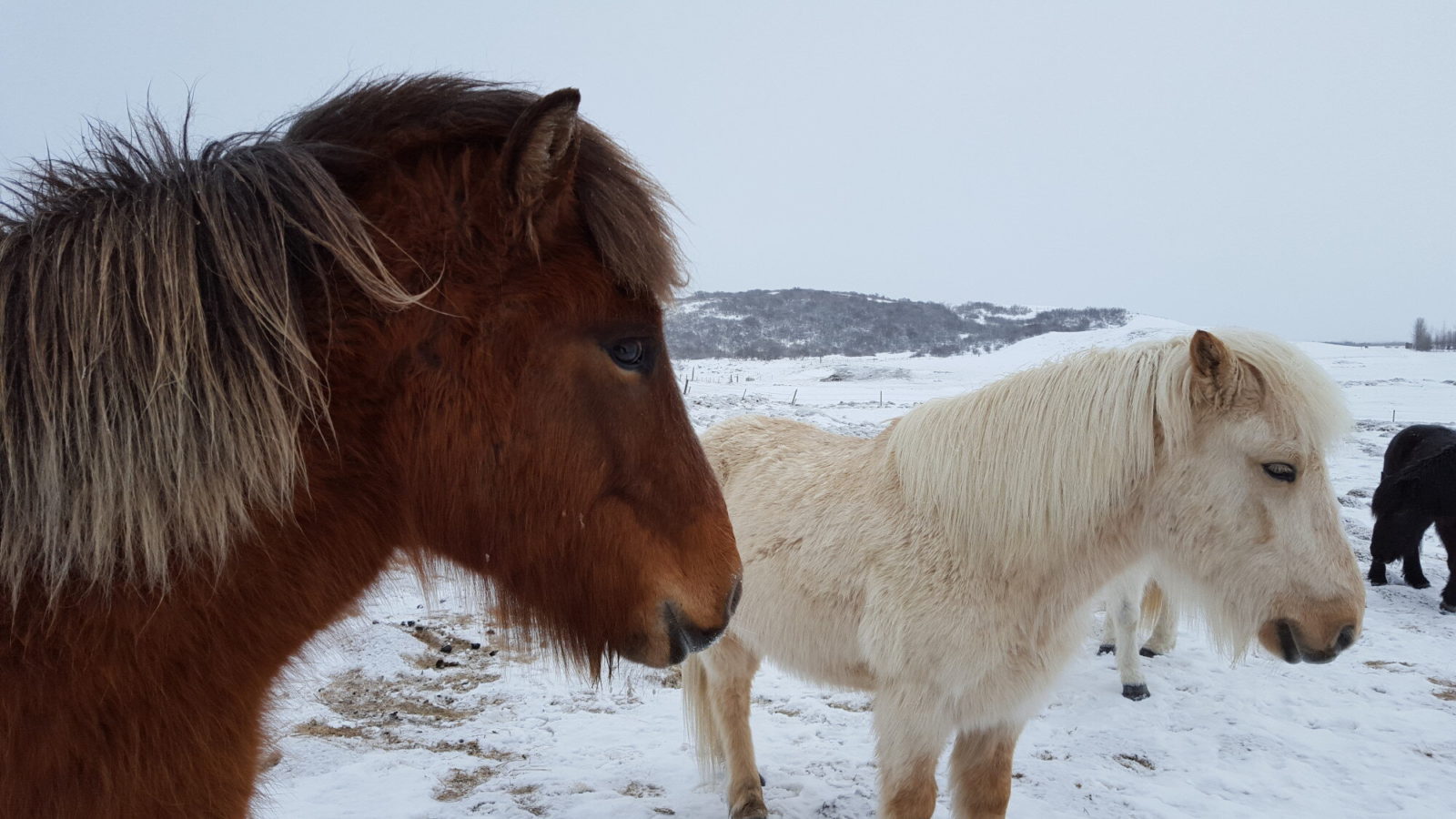 Meeting Icelandic horses
Anyhow, on our way to Langjökull, Hreinn stopped at his family´s farm and introduced us to the horses kept there. I envied him instantly of a wonderful white stallion he owns and we couldn´t help going into the fence where we were instantly mobbed by super friendly horses, looking rugged in their winter fur. I forgot all myself there and as I looked up, the rest of group was waiting patiently. A whole day have gone by with those wonderful creatures.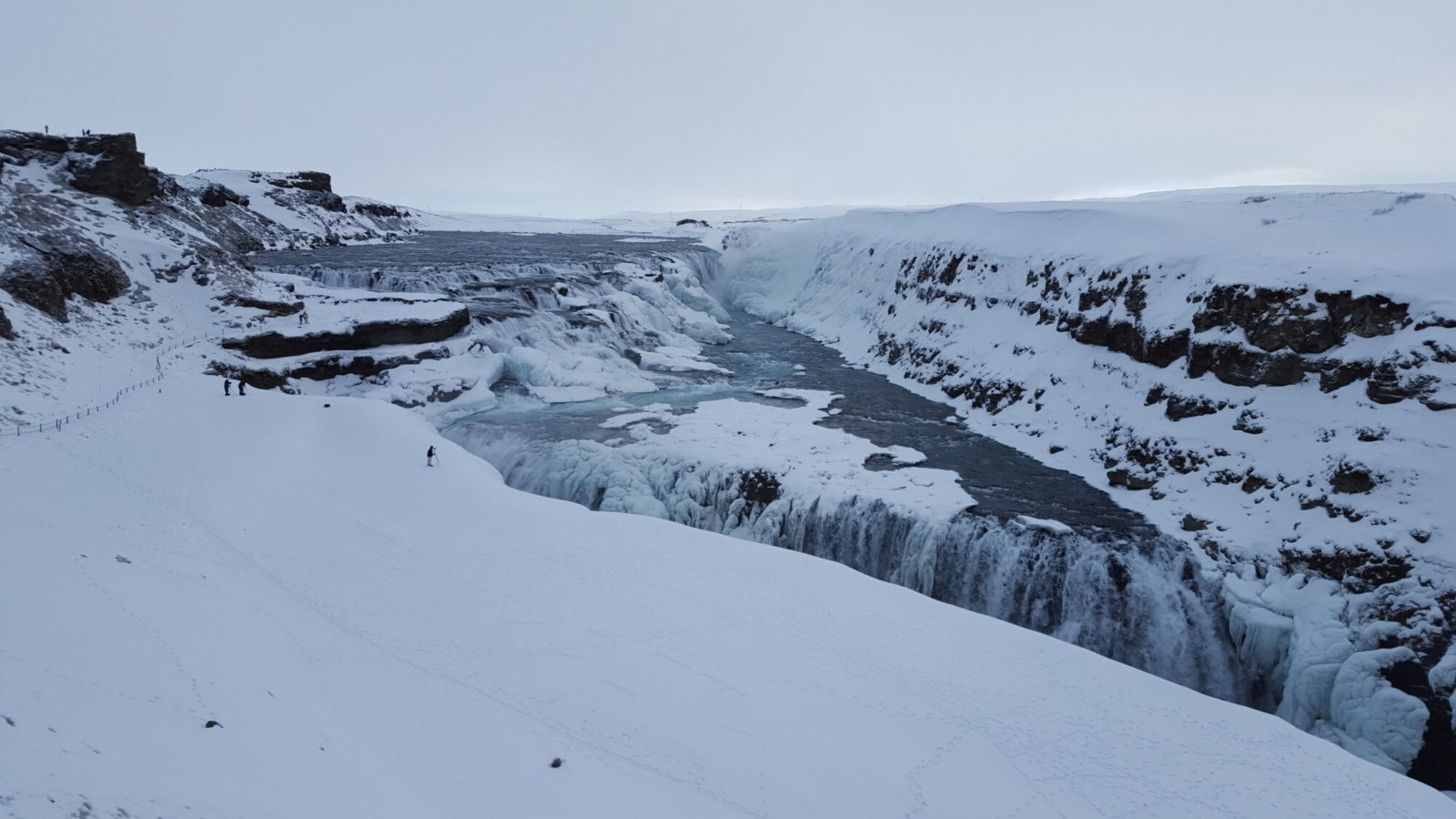 Seeing the frozen ice giant of Gullfoss waterfall
We drove past the Haukadalur Geyser field and caught a glimpse of Strokkur erupting. Hreinn also took a short detour to Gullfoss waterfall which looks impressive in its icy shackles. Unfortunately some people there did not respect the closure of the path to the waterfall. During winter, it can become super slippery and dangerous. I worried that somebody would fall down on the icy path and slide right down in the canyon. It may sound a bit dramatic but it could happen. When we got off the main road the fun began, Hreinn took every advantage to show off his considerable driving skills and we got a fun and bumpy ride. The drive to Langjökull felt like a really short one, we had such a nice time chatting and joking around. But now it was time for snowmobiling on Langjökull Glacier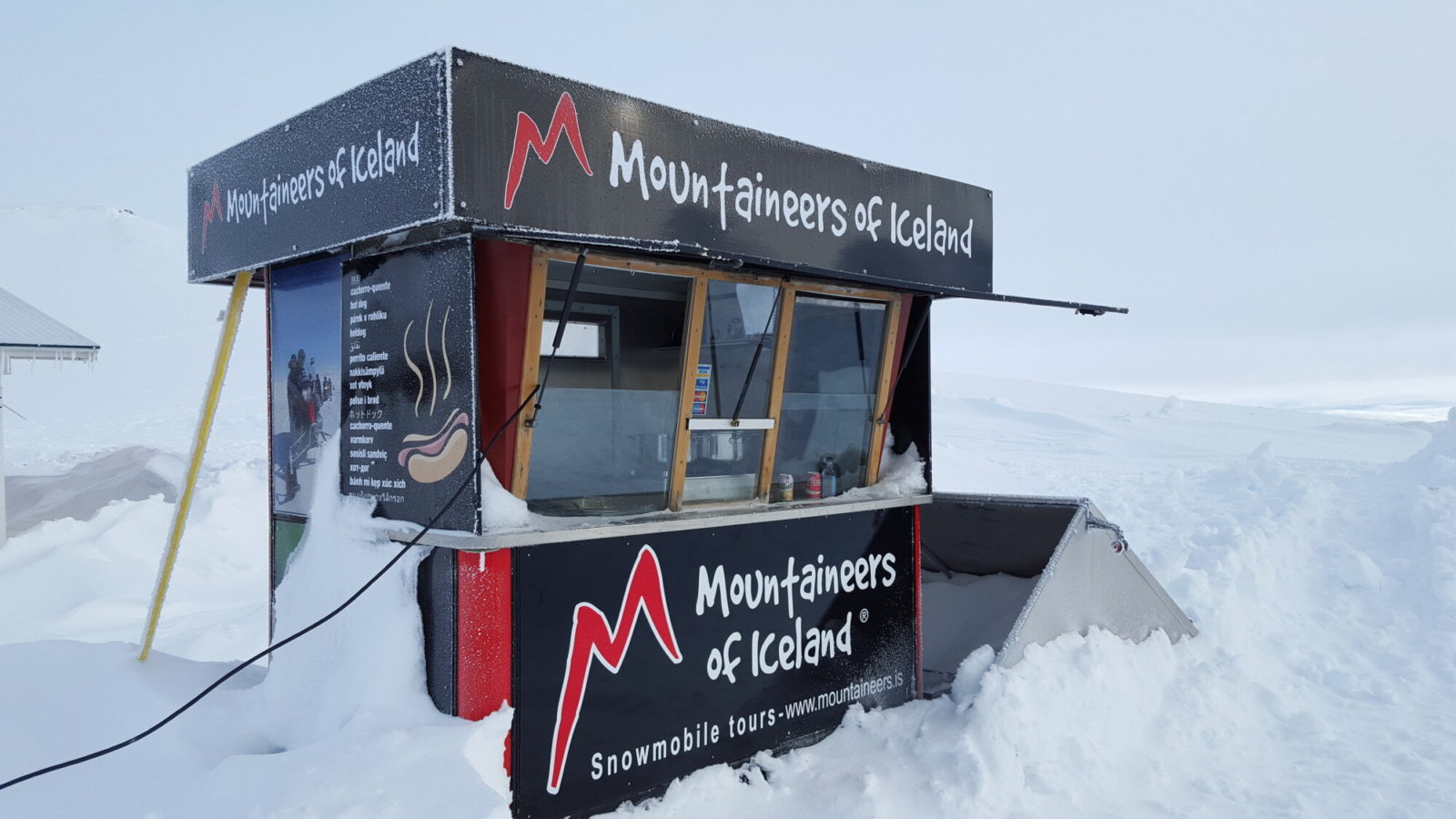 Sleek Yamaha snowmobiles at your service!
When we got to the base camp, I could for myself see the extent of the operations there. There are dozens of snowmobiles there and a crew of pros that make sure that you get the right equipment for a snowmobile ride. I was impressed with the power (and the sleek look) of the brand new Yamaha snowmobiles we got. Hreinn told us how operate the snowmobile and he was quite strict on safety. Make sure you keep your legs on the snowmobile, lean in when you are turning, stay on the tracks, don´t go any faster than you can safely steer the snowmobile. These were his safety tips and we followed them to the letter.
Snowmobiling on Langjökull glacier is such fun!
We got helmets, a warm suit and gloves. We were lucky with the weather, it had been overcast in Reykjavik but the clouds had lifted by the time we got to Langjökull glacier and there was hardly any wind. Then we were off. Hreinn led the way, the Swedes came after him and I was at the end. It was a good thing too, it took me a while to familiarize myself with the snowmobile and gradually I was bolder and went faster.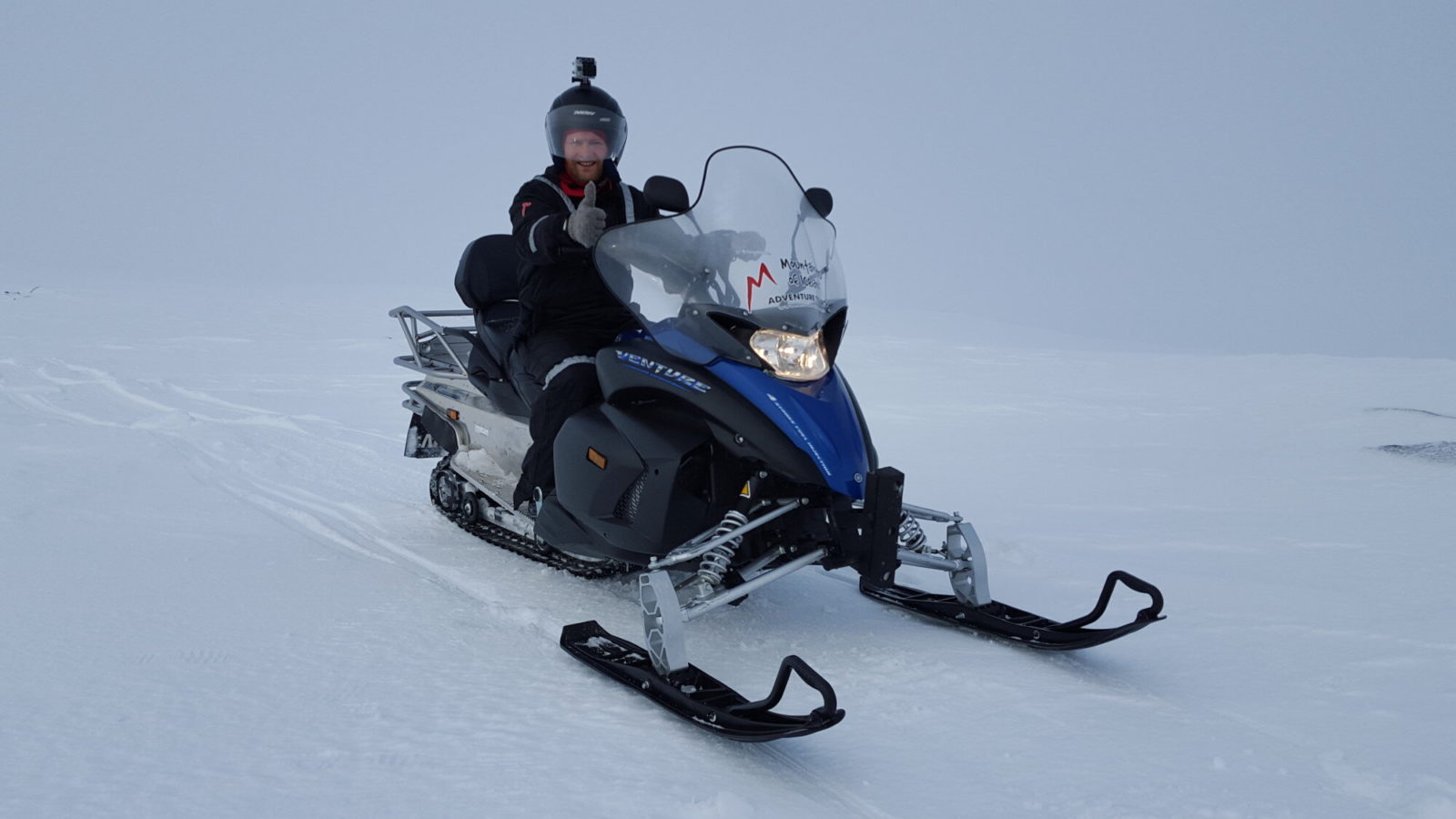 It is not just noise and speed up on the glacier
I noticed that Hreinn made sure that he always knew what was going on behind him and I appreciated that he didn´t pressure me to go faster. He would stop at intervals where it was optimal to take pictures. We would turn off the engines and just appreciate the strange calmness and serenity that somehow permeates everything on a glacier.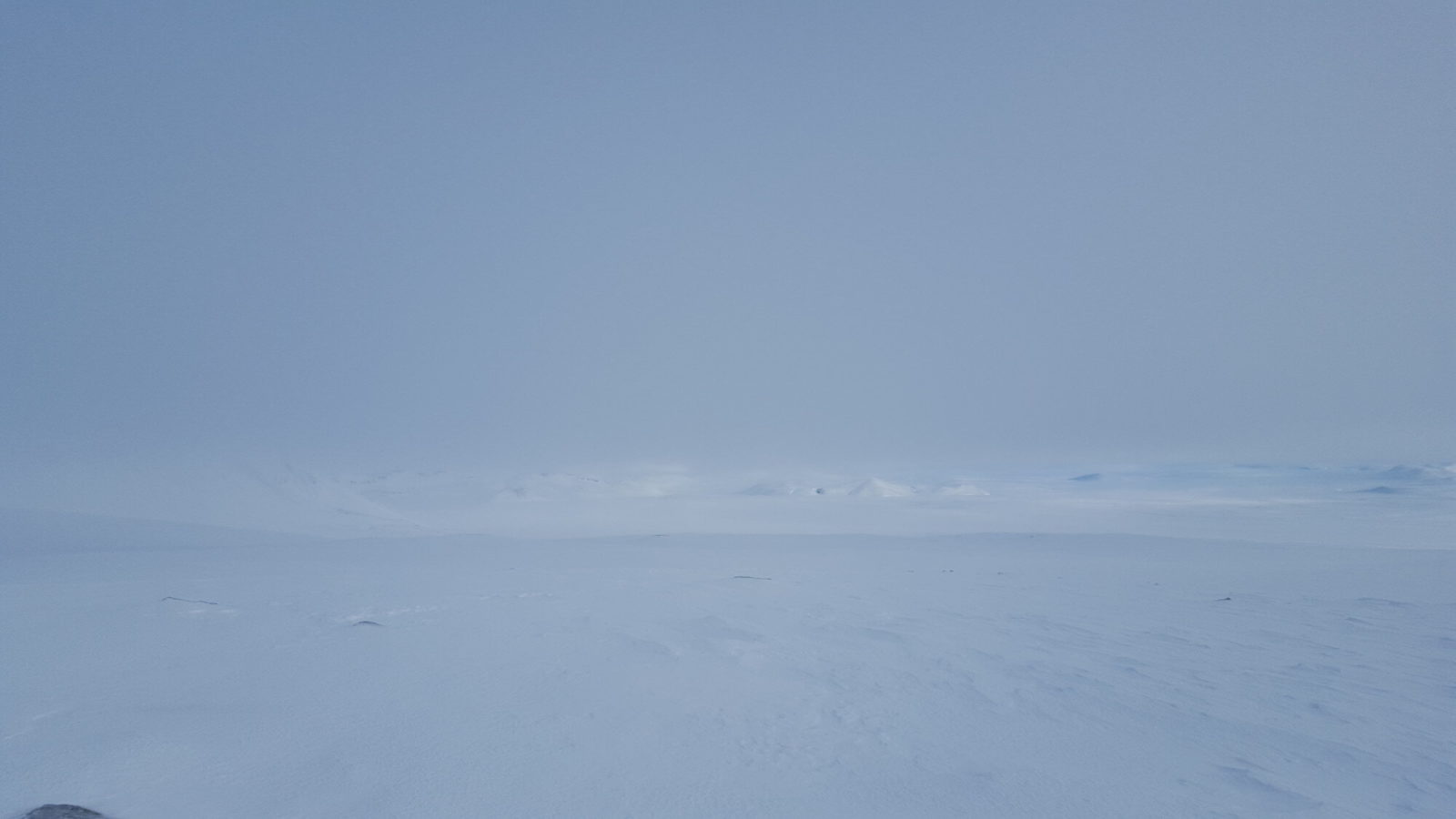 At our first stop I asked Hreinn whether I was slowing everybody down. He just laughed and said: "No man you are doing great, no worries." He was probably relieved that I was unlikely to crash the snowmobile on a rock or flip it over.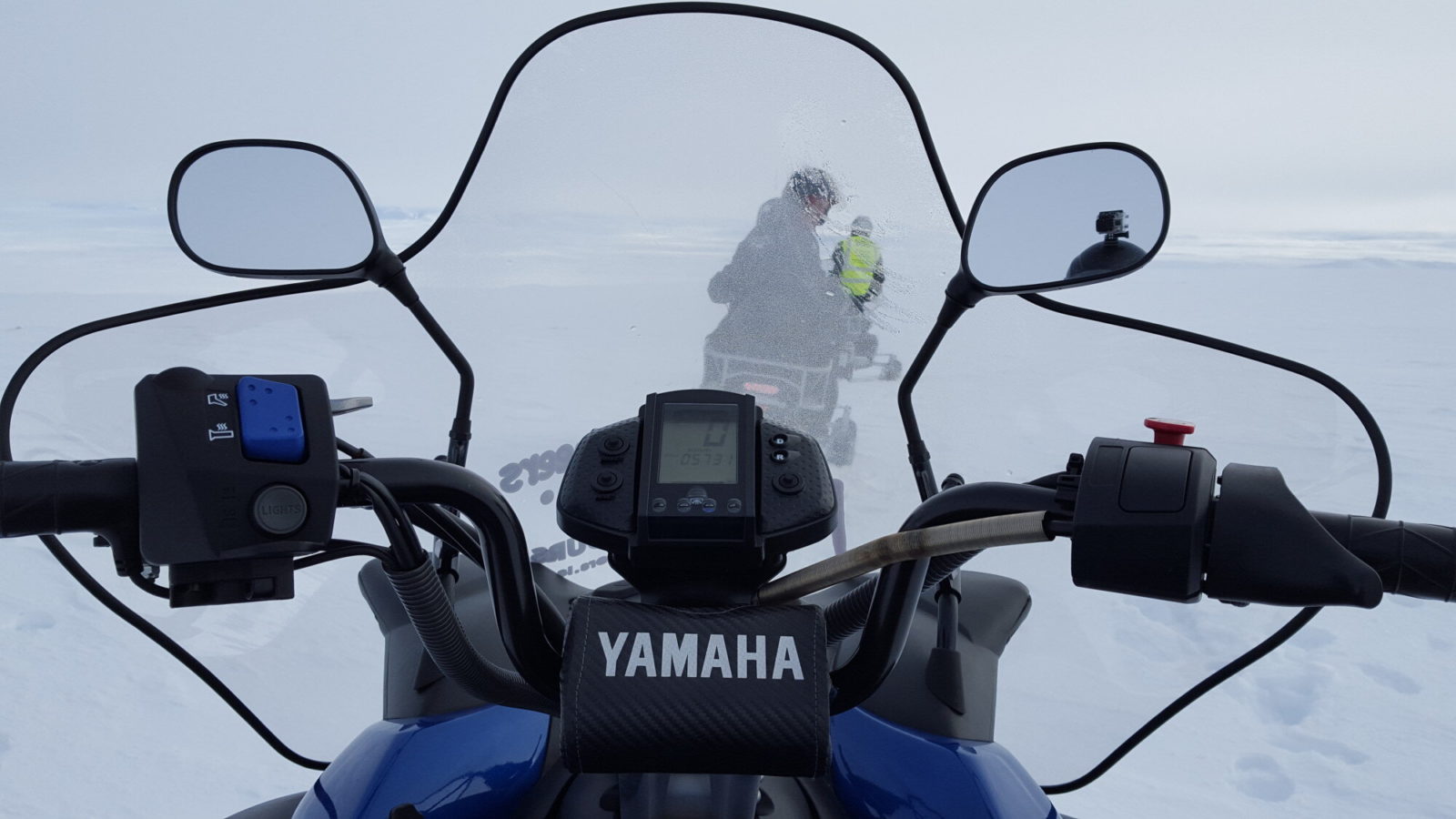 One stop was at a large snow covered hole in the ground which I thought was a glacial crevice and to my horror Hreinn slid down into it. For a crazy second I thought to myself: "Oh shit, there goes our guide!"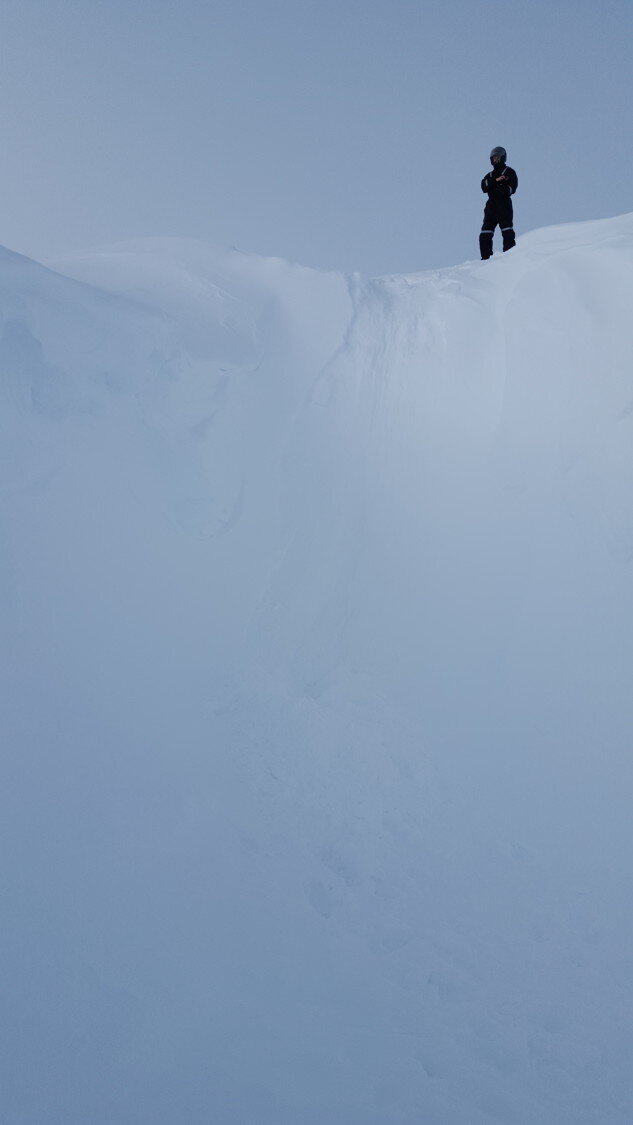 Slipping and sliding
But he landed laughing in powdery snow at the bottom and we all had a great time sliding down there. It was just a hole in the ground, but not a crevice leading down to hell itself as glacial crevices undoubtedly do. It highlighted perfectly the danger of riding a snowmobile on a glacier if you don´t know what you are doing. After this stop I had really gotten the hang of riding the snowmobile and I let it rip. It was pure adrenaline laced fun. I even found myself going full Mad Max, yelling "Witness" standing on the snowmobile at 70KM per hour. Please don´t tell my mother or anyone else for that matter.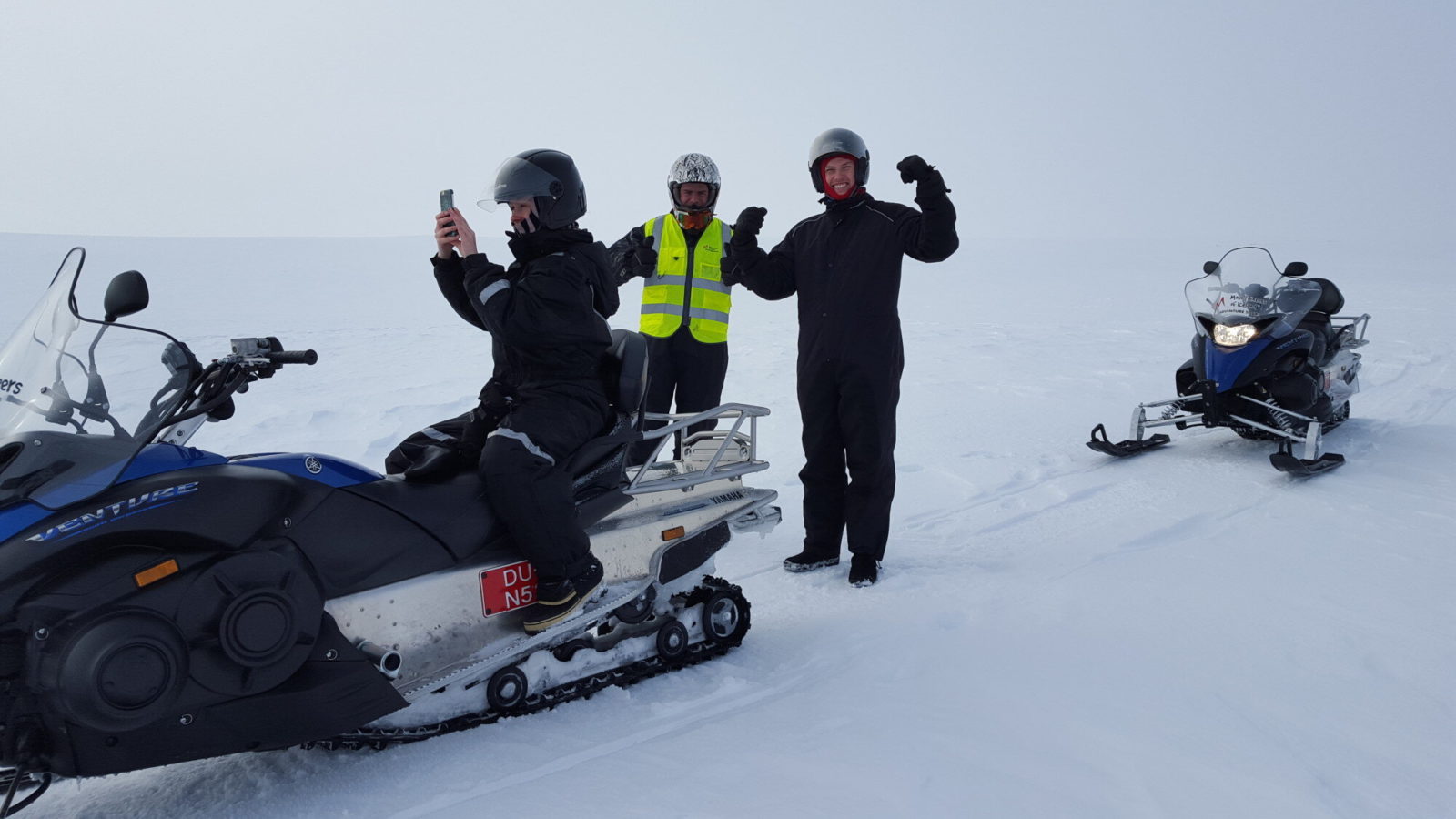 When we got back we headed for lunch at Skjól, a nice little country bar and resturant. The tasty pizza there went down well and we went to our next destination which is the Secret Lagoon. Our snowmobiling on Langjökull Glacier had ended. Now it was time for relaxing!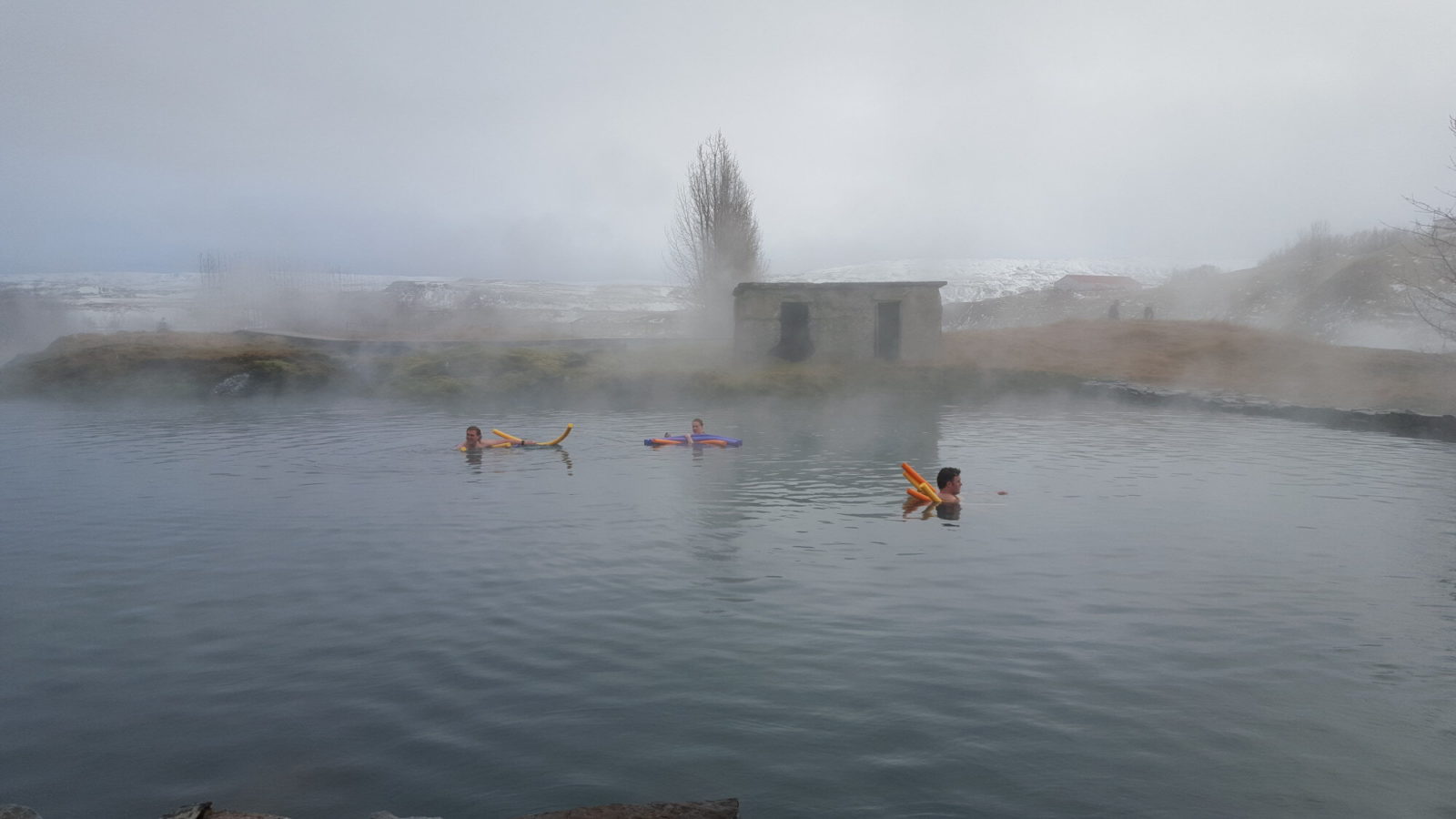 It is one of my favorite destinations actually, it is just a simple pool with no frills but the water is comfortably warm and it is strangely soothing to walk on the gravel bottom. They have bars of foam available which you can use to float on, and I can tell you that tons of stress just left my body floating in the warm water with snowflakes coming down.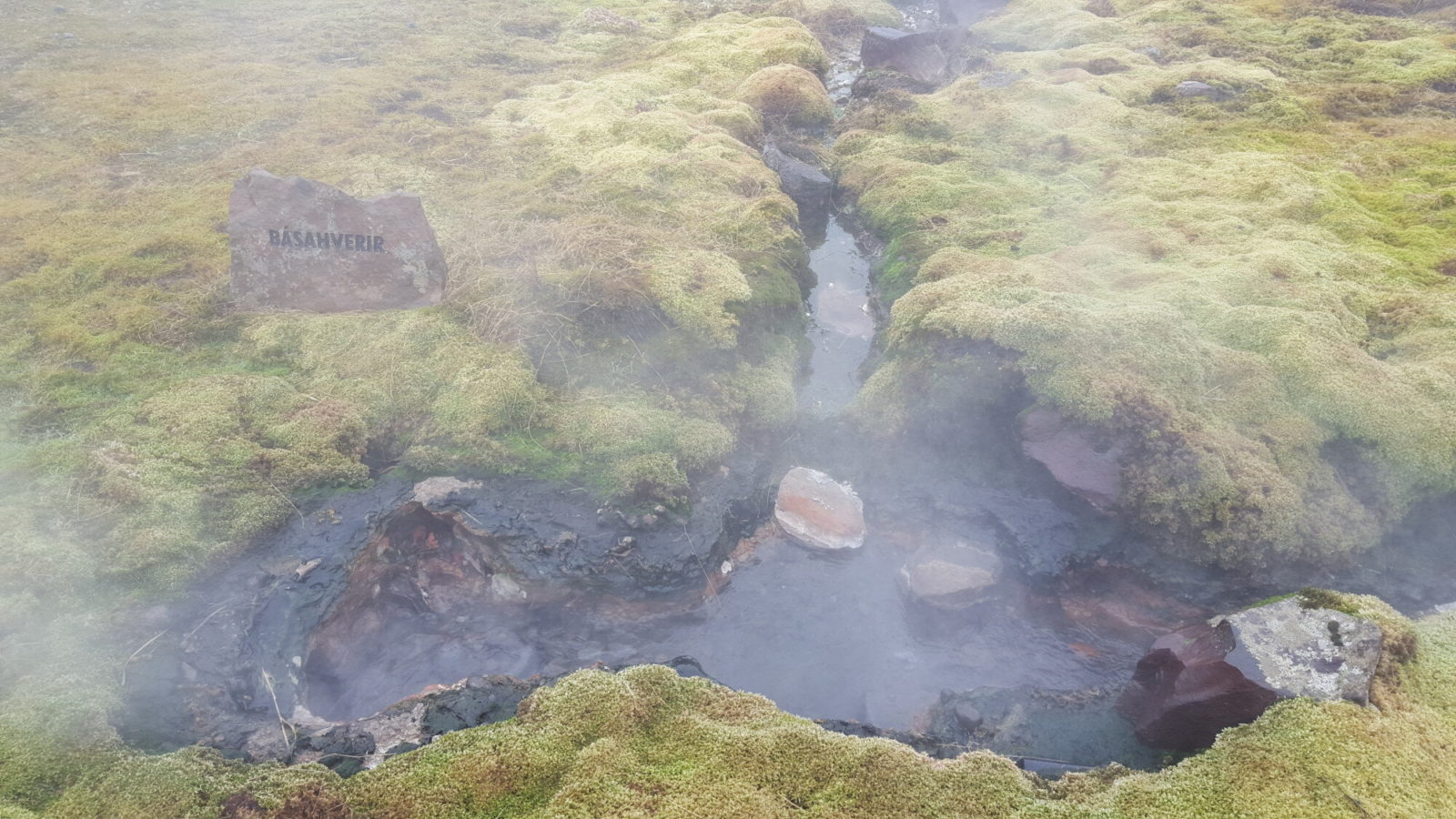 Relaxing and soaking
Right next to the pool there are hot springs and even a small geyser. If you are so inclined you can buy beer to go with your soaking but I didn´t go for that this time around. If I would have, I would probably have fallen asleep there and then. After soaking in the pool for an hour or so, we headed back to Reykjavik and I suppose the only person wide awake was Hreinn who had foregone the pool since he wanted to be alert for his driving. A great idea really since drowsiness follows such extreme relaxation.
I cannot wait for my next adventure.
Related posts