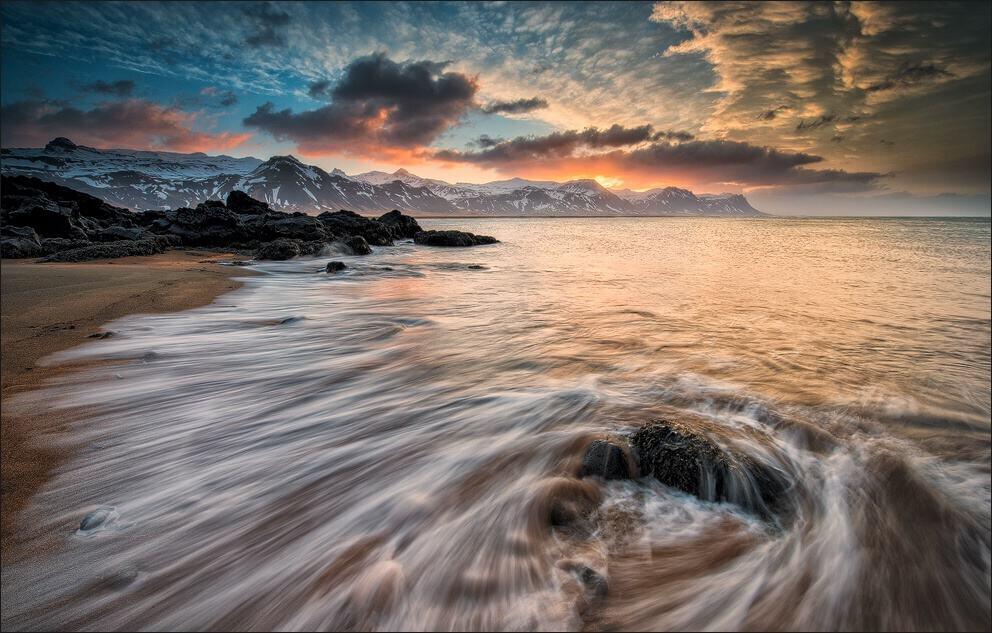 Snæfellsnes Peninsula Road Trip – Iceland in a Nutshell
Stuck in Iceland, 4 years ago
9 min

read
268
The master photographer Martin Schulz returns with yet another brilliant article for Stuck in Iceland and this time he covers Snæfellsnes peninsula in a West Iceland Road Trip.  Thanks Martin for sharing your epic pictures and your travel story from Iceland.
Visiting Iceland for the 14th time
It's been 14 times now that I have been able to visit Iceland. I am been fascinated by the beauty of this remote island. In those times I was able to visit the most different places, from the remote highlands with its rugged beauty over to the icy region of Vatnajökull and up to the lovely area around Lake Myvatn.
Visiting the beautiful Snæfellsnes Peninsula on a West Iceland Road Trip
But one special part of Iceland I have visited in all my travels. A place which is said to be "Iceland in a nutshell", because you will be able to find everything which is typical for Iceland at this awesome location. Located west of Reykjavik, about a two hours' drive away you can find the beautiful Snæfellsnes peninsula. Like a finger it points out into the North Atlantic Ocean with the distinctive glacier Snæfellsjökull at their peak. Even Jules Verne was so much fascinated by this place that he started his "Journey to the centre of the earth" right on top of this glacier. I was able to experience a lot of wonderful moments in my 14 visits, many of them are kept in my pictures. With this article, I want to take you on to a journey around this peninsula through the different seasons and seen through my eyes.
Arriving at Borgarnes
Let's start on the ring road and drive in westerly direction. After about an hour of driving we will reach the nice little town of Borgarnes. A perfect place for buying all the necessary stuff you will need for your further journey. Also you will find "Iceland's cosiest place" right in the center of town. Blómasetrið is a very special place; it has a mixture between a flower shop – where you can also get very tasteful decoration articles – and a café with a great living room atmosphere to offer. A place where you can really feel home while you enjoy great cake and waffles combined with good coffee, served by the incredibly nice owners and their daughter Katrín. It is also possible to stay there overnight and rent a room. Right after leaving Borgarnes we turn left onto road 54, which leads directly to the circumnavigation of the peninsula Snæfellsnes. Wide lava fields are the first thing you will notice on that journey. After a short drive, we are going to see a beautiful equally shaped crater named Eldborg (fire castle).

The Most Beautiful Views
In a one-hour walk you can easily reach this crater and climb up to its top. A trip which is really worth a stop. Elongated meadows and massive mountain ranges in the background line our further journey. Especially in autumn when nature prepares for the nearby winter and turns into a dream of yellow it offers the most beautiful views. This is just one of the many awesome sites you can expect on a West Iceland road trip.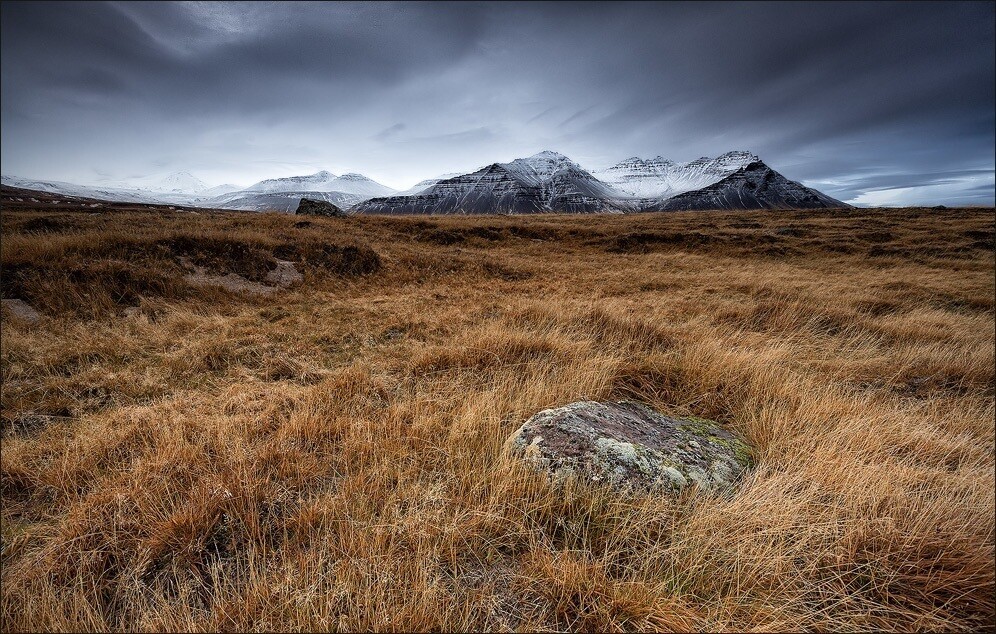 Not only for an extended stay on this beautiful peninsula I would recommend you the short detour to Hotel Búðir and so we'll turn to the short access road. In addition to a wonderful hotel you will find a striking little church, which stands in a beautifully vegetated lava field. To see the sun rising above this little church is something really special. When the first rays of sunlight let the autumn coloured grass start to glow and shine while you can see the peaks of the magical glacier Snæfellsjökull on the horizon beside the church, you get the reward for getting up early and freezing in the cold wind. I spent my wedding anniversary here together with my wife and what shall I say… it was awesome.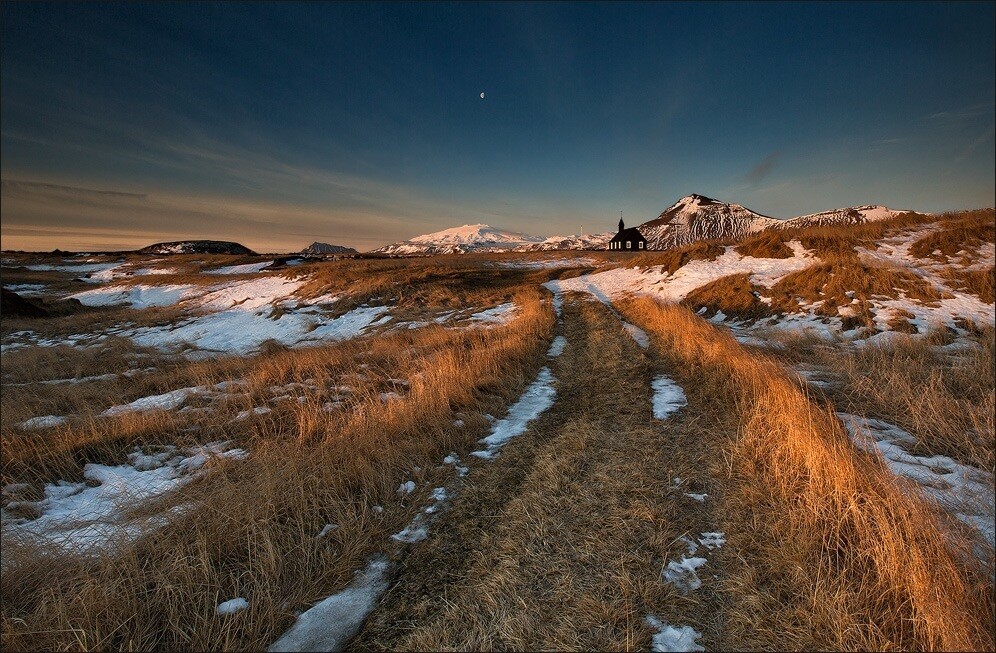 Walk to the Secluded Beaches
Just a few meters further you can walk down to the secluded beaches of Búðir. Each of these small coves is different and unique. Red sand and black lava rocks line the coast. I have very often seen how the sun started to rise at this special place and again and again I was deeply impressed how different and beautiful this landscape can turn. How fantastic our nature is.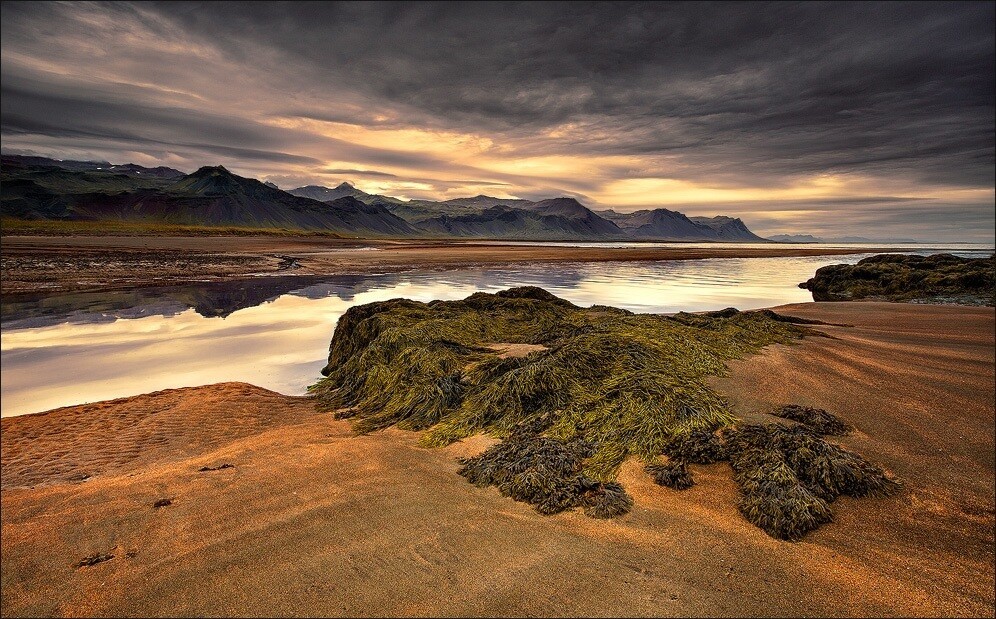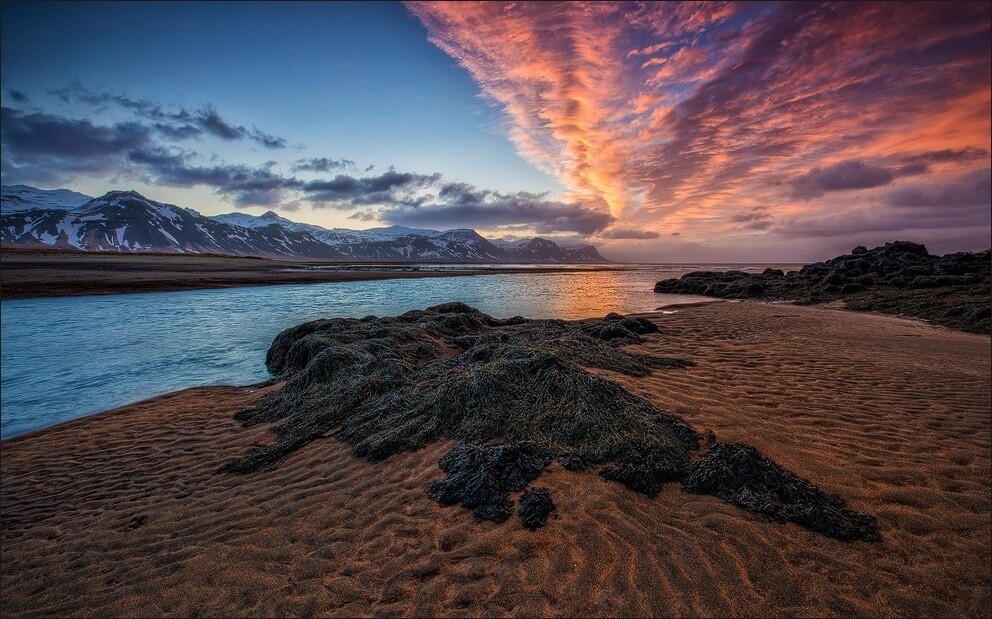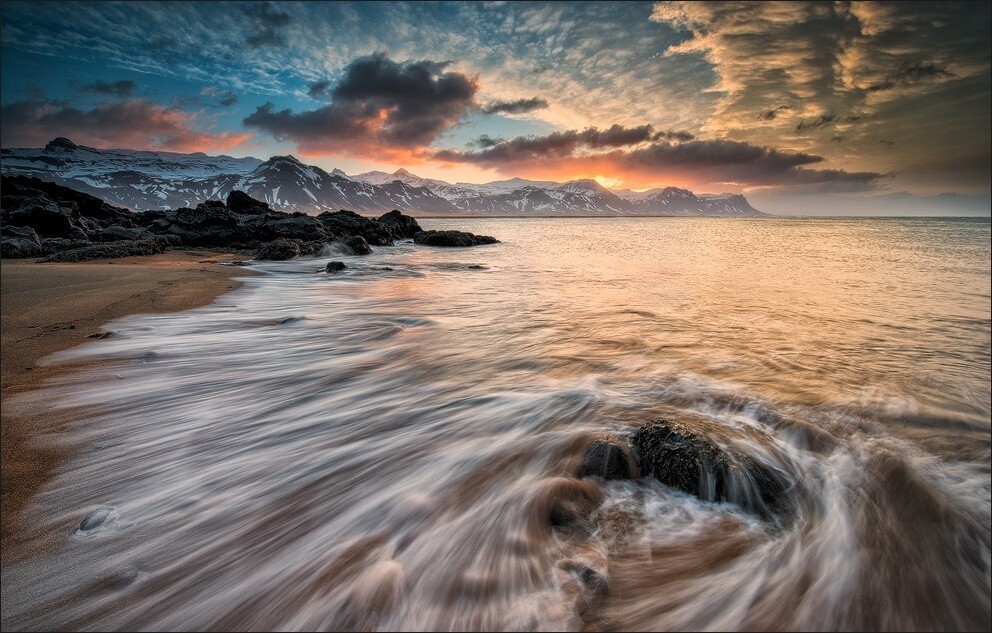 Taking the Road Further West
We leave this wonderful place and take the road 54 further to the west. Different lava fields line the roadside and invite again to stop by. Especially in winter, the weather can change on this route in the shortest time. From clear skies to a big snowstorm, in which you can feel the snowflakes like pinpricks on your skin you can get everything right in some minutes.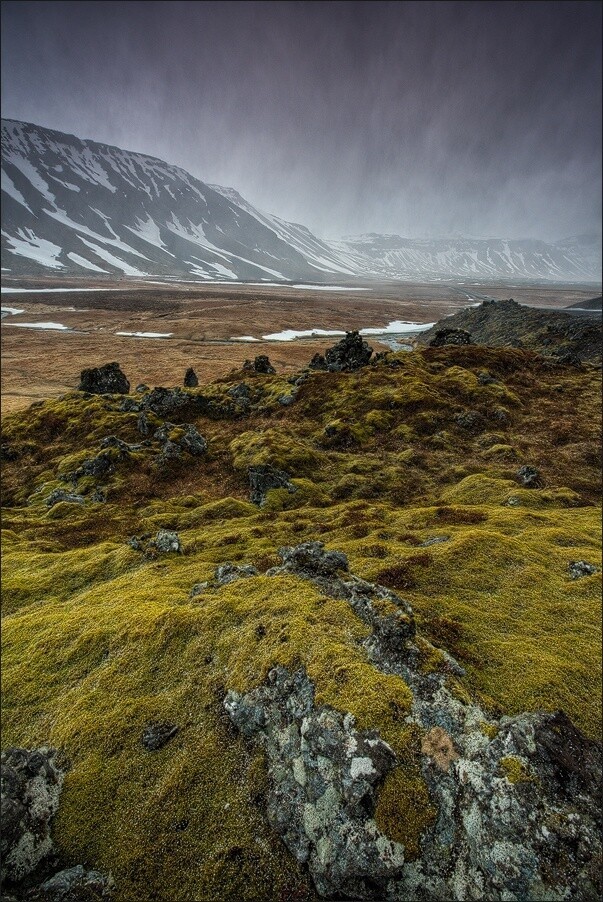 Especially in spring you can experience the most fascinating sunsets here with a variety of lighting effects. Motives for a nice foreground can be found in abundance.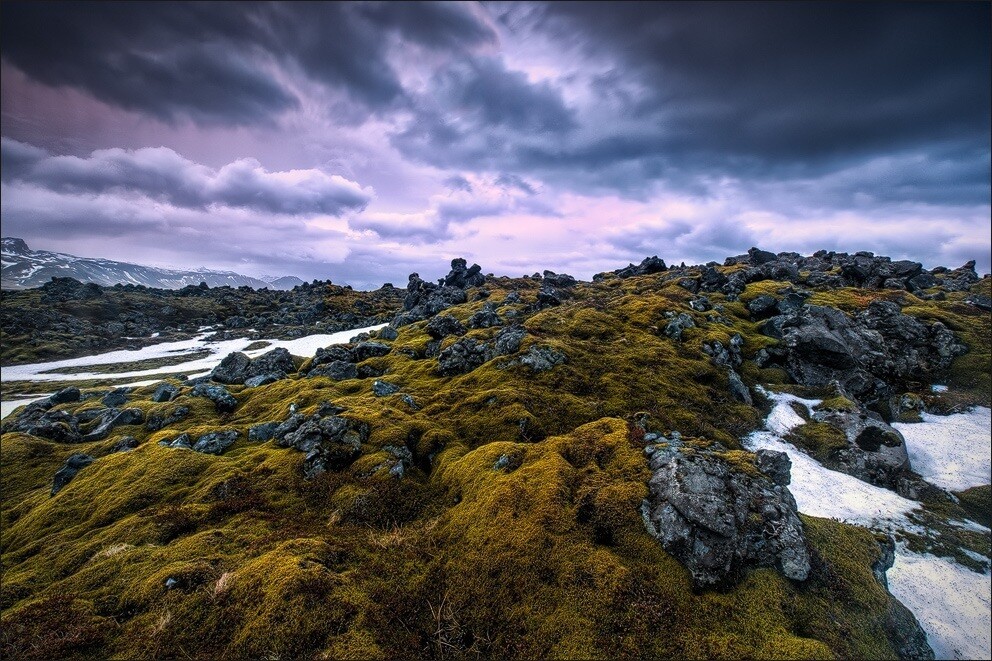 Shortly before we reach the town of Arnarstapi the landscape opens up and gives us a good view right upon a very striking mountain called Stapafell which is located right beside Arnarstapi and the mighty peak of Snæfellsjökull.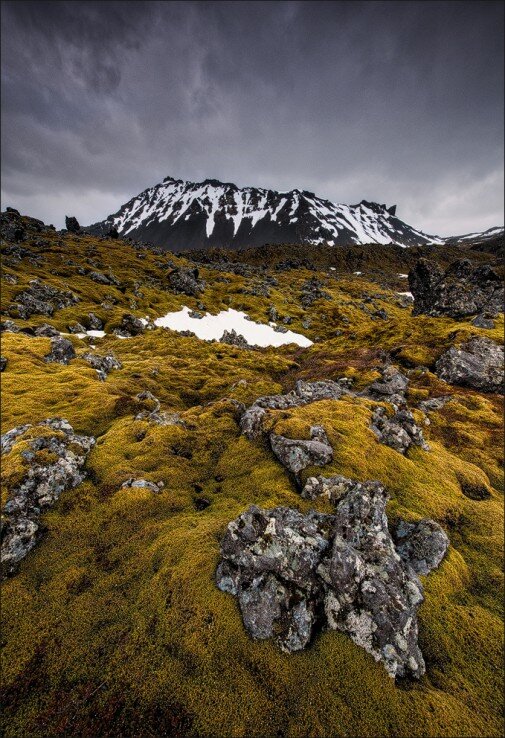 Directly on the slopes of this impressive massif we have the possibility drive right up to the summit of Snæfellsjökull. Good weather and a good car are essential for survival. Half way to the summit offers us a completely different view of the distinctive Stapafell.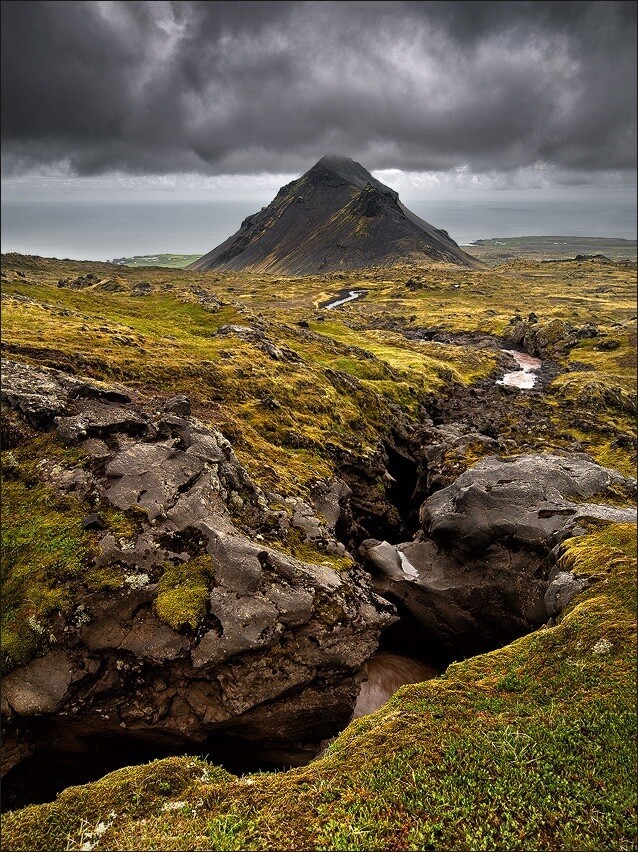 Heading to Arnarstapi
We turn around and make our way down to the nearby town of Arnarstapi. From the car park you can reach the impressive coast in a few minutes. Dozens of lava formations are here in the often roaring sea and invite you to take a walk on the partially crossed by caves coast. From here, you can even hike along the whole coastline until you reach Búðir again.
Instead of this we will turn to one of the most striking lava formations. A huge stone arch, in the middle cut through with two large holes, eroded by the surging sea, named Gatklettur. Considering this formation in a warm summer night around 3 o'clock at night, the North Atlantic shows often his gentle side. On a cold winter evening however, the full force of the sea can be observed very impressively at the same place. True water masses shoot with tremendous force through the surf holes of the sheet.

Arriving at Hellnar
On our journey we come over to another small town, to Hellnar. We turn until we reach the small harbour. An absolute must on a beautiful day is to stop at the little café (Café Fjöruhúsið) right beside the water. With homemade cakes you can enjoy the view of the seals which often relax on the stony coast.
Another spectacular view will be offered to us right after a short ride. In the direction of travel, we acknowledge an extraordinary rock formation named Lóndrangar right at the coast line. On a short walk we will reach a good position directly beside the steep coast to look at these remains of a volcanic caldera. Seabirds are breeding along the coast line and on the lava formations inside the sea. These Coast shows itself in the summer often gentle and calm. In a winter storm on the other hand you can feel the true power of the sea.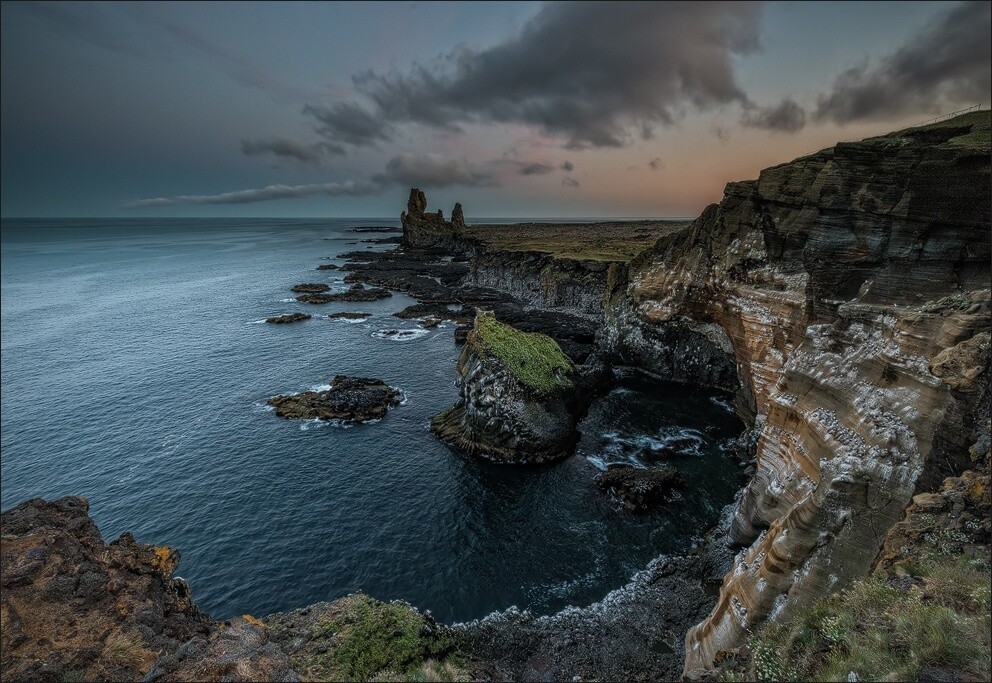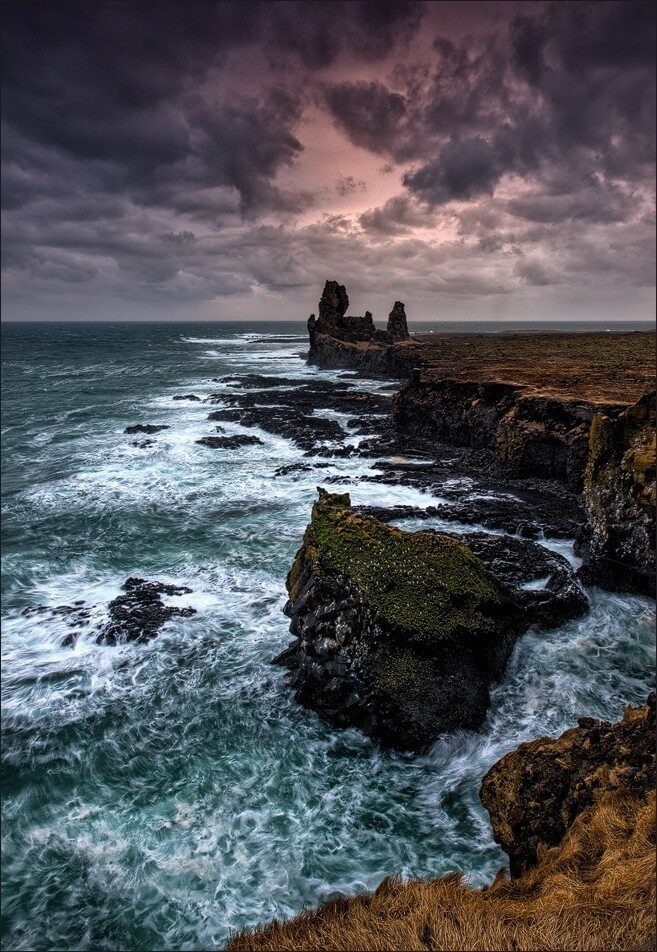 A lot of small farms are located beside our way on, often with beautiful little churches. A trip is always worthwhile.
Defend Yourself Against the Fierce Kria
We circumnavigate the tip of the peninsula, in the interior always the magical peak of Snæfellsjökull in view. On the north side of the peninsula, we will find rough cliffs and beautiful, sandy beaches where the waves break and which invite us for a stop. In the summer months, however, one should be careful here, because these beaches are the area and the breeding grounds of the Arctic Terns (Kria). The birds defend their territory with targeted attacks on the highest point, so the head of the intruder. A stick or tripod which is kept up into the air is a great option to protect your head against the painful pecks.
Arriving at Kirkjufell Mountain
After we drove through the small town of Ólafsvík we reach about half an hour later one of the most beautiful places on the entire peninsula. Shortly before the town of Grundarfjörður an evenly shaped mountain named Kirkjufell (church mountain) rises above the sea. The name is caused to the fact that its lateral edge has great similarity with a single church nave.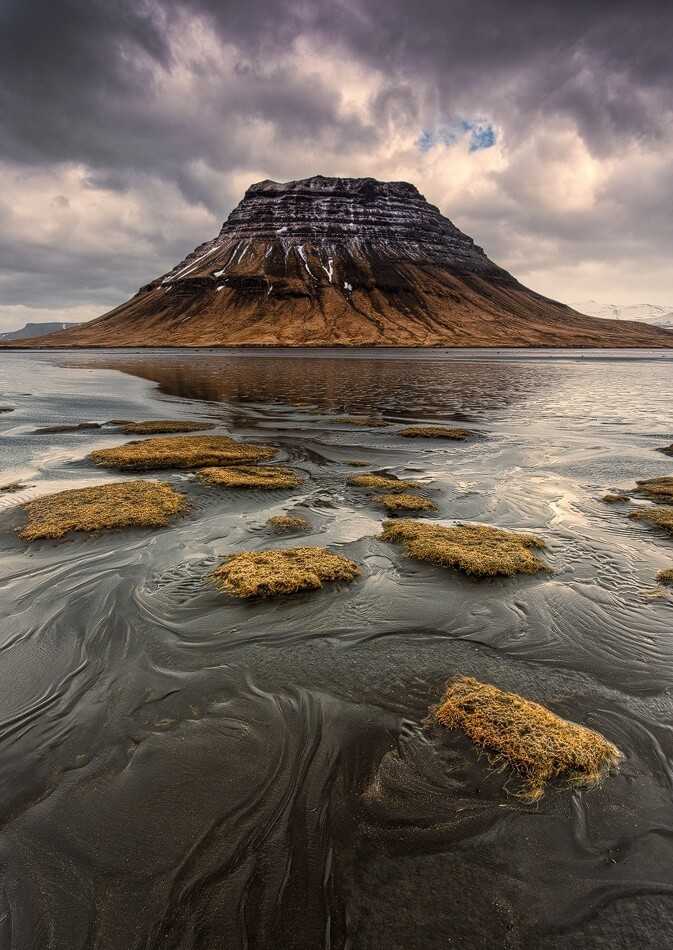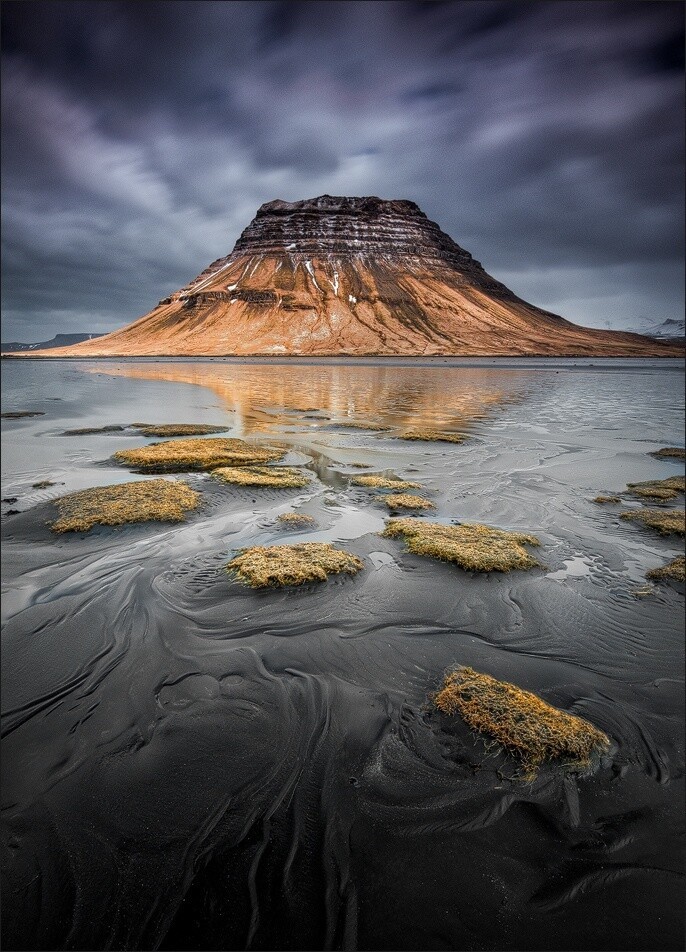 I have spent several days, evenings and nights at this mountain and the nearby waterfall. Beautiful summer moods, icy nights of auroras and fast changing weather in the fall are what I experienced here. The entire area around the mountain is ideal for short walks; you will be able to experience a lot of natural spectacles here if you just keep your eyes open. I already wrote a detailed article about this mountain some time ago.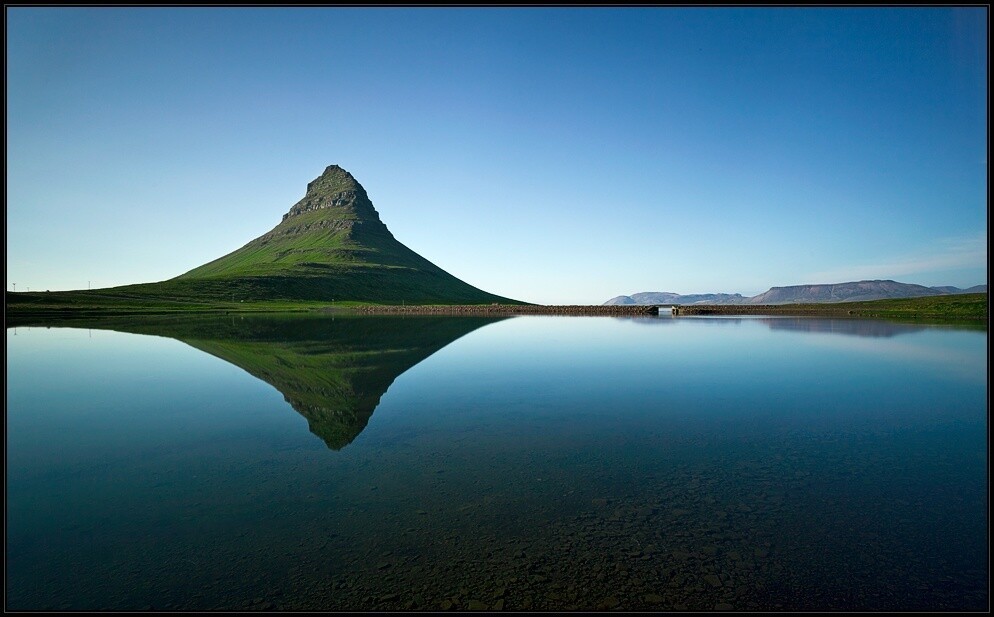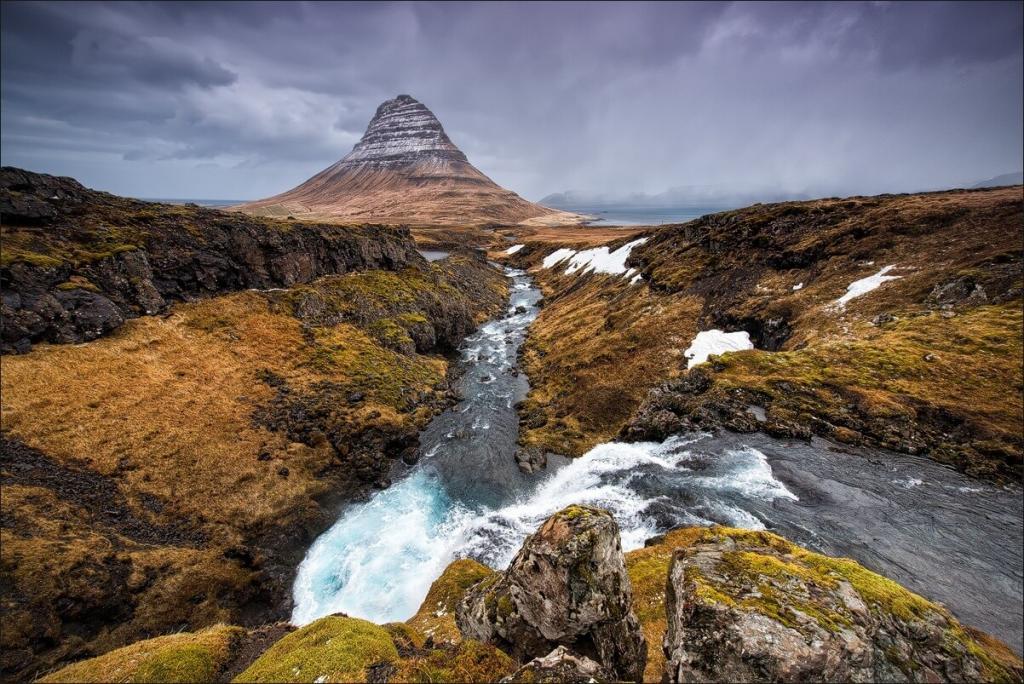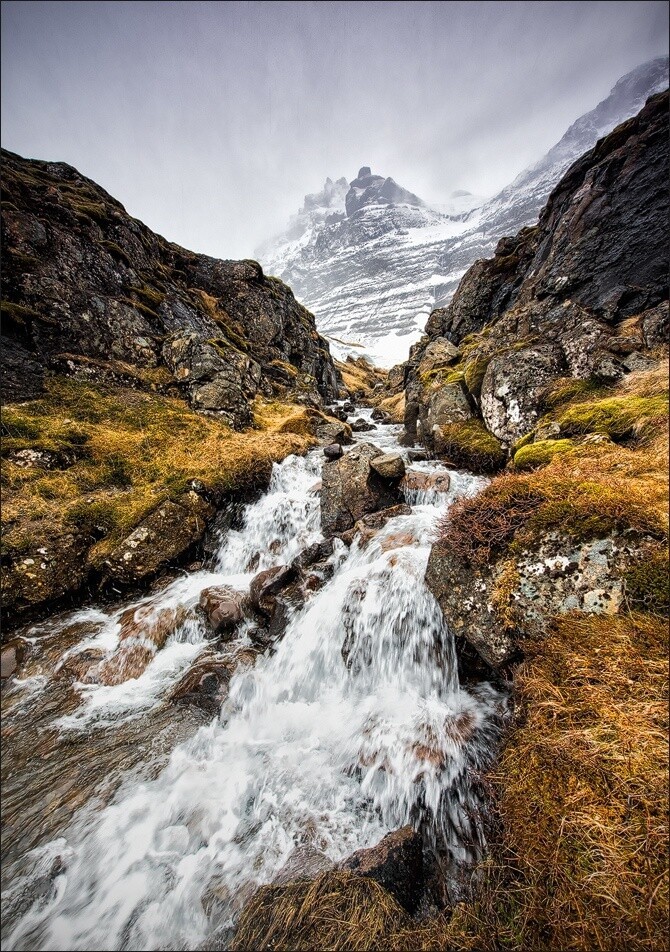 Enjoy Your West Iceland Road Trip
Completing our West Iceland road trip, we pass through a beautiful lava field called Berserkjahraun and can decide whether we continue the circle around the peninsula on road 54, or turn right onto road 56 and go over a nice pass back to the south side of the peninsula and take the trip back to Reykjavík from there. In my countless visits, I got to know the Snæfellsnes peninsula's most beautiful sites. Different seasons and absolutely different weather ensured that I am still standing under the spell of this wonderful landscape. Many visits will follow and I am sure that there are still so many places to be discovered, that these visits cannot get boring.
Related posts