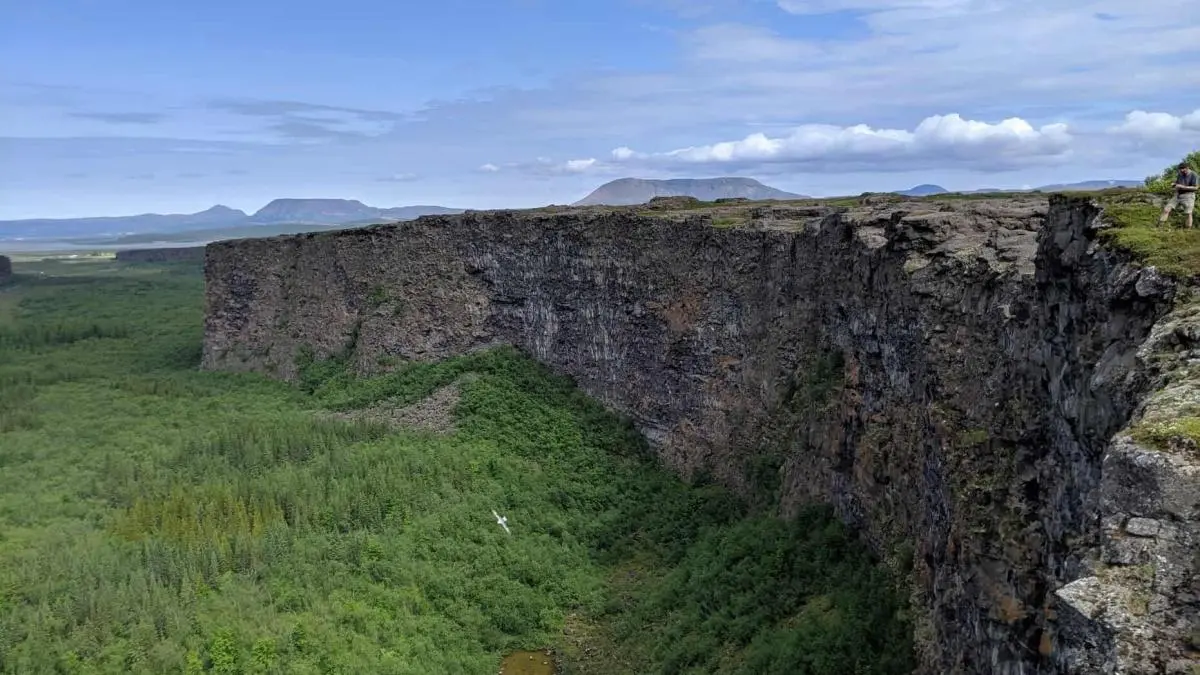 Imagine a place which is so strange the only explanation people had for its creation is to attribute it to the steed of Odin himself. The legend is that the chief of the gods was racing across the sky his horse, Sleipnir, stepped down with one of his eight legs. His mighty hoof left a print which was the horseshoe-shaped Ásbyrgi.
Part of the Vatnajökull National Park
The Ásbyrgi depression is about 3.5 kilometers (2.2 miles) long and 1.1-kilometer wide s (0.7 mile) wide. This is just as a fraction of the massive Vatnajökull National Park. The dominating feature of Ásbyrgi is the imposing 100 meters high (33 feet) canyon walls.
Created by massive floods
Ásbyrgi was indeed created in a series of dramatic events. Science maintains that a celestial horse had nothing to do with the creation of Ásbyrgi. Rather, it was a series of extreme flooding in the nearby Jökulsá river which rushed across the highlands after the last ice age. This was some 8-10 million years ago. Stand at the edge of cliffs there, right above the nice little pond at Ásbygi's bottom. You will see a massive pool or hole carved into the rock. Floodwater and boulders drilled down into the sheer rock. This is known in Icelandic as Skessuketill or a troll's kettle. Quite appropriate I think. Anyway, when the water cascaded downwards. Everything that wasn't Ásbyrgi-shaped was washed away.
Echo rocks
Flooding also created the beautiful Echo Rocks or Hljóðaklettar basalt rock formations. Floodwater stripped all loose material away. Basalt rock formations created in past eruptions remained. I imagine that these places are a geologists dream.
The wonderful woodland oasis
Today Ásbyrgi is a woodland oasis with a really nice camping ground. It is an essential stop on the beautiful Diamond Circle. It is such a nice area for walks. The little pond, Botnstjörn, under the over 100 meter (300 feet) high cliffs that embrace Ásbyrgi is so lovely. Fulmars nest on the cliffs but ducks paddle on a calm pond. When I visited Ásbyrgi this summer, somebody had released a couple of arctic char in the pond. If you see them too, they are definitely not native to the pond.
Sigur-rós etched into memory
I have a great memory of Ásbyrgi. When Sigur-ros were traveling around Iceland and making their film 'Heima' they had a concert there. I will never forget walking down to the field where the concert took place. The ethereal music echoed across the cliffs on that lovely sunny evening.
 How to get to Ásbyrgi
Drive from Húsavík on road no. 85 (see map below). There is nice campsite so staying overnight is no problem 🙂
Related posts