Soar to the Heavens with Tandem Paragliding
Stuck in Iceland, 10 months ago
4 min

read
124
Tandem Paragliding. It is something I never thought I would do. But boy was it awesome.
Book this tour and support Stuck in Iceland Travel Magazine
Finding elation
The elevation was sudden and smooth. One second I was standing on the ground. The next I was soaring effortlessly to ridiculous heights. The pilot releases the cable connecting us to our ´launch vehicle, AKA known as jeep. This happens effortlessly. We are now flying free of all restraints. Gliding high above the lava fields of near Bláfjöll, the Blue Mountains just outside of Reykjavik. The view is incredible. I feel strangely elated but calm. Free as a bird as they say. I did register the presence of the pilot and found his presence reassuring. Above all, I felt solitude and elation.
Holding back for no reason
This was my immediate experience of going paragliding. It was something I always wanted to try since I first saw paragliders flying as a little boy. But truth be told, I have always had a rather bad case of vertigo. I can´t help feeling uncomfortable near the edge of a high waterfall or on a steep ridge. For many years realizing the dream of trying Paragliding seemed out of reach. I didn't want to panic mid air.
My vertigo challenged with tandem paragliding
I have, however, challenged and overcome to a large degree this sinking and completely involuntary reaction. My hiking trips have included some of Iceland´s highest mountains. I have braved high flying contraptions in Copenhagen´s Tivoli. My main challenge to vertigo was completing the gruelling 24 peaks challenge in the north of Iceland. It requires you to scale 24 mountain peaks in the rugged mountain range north of my hometown of Akureyri in 24 hours. Not excactly an ideal track to fear heights and I could not have done this without help from my fellow hikers. It also required self discipline, rational thought and meditation. After all, we had to scale or descend all those mountain peaks made out of loose rocks, solid ice sheets and frozen snow. Slippery ridges with steep slopes on both sides had to be crossed. There was no way back, only forward.
Big experiences await
Emboldened by my ability to tackle my vertigo, tandem paragliding now seemed doable. So last summer I contacted the company running the Paragliding tours close to Bláfjöll, near Reykjavik. They are Happyworld, a pretty cool tour provider that specializes in ´small groups but big experiences´ I am happy to say that they do deliver.
Heading to the launch pad
I decided to invite my teenage daughter to join me. I wanted her to experience this adventure with me. She enthusiastically joined me and one morning we drove out to a spot just outside Reykjavik where Happyworld launches their paragliders.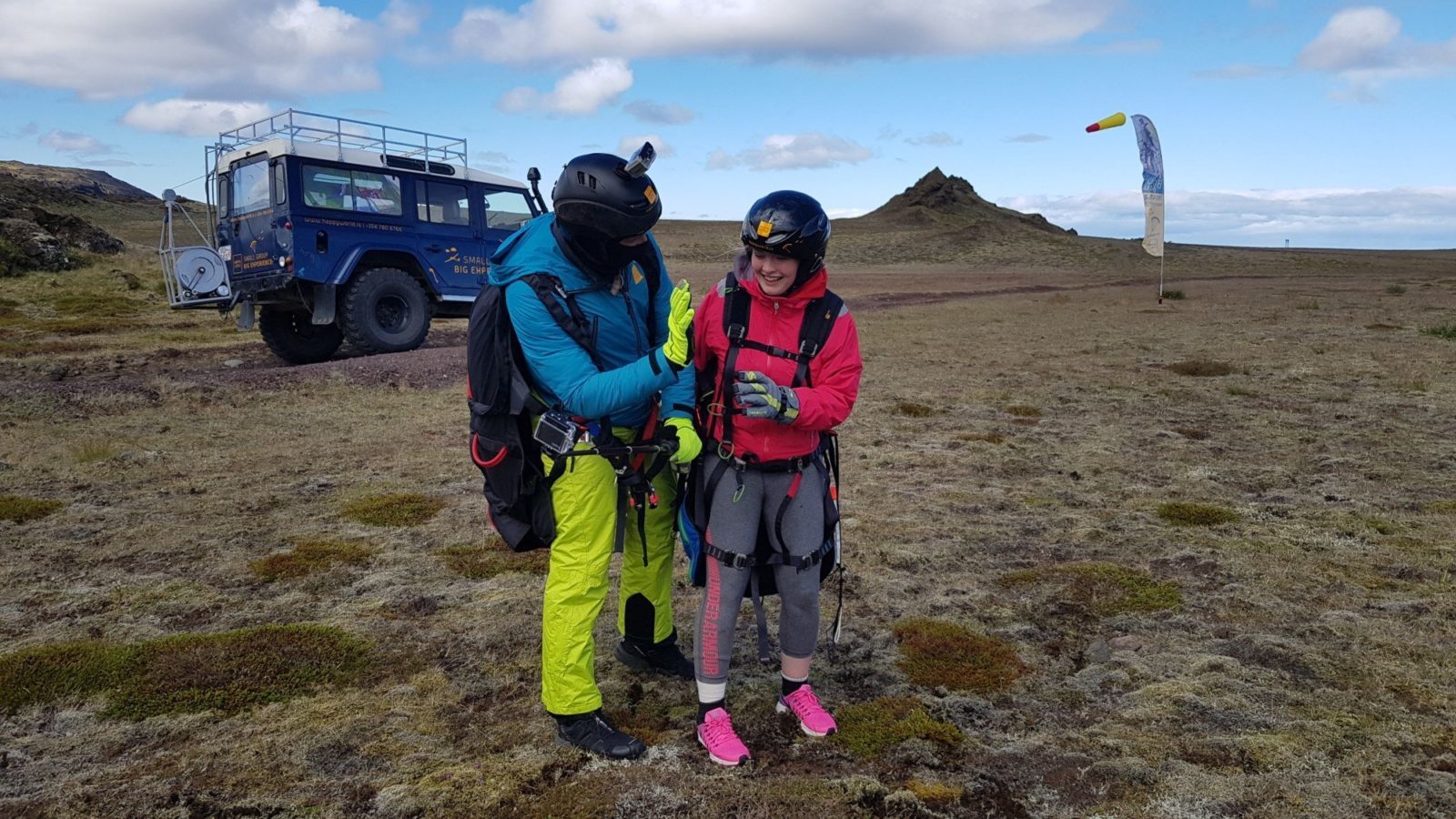 Up you go!
We were met with two guys, one who drives the jeep that launches the Paragliders (launch vehicle!) and the pilot. Paragliding is simple. The pilot is behind you in his or her harness. You sit in your seat and you are only required to stand up and be ready to move with the initial tug from the car. You put on your gear and helmet and position yourself for the launch. And the car starts, pulls the harness and up you go!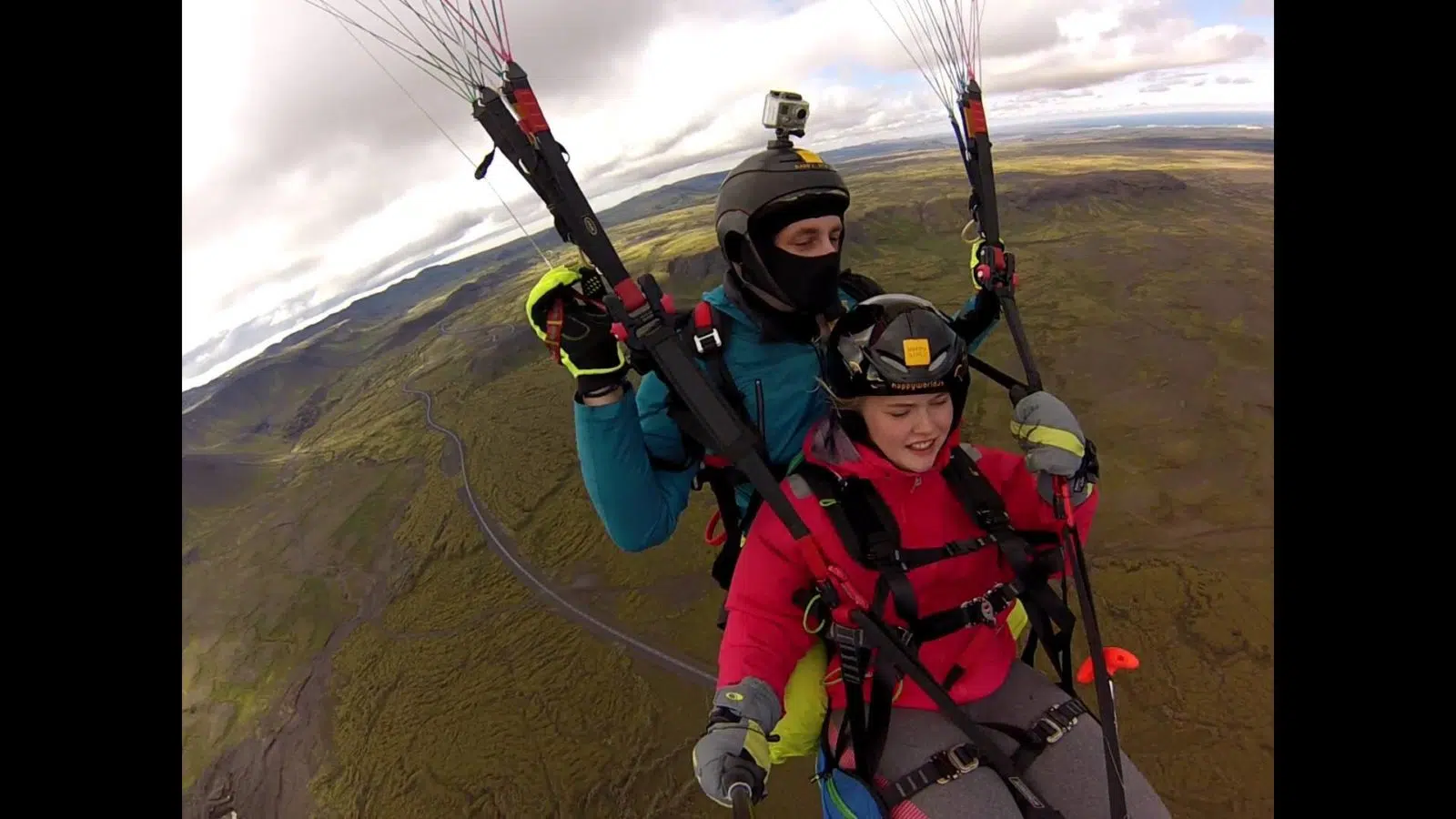 My usual silliness on display
I went first and brandished my GoPro to get awesome footage from the my epic trip. The pilot obliged, twisting and turning and giving me tips on how to best to use the camera. But the main thing was to experience the thrill of flying and the spectacular view. A good thing too since in my excitement I forgot to turn my GoPro camera on! Sometimes you just feel a little silly!
Taking to the sky with fearlessness
But no matter.  My daughter made no such mistake and she took to the sky with her typical fearlessness. The footage from her tandem paragliding flight was just spectacular. She enjoyed the flight with abandon and the professional conduct form the pilot was such that I didn´t worry about her safety one bit.
[amazon_link asins='097709667X,B078XHRTDK,B004A7MD6I,B076NKHFD6,B073ZXHC44,B017N6JGO4,0975446517,0936310146,B00UTLRI0A' template='ProductCarousel' store='stuckinicelan-20′ marketplace='US' link_id='f783be11-b682-11e8-aeef-8f703ba4cd04′]
Related posts