Icelandica is a blog written by Tory Bilski, an American woman who travels every summer to Iceland with a group of friends. They ride horses, chatter incessantly, and kick up dust. She has previously written for Stuck in Iceland about visiting the site of the last execution in Iceland. That event inspired the book Burial rites by Hannah Kent. This time around she visits the lovely island of Flatey island.
Battling seasickness
Beth is afraid of getting seasick on the ferry, and says she's not going on board if the sea looks rough. Noni  is still upset about the price of the Reykjavik hotel the other night and says she's not paying for a single room in Stykkishólmur. Deb and Alison are late walking down to the ferry and we worry that they will miss the boat. After two nights of insomnia, I'm feeling faint and directionless: I lead, well, mislead, Esther straight for a bright blue fishing boat and insist it must be the ferry.
Going off the grid
There are seven of us traveling together this year to Iceland, two are new to our group and group dynamics, as Beth points out, always take a couple of days to work out. We finally find Kat at the ticket office waiting on line, trying to strike up a conversation with a group of young American tourists. But they hold back and smirk at the mere sight of us. Americans are no longer friendly to each other in other countries, and that's fine with me— what bothers me is that they are there with us at all, going to Flatey, an off-the-grid destination.
Flatey island once starred in a movie
I first saw Flatey island in an Icelandic film, "White Night Wedding", that I happened to catch on an Icelandair flight a few years ago. Directed by Baltasar Kormakur
, the movie had a Bergmanesque comedic plot that I can't now recall, but it left me with images of lush green grass and long shadows of the midnight sun, which is to say, a pretty typical summer Icelandic scene.
Heading back into the past
Flatey is billed as an island that is a return to the past, a place where time has stood still; a description that pulls me like a magnet to its coordinates. Take me somewhere that puts me out of the relentless currency of our times. Please. Drop me off on an island in the middle of nowhere. I beg you. Somewhere off the face of this mad, mad world.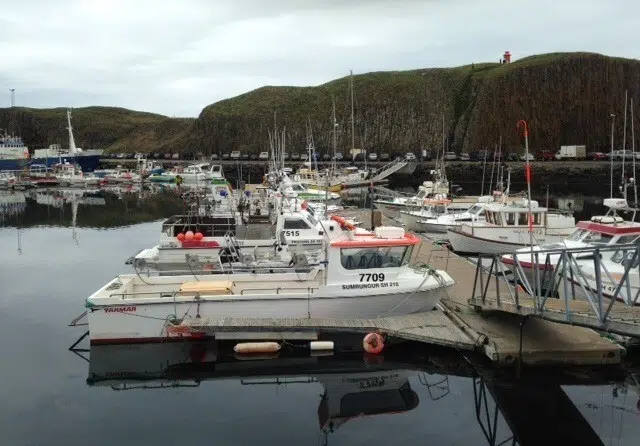 Manifesting the weather
The ferry leaves from the port town of Stykkisholmur, from a harbor where big toothy cliffs of basalt buffer a bevy of brightly colored fishing boats. The sun is out; the water is placid. Beth agrees to board and we agree to keep her company outside on the upper deck. The mood turns upbeat. Esther says, "See, we have manifested the weather." This term "manifesting" is new to me, but obviously au currant with my co-travelers from the Berkshires.
It´s getting cold
Within ten minutes of pulling out of the harbor though, the sun goes in and the wind picks up. All the other passengers have cleared the decks as the speed of the ferry and the wind conflate to make the temperature drop below freezing. We pull out our parkas and woolen hats. It's not going to be that smooth, but we all stay outside with Beth in case she gets queasy.
Following in the footsteps of the Viking villain Eric the Red
For an hour and a half, the ferry smacks the waves as we head into the middle of Breiðafjörður, a large shallow bay with over 2700 islands and skerries that separates the Snæfellsnes peninsula from the Westfjords. It was from this bay that Erik the Red left for Greenland, using Snæfellsjökull as a navigational promontory. Banished from Iceland for doing "some killings," his friends escorted him out past all the islands in Breiðafjörður to the greater sea, protecting him from being murdered. (On a personal note, any location that has to do with the Norse settlement in Greenland just makes my heart trill— and that's just hard to explain.)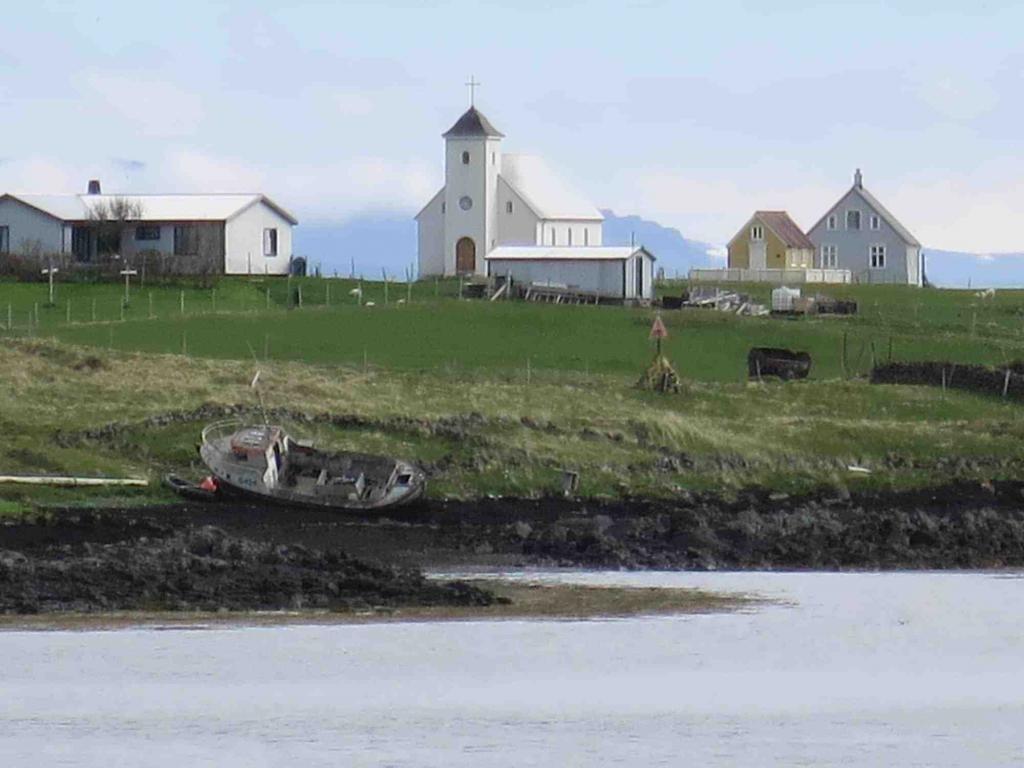 Arriving at Flatey island with no agenda
The second time I see Flatey island is from the ferry. I think this can't be it. It must be a mail stop. It looked much larger in the movie. We disembark and follow the herd of about thirty passengers onward, along the path that rings the island. Signposts explain what we are looking at: an intertidal basin, where the difference between low and high is 6 meters (nearly 20 feet).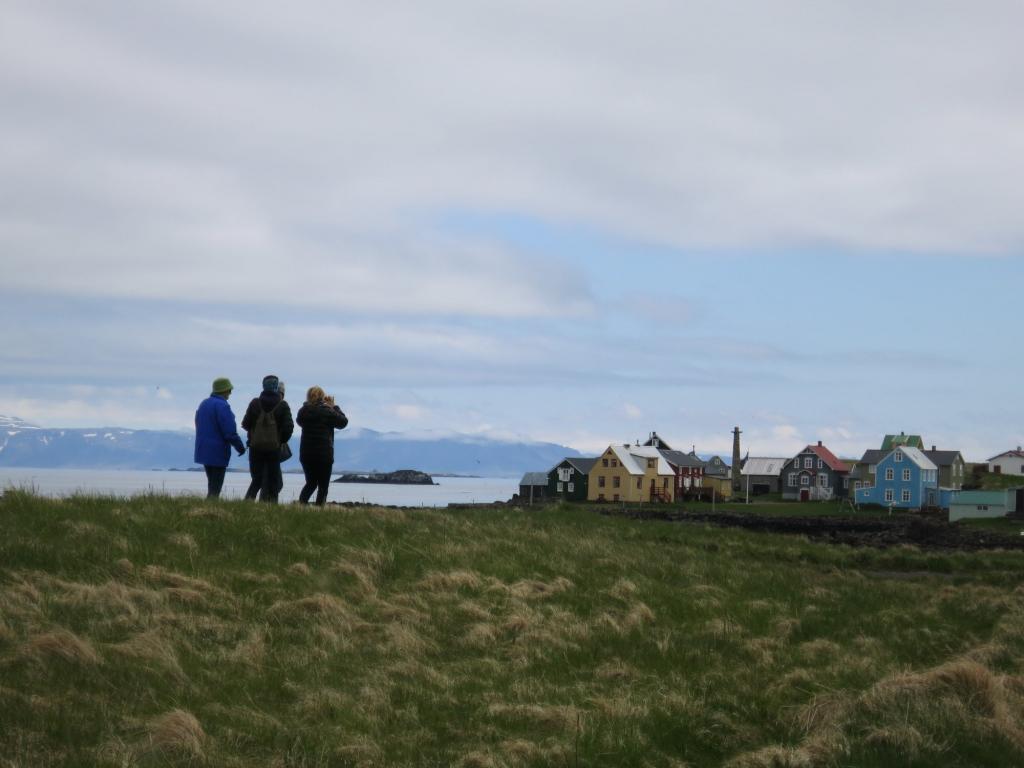 We have no grand plan for touring Flatey island. We came with nothing specific to do or see. It is enough that the island exists, populated only in the summer with its historically-correct restored houses, where a lucky few Icelanders seasonally return to a traditional life similar to that of their great grandparents. Down in the low tidal basin, a father is showing his young daughter how to mend fishing nets. Children walk around in brightly colored Wellies and woolen sweaters, carrying buckets and fishing rods.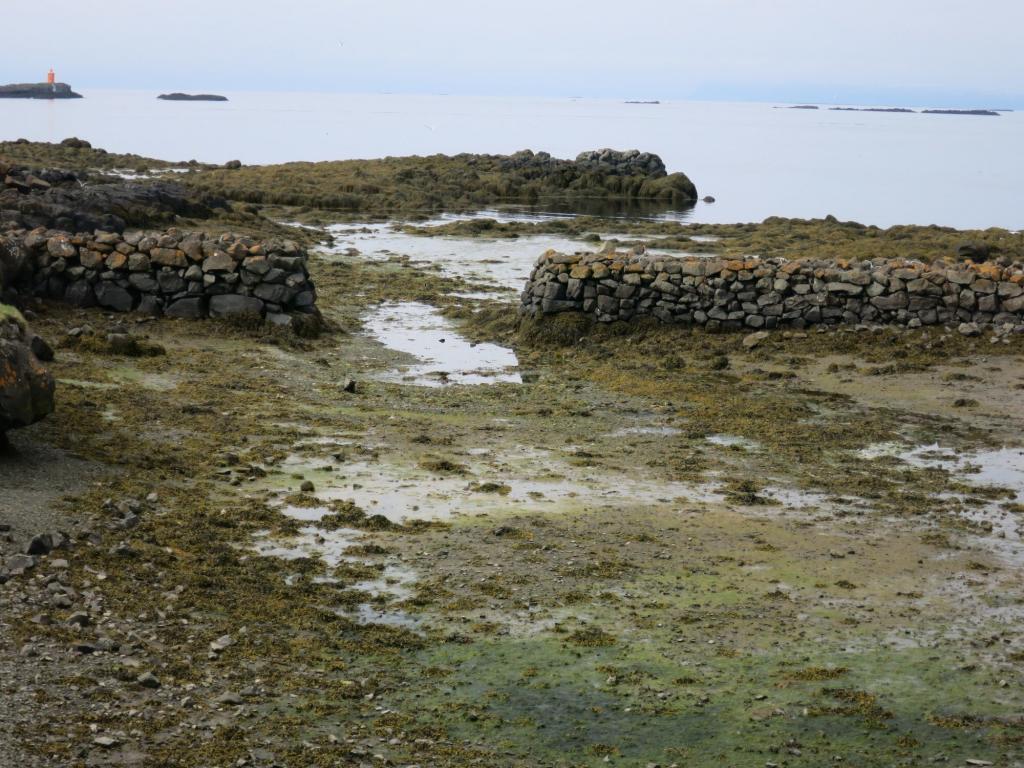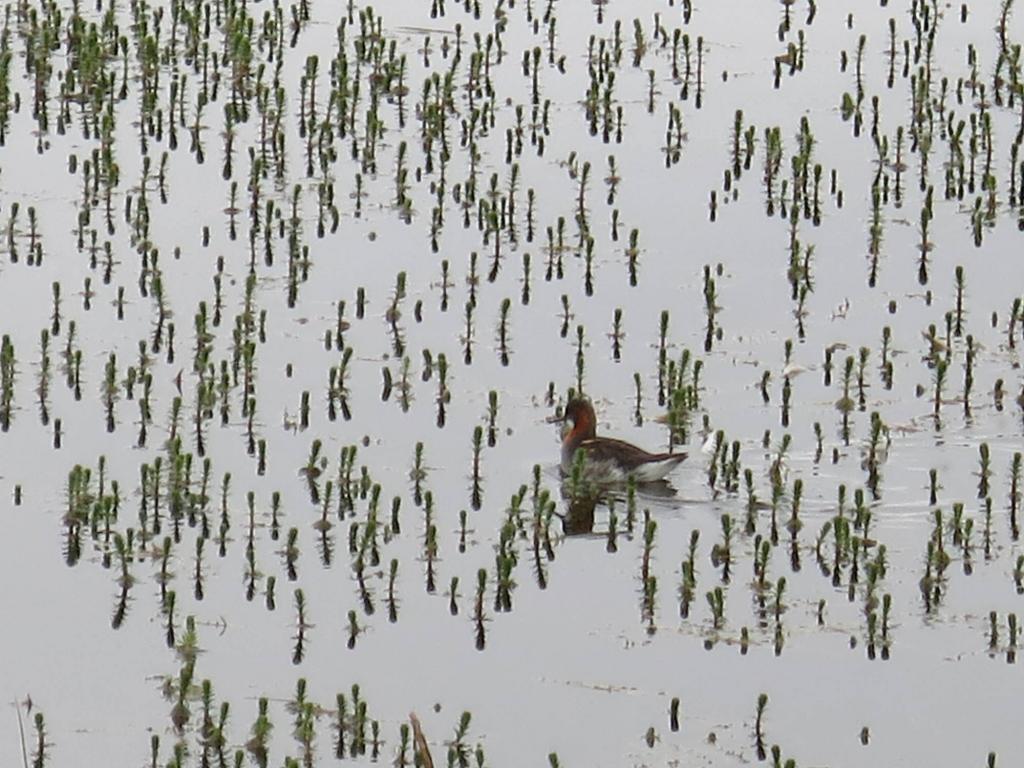 The island of singularities
Flatey island is only about a mile long and a half mile wide, which in Connecticut, where I'm from, would be regarded as a Thimble island. No cars are allowed on Flatey island, but there is a small motorized wagon that takes visitors to the one and only hotel, Hotel Flatey, which looks like a quaint seaside rooming house on Cape Cod.
For about an hour, we aimlessly stray off on our own to make our own discoveries, though it is such small island that it's hard to lose sight of each other. It is also an island of singularities: one church, one hotel, one café, one store, one graveyard, a campsite.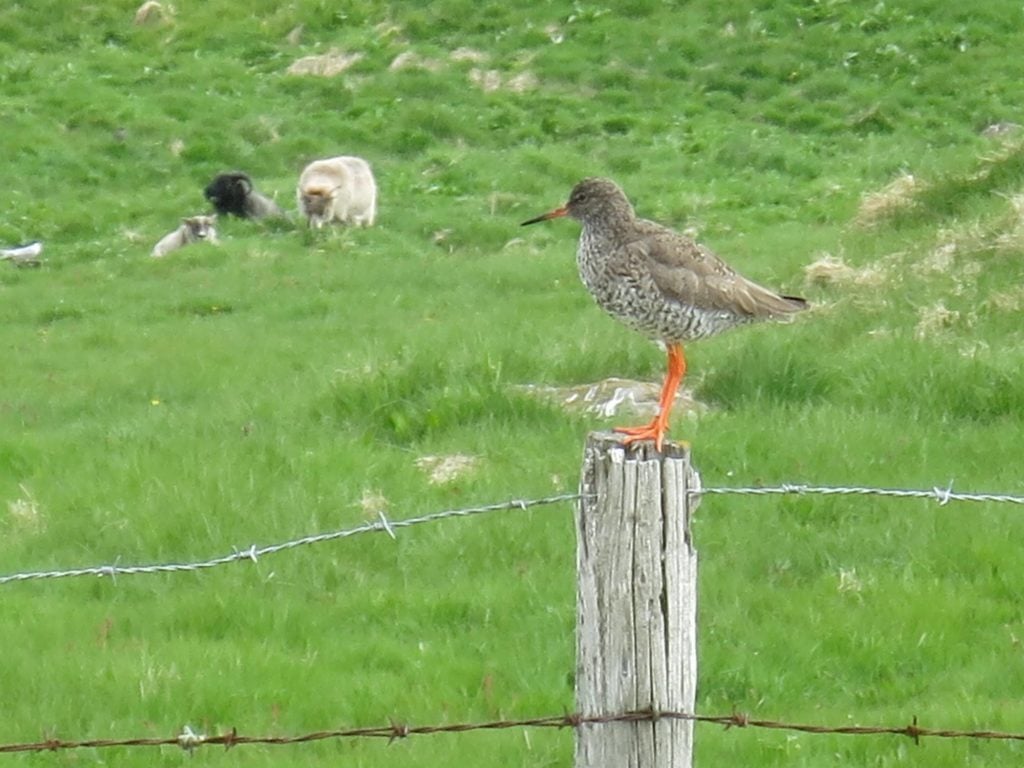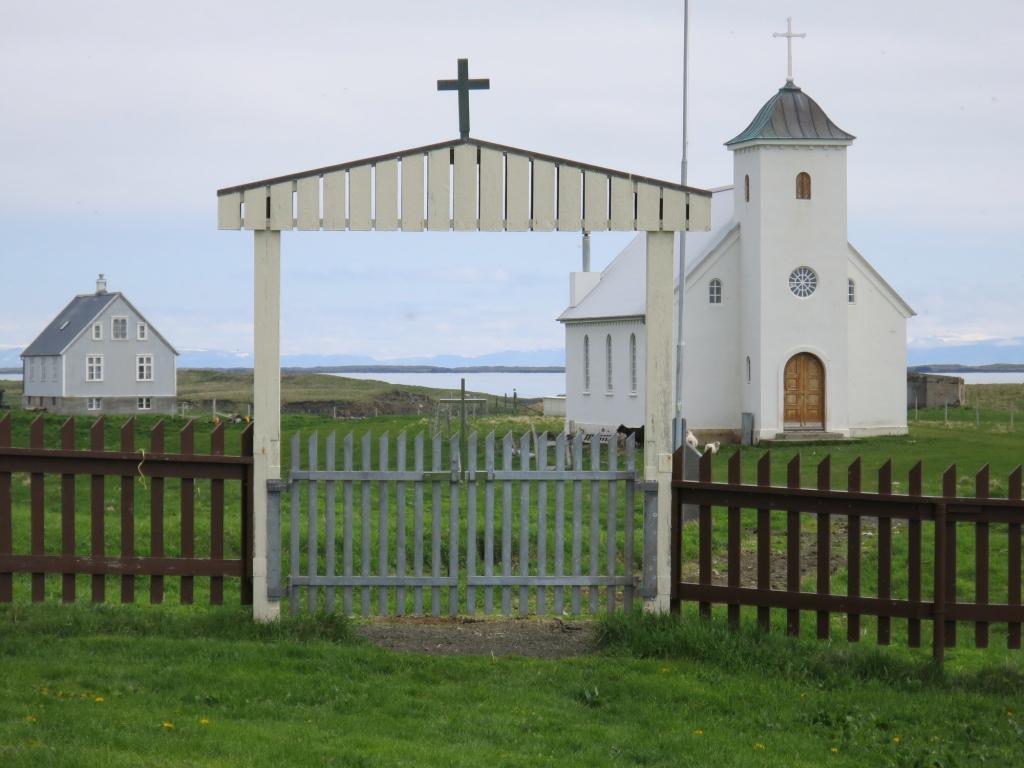 Art by famous Icelandic-Catalan painter
I enter the churchyard as Esther is leaving it. "Jesus will not disappoint you," she tells me with mock seriousness. The main attraction of the church on Flatey island turns out to be murals painted by none other than Baltasar Samper, the well-known Icelandic-Catalan painter, and all things and humans being closely connected in Iceland, the father of Baltasar Kormakur, above mentioned director. Huh.
Finding Jesus in Flatey island
Behind the altar, there is the painting of Jesus that does not disappoint. A culturally relevant Jesus, too -a big-shouldered northern sea-faring man wearing a classic Icelandic sweater. He's slightly bearded, like a gentle Viking who hangs out in Brooklyn. Sticking to the fishing theme are the two disciples, Peter and Andrew, who are hugging his legs like drowning men clinging to a lifeboat. But this Jesus isn't looking down at them with mercy or grace, he's ignoring them and defiantly looking out at you -well, me actually. I may not be much of an art critic, but this Jesus does not inspire spiritual awakening; he more inspires a certain reverie of someone I wanted to date in college.
The medieval monastery of Flatey island
In the 12th century, there was a monastery on Flatey island. It has been easy to see why the monks found this place sacred. There's no evidence of it, but it's easy to imagine a hermitage here, too, of the Irish monks who supposedly first inhabited Iceland 1500 years ago in beehive huts, long before the Settlement Era.
I meet up with my friends at the restaurant café, Samkomuhúsið. After a nourishing lunch of curried squash soup and fresh-baked bread, we ask the café owner for advice: "What do you do in Flatey?" He says, "We have birds. You look at the birds. You go to the end of the path along the cliff until there is a stop sign and there you stop."
Finding arctic terns and puffins
And so we do. We walk along the path to the endpoint and stop before the stop sign. Instinctively, we separate out to our own places on the cliff, into the hollows of turf between rocks. There we can sit in meditative positions. The arctic terns swoop so close to my head that they make me flinch. Puffins flicker in the water below, eider ducks bob, and kittiwakes soar above. The sun's glint on the northern blue sea is entrancing. The human world hushes as I enter the plaintive calls of the seabird world and slip, ever so briefly, into a liminal state. Time stands still.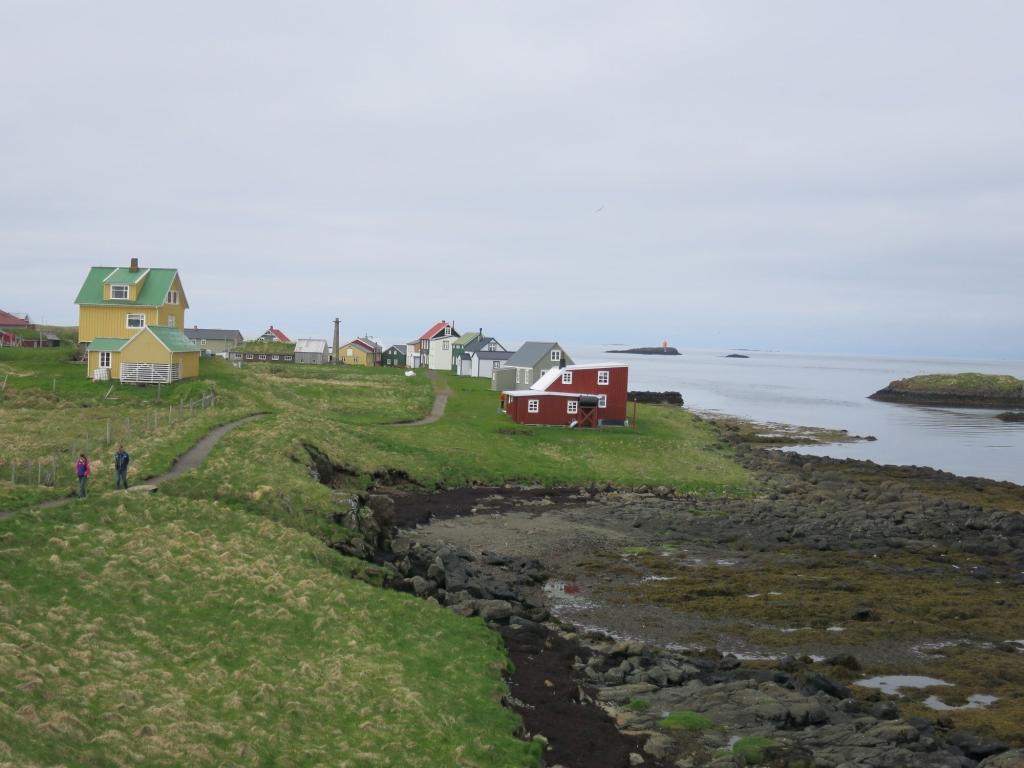 Related posts