If you look at a typical travel brochure of Iceland you will notice that the pictures will almost show serene beautiful landscape awash in sunshine. However, make no mistake, Iceland is called Iceland for a reason. This means that travelers must be ready for rough weather even during high summer. This is especially true if you are hiking in Iceland.
Update: in 2019 I was able to hike Fimmvörðuháls in perfect weather
Joining the annual Summer Solstice hike
Case in point. The year is 2005, it is the summer solstice and it was my first real hiking trip in the Icelandic highlands. It was the popular hiking trail Fimmvörðuháls (Literally "Five Cairns Pass") and I was joining the annual "Útivist Summer Solstice Walk" with about 100 other people including my wife and father in law.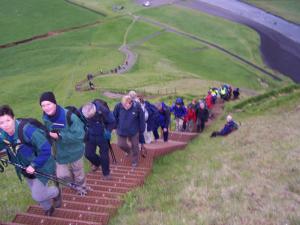 One of Iceland´s most popular hiking trails awaits you, young man
This hiking trail is one of Iceland´s most popular hiking trails and I have been told it is really beautiful in clear weather (!). It is described on the Útivist web site but things have changed on the trail some since 2005 because of the small volcanic eruption on the trail in 2010
"The trail over Fimmvörðuháls is about 25 km long, and estimated time is 9-11 hours, The very first part of the trail lies up Kvennabrekka hill by Skógafoss.
Then there is a shortstop by some beautiful spot by the river Skógaá after one and a half-hour of hiking. Then the group hikes up to the bridge over Skógaá, but there you'll find toilets and light refreshment
From the bridge, the group follows a newly marked trail on the west side of the river to Fimmvörðuskáli hut. By following this 'western-trail' you'll get a good view of several interesting waterfalls you'd miss by following the old 'eastern-trail'. From Fimmvörðuskáli hut you'll hike to the volcanic site of the eruption in 2010, and you can even go to the top of Magni which together with Móði are Iceland's newest mountains.
After exploring the volcanic site you'll hike downwards Brattafönn, Heljarkambur, and Morinsheiði where you'll have a short stop to enjoy the view and refreshments.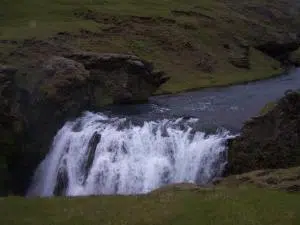 Hiking in Iceland is going great at the beginning
The hike started well enough. We arrived in the afternoon at the waterfall at Skógar in nice walking weather.  It was overcast with just a little breeze. I remember thinking that this was my favorite weather and I was sure that I had overdressed for the occasion. After all, I was wearing rather thick sports pants, new walking boots and a "waterproof" jacket over my sweater and fleece jacket. For a good measure, I had plenty to eat including a hefty amount of chocolate and a flask that I had filled with a nice single malt.
Now this hiking in Iceland stuff is getting even worse …
Soon it became clear that the weather would not be that great. It was foggy and cold and it had started to rain. I worried that I would not see the vistas of the glaciers and down to the forest of Thorsmork. This was hugely disappointing as this was my first time in the area. I had little experience of hiking in Iceland and I thought it would be glorious. No such luck!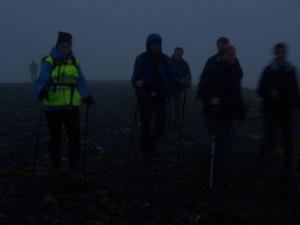 Please take me home!
The poor view became the least of my worries, however. After we had made a brief stop by the river at a makeshift camp the weather became atrocious. The wind was heavy and thick sleet made us wet and cold to the bone. Somebody said it was only 4 degrees Celsius. After we had made a stop at the old Baldvinsskáli hut things looked positively apocalyptic. The hut was full of hikers trying to make themselves warm and dry. That was pretty hopeless as everybody was pretty much drenched. Trucks from the rescue services were taking people down to Thorsmörk. I decided to press on but by that time my wife and her father had sensibly enough decided to call it quits. I gave them my camera so it wouldn´t be ruined. That explains the lack of pictures.
Are we fighting now? I guess we are
Soon after left the hut there was a scuffle between one or two guys that wanted to race ahead of the group into the mist and the guides that were trying to keep the group together. The guides prevailed but it was pretty unpleasant to watch.
The weather improved slightly. When we came to Morinsheiði, the heath that overlooks Thorsmörk I remember standing alone shivering cold and wringing my soaked mittens (always bring more than one pair of mittens to a hike!).
Freezing and waiting, waiting and freezing
I had gone ahead of the group as soon as the guides gave the go-ahead across the narrow path of Heljarkambur but I had to wait for about freezing 40 minutes until the whole group was across.
Apparently, a group of women took a lot of convincing to cross this rather scary looking narrow path and did it in a semi-crawl.
They were clinging on the chain link that is attached to the side of the rocky path. I felt a bit stupid as had stood there for a long time when I realized that I had supplies of chocolate and whiskey.
A sip or two can help when you are hiking in Iceland
I don´t recommend piling on the booze while hiking. However, a sip or two with chocolate did a lot to improve my spirits and restore some warmth to my body. There was more booze when the guides caught up with me. They insisted on giving us sparkling wine and proposed a toast. I was rather annoyed with this, I couldn't feel my hands at that point. I just wanted to press on and get this over with.
But things improved a lot when we started our descent into Thorsmörk. Although it was still foggy the sleet had stopped pounding us. The wind gradually died down as I jogged across the narrow ridges of Kattarhryggir (Cat-ridges). I got progressively warmer which was welcome. Hiking in Iceland didn't seem so awful.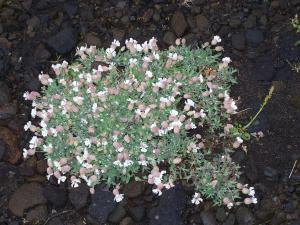 I was pretty happy to reach the huts at Thorsmörk and getting into bed. I woke up pretty tired. It took a lot of convincing from my wife and my father in law to stay in that wonderful place. Thanks to their persistence we stayed another day in Thorsmörk and had a lovely time in great weather.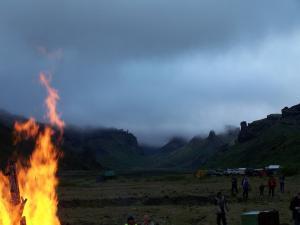 My next article on hiking in Iceland is about the time when I hiked up Eyjafjallajökull glacier to see the aftermath of the 2010 eruption. Spoiler alert: I did not see anything.
Written by Jón Heiðar Þorsteinsson
Related posts