I love combinations. Like Oreo and ice cream, red wine and cheese, beer and pizza. Or perhaps beer and spa! If you fancy that combination, you are in luck. The Beer Spa opened last summer near the lovely town of Akureyri and it has been a big hit. We tried to book there last summer but it was completely full.
Book the Beer Spa and support Stuck in Iceland Travel Magazine
To be honest it was a factor that we did not want to be driving ourselves and wanted to hitch a ride with my brother who is always busy working. The beer spa is supplied by the nearby by Kaldi brewery, which makes fantastic craft beer. So obviously we didn´t just want to soak, we also wanted to have some fancy beer as well.
[button link="https://www.partner.viator.com/en/71462/tours/North-Iceland/Beer-Spa-Experience/d24271-67179P1"]Book your relaxation in the Beer spa[/[/button]p>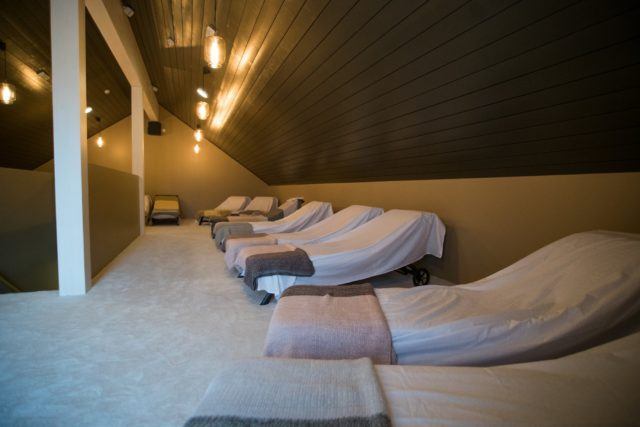 Getting the travel innovation awards
The Beer spa have just been awarded the 2018 Innovation Award of the Iceland Travel Industry Association. It was selected out of 33 nominations and it gets the award for providing a novel experience which focuses on wellness and relaxation.
Ragnheiður Ýr who is the Operations Manager of the Beer spa was kind enough to take time for an interview.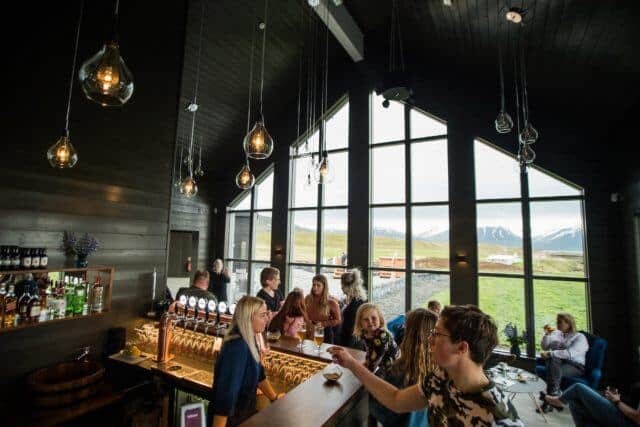 Hello Ragnheiður, congratulations on the awards and thank you for taking  time out of your busy schedule for this interview. Can you give me the backstory of the Beer Spa, how did this novel idea come into fruition?
The idea came from my mother in law. She was travelling in Czech Republic with her husband, parents and brew master, David Masa, in 2008. They visited a beer spa in Prague and since then it's been a dream of hers. In 2014 we started talking about it again over coffee. Me and my husband decided to join this great idea. In 2015 we visited Czech and Slovakia for ideas.
Can you describe the facilities and the experience you offer at the Beer spa
Our house stands alone in our little town of Árskógssandur. We are right by the ocean. There is great view in all directions. When you walk into our spa there is calming music and we greet you with a bathrobe and a towel. You don't have to shower before your bath and we recommend that you don't shower afterwards for at least 3-4 hours. That's why we recommend using our hot tubs first. When you have changed in your robe, we show you to your private room where a tub filled with water, beer, yeast, hops, bath salt and bath oil that's both made from beer.
You stay in the bath for 25 minutes and get to enjoy a cold Kaldi beer from a draft next to it. After that we knock kindly on the door and show you to our relaxation room where you relax for another 25 minutes.
When your bath experience is over you can come over to our restaurant and bar. We offer all kinds of food and 6 kinds of Kaldi beer on draft. You can also buy a beer platter and taste all our beers.
Kaldi brewery, next door to the Beer Spa, offers tours of the brewery and tastings of their beers. You can book a tour through their website www.bruggsmidjan.is or e-mail: bruggsmidjan@bruggsmidjan.is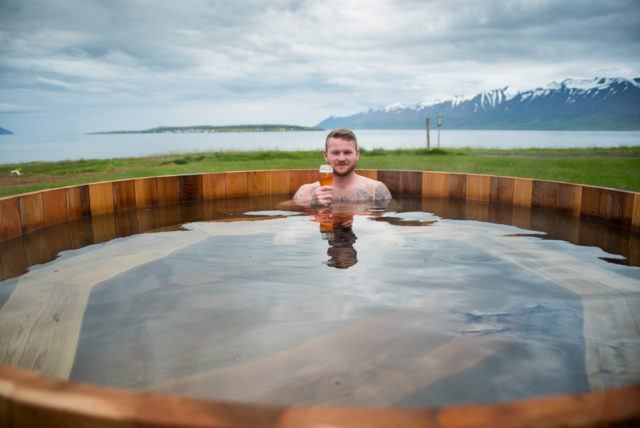 What advice would you give to somebody who was visiting the Beer spa for the first time?
Be here for your reservation at least 30 minutes before and use our outside hot tubs. We have amazing views! And if we're lucky we get to see some whales from the tubs.
What other destinations near the Beer spa would you recommend?
Definitely Hauganes. They have one of the oldest whale watching in Iceland.
Dalvik is just 7 minutes away, a small coffee house there called Bakkabræður, you can get a hot soup and of course enjoy a Kaldi beer.
Christmas house in Hrafnagil is a must, even though it's an hour drive from us.
Siglufjörður is a 40 minute drive from us. Frida chocolate coffee house is a cozy little place, they have a chocolate piece made from one of our beers
How to get to the Beer spa?
From from Akureyri, drive on road 82. The drive is about 35KM (27.1 miles) long and will take you about 20 – 30 minutes.
Previous winners in the Innovation Award of the Iceland Travel Industry Association for the past decade
2017 – Friðheimar
2016 – Wilderness Center
2015 – Into The Glacier
2014 – Þorvaldseyri guest reception (now closed)
2013 – Saga Travel
2012 – Pink Iceland
2011 – KEX hostel
2010 – Mountain Guides
2009 – Sigurgeir´s Bird Museum
2008 – The Þórbergssetur Cultural Center
Related posts