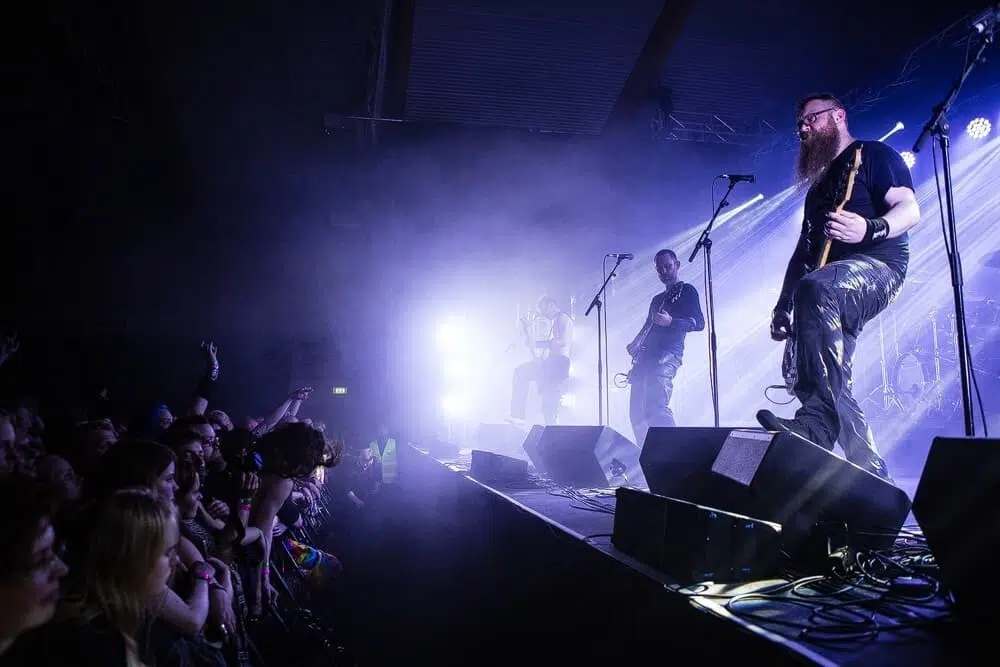 The Sheer Joy of Eistnaflug Metal Festival
Stuck in Iceland, 4 years ago
6 min

read
229
´We should go to Eistnaflug´ my wife said to me last spring.
I was a bit sceptical. I dislike long drives intensely and this main (and only) metal festival in Iceland is held at Neskaupstadur, right at the other end of the country. From Reykjavik it is 715 kilometers drive if you take the southern route and 724 kilometers drive if you go the northern route via Akureyri. That is some nine hours on the road thank you very much.
Yes I hate long drives
I was also worried that we might have to stay in a tent and there is only one thing that I hate more than really long drives and that is staying in a tent if it is raining. But my resourceful wife was able to score a stay with really nice local people and we took our time getting to Neskaupstadur, staying in Akureyri on the way there. What really did it for me was the impressive line up of bands and the fact that a good friend of mine and a regular contributor to Stuck in Iceland, Martin Schulz, was coming to Eistnaflug as well. He is much more metal than me, he stayed in a tent although the weather was, well, atrocious.
No assholes, please
Eistnaflug metal festival has been held in the small and remote town of Neskaupstadur for a decade and is a hardcore heavy metal festival. Since festivals in Iceland have a bad reputation for drunkenness and violence the local hero Stefán Magnusson and the founder Eistnaflug has repeatedly stated that if there is any trouble at Eistnaflug he will cancel the festival. His "no assholes" policy works wonders, Eistnaflug is a friendly festival and totally free of the violence and douchebaggery that are the unfortunate but standard ingredients of other Icelandic summer festivals. My experience was that the nicest people of Iceland had converged on this little fishing village.
In any case the local police chief described the 2015 event as being "as sweet and cozy as always" and the police officers we encountered were hard at work laughing and joking with the rockers. That being said, expect hard metal, sweat, aggressive half naked people (mostly male) jostling good naturedly with each in the pit in front of the stage, impromptu crowdsurfing, and a lot of beer being consumed. I am guilty of all of these things and boy was it fun.
Obscure viking film and hippie surprise
We arrived at Neskaupsstadur at the eve of the festival on Wednesday and managed to catch about half of Solstafir performing live with the rather obscure Icelandic film "When the Raven Flies". The band managed a pull off a good performance, pausing their playing for dramatic effect when one of the wild-eyed vikings said something epic, like "I will now send you to the gods"
This was followed by Vintage Caravan who performed an Icelandic hippie classic album "Lifun" by the Icelandic band Trubrot, led by one of the original performers of the piece, Magnus Kjartansson I did not anticpate anything from this since I despise most early seventies music but this turned out to be the surprise of the festival. The musicians were having so much fun playing that this old material was reinvigorated.
The following bands were the most memorable in my opinion:
Agent Fresco. I had not seen them before on stage and they did a great job of getting the crowd going although they were really early in the evening. I had not been a fan of theirs but now I am converted.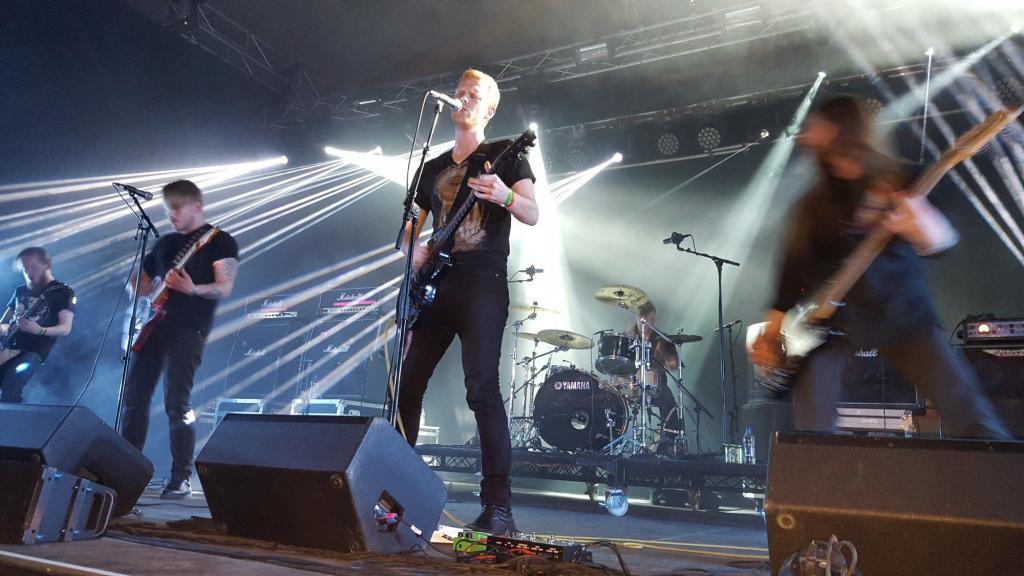 Kontinuum. I really, really love this band and actually having them on the set list was a big reason I went to Eistnaflug. They did not disappoint me at all. Their performance was inspired and solid. Their music isn´t for everybody I suppose, it is quintessentially Icelandic in its coldness and epic scope. Listening to them is like trekking on top of Vatnajokull glacier. The scenery is beautiful in its cruel white vastness and you never know when the weather will turn.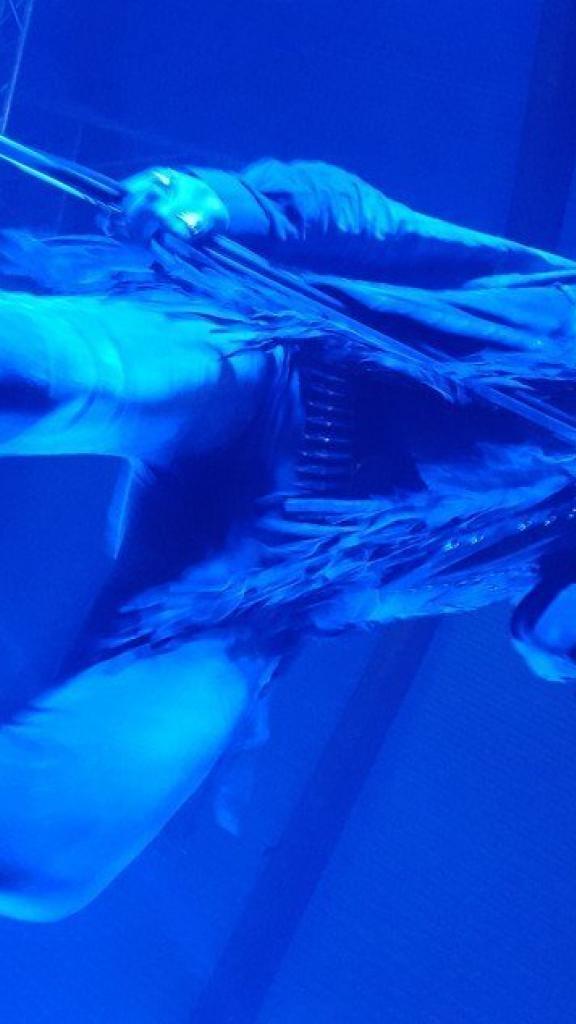 Sólstafir. I was fortunate enough to be close to be close to my idols of Sólstafir since I got permission to go the photo pit. This band is a mainstay of the Icelandic rock scene and things heated up pretty quickly when they played. Their performance was cool and collected and they gave the enthusiastic crowd a good show. Excellent show all around.
The Vintage Caravan. The young hippies of The Vintage Caravan were the surprise of the Eistnaflug for me. They came on stage wearing dresses and really got the crowd going. Epic stuff and dare I say, trippie!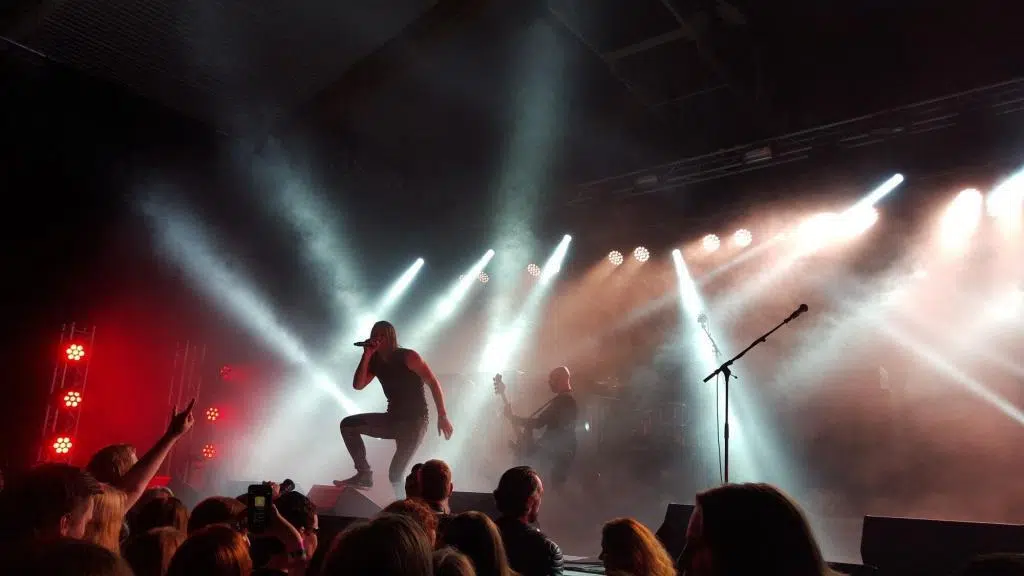 Dimma. This Icelandic heavy metal band plays old school heavy metal and does so with the necessary confidence, energy and skill. It was a great dose of no nonsense classic rock and roll.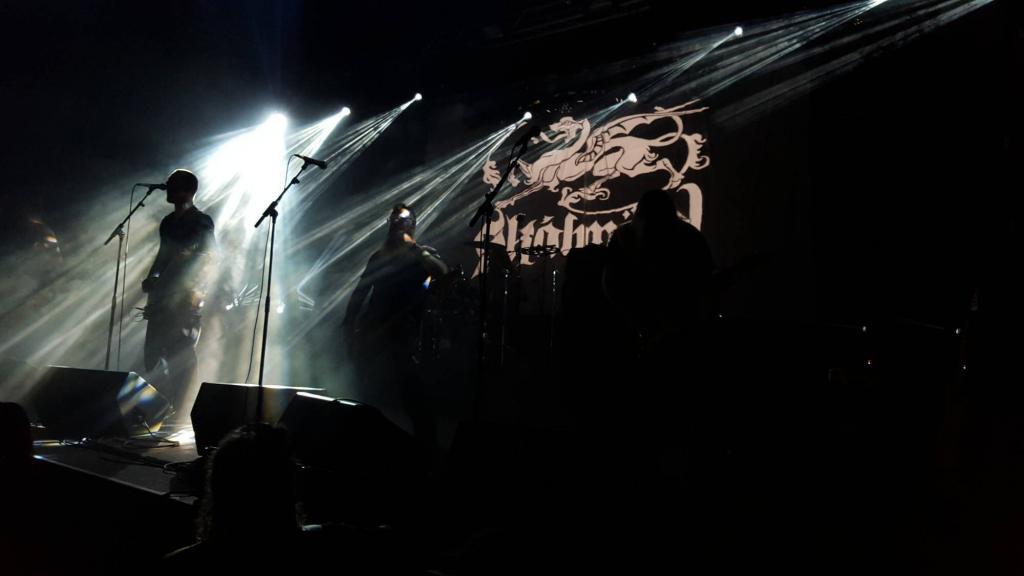 Skálmöld. All hail Skálmöld! The performance of the kings of Viking Metal was a sweat drenched feast for mind and body. I joined the pit and after jostling with other metal mad males I joined in the rescuing of a small elderly lady that was in danger of succumbing in the melee. When me and three other guys had created a wall around her and offered her to take her to safety, she just smiled at her rescuers and refused to go anywhere. She was having the time of her life. So was I.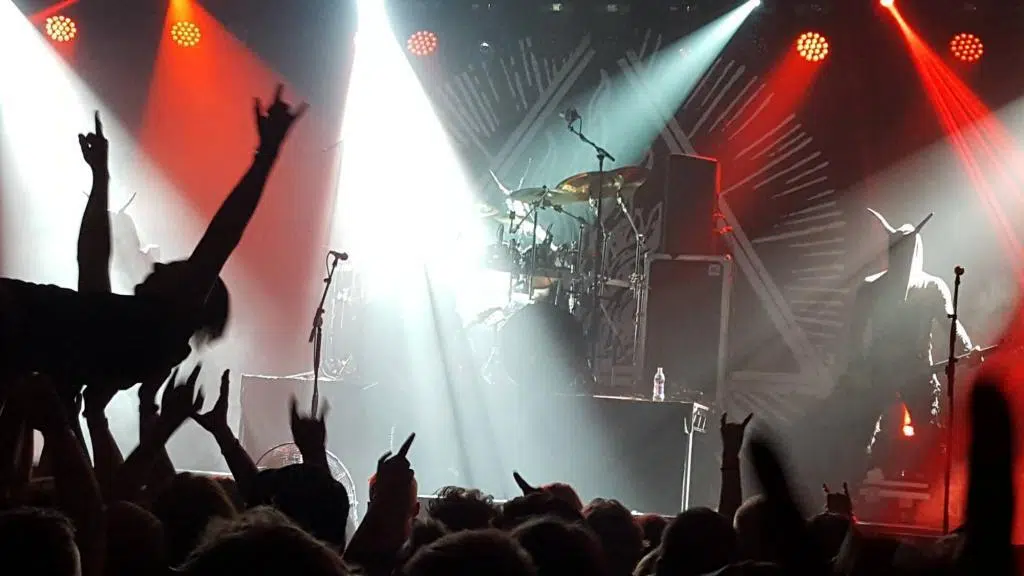 Behemoth. I am not by any means a fan of black metal. But there is no denying that Behemoth know about putting on a good show. It was a pretty cool when there were two guys banging on the drum set at once and when the band appeared all of a sudden wearing masks and horns you could feel the devil breathing down your neck.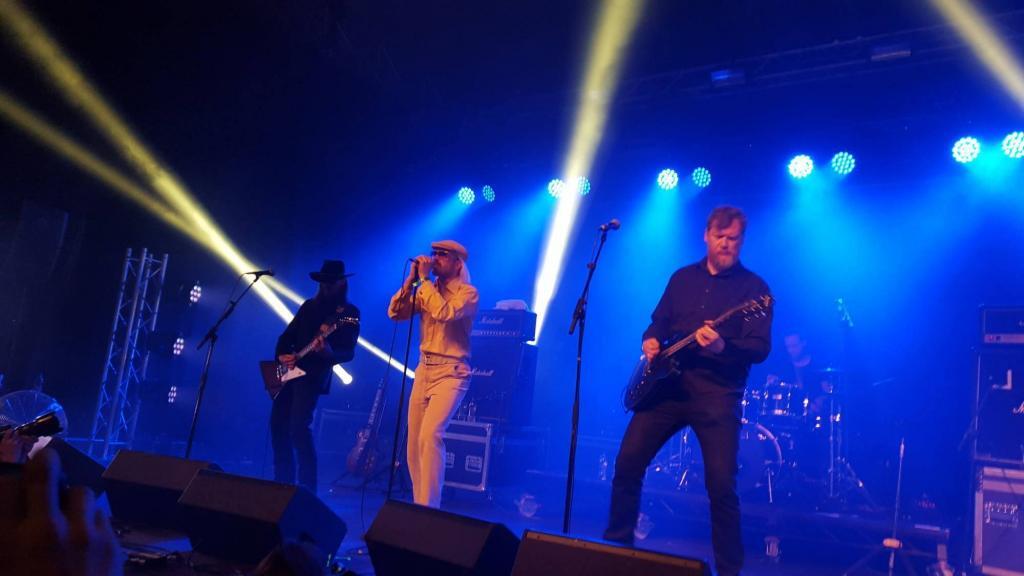 Ham. These legends were the final rock band to come on stage. As always Ham was awesome, and the crowd was, well, totally out of its mind. I did crowdsurfing for the first time in my life and I think it was totally apt to reach that particular milestone under the thundering epicness that is Ham.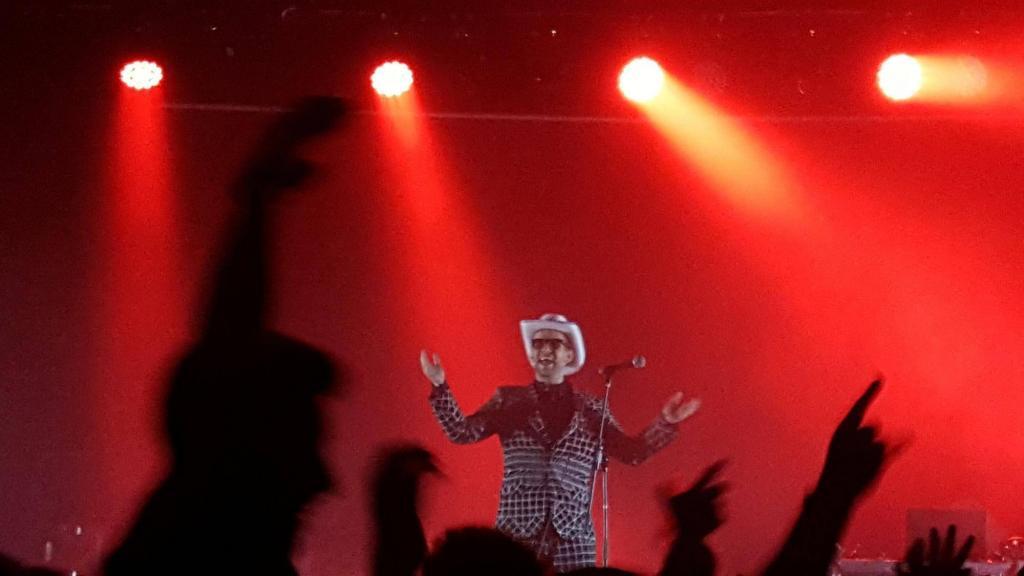 On a final note, DJ Töfri who has a striking resemblance to the godfather of Eistnaflug Stefan Magnusson ended the festivities with the wiz kids of FM Belfast. Something totally different but great fun nevertheless.
And yes. I really want to go to the 2016 festival. You can, of course, get all details on the festival on its website.
.
Related posts