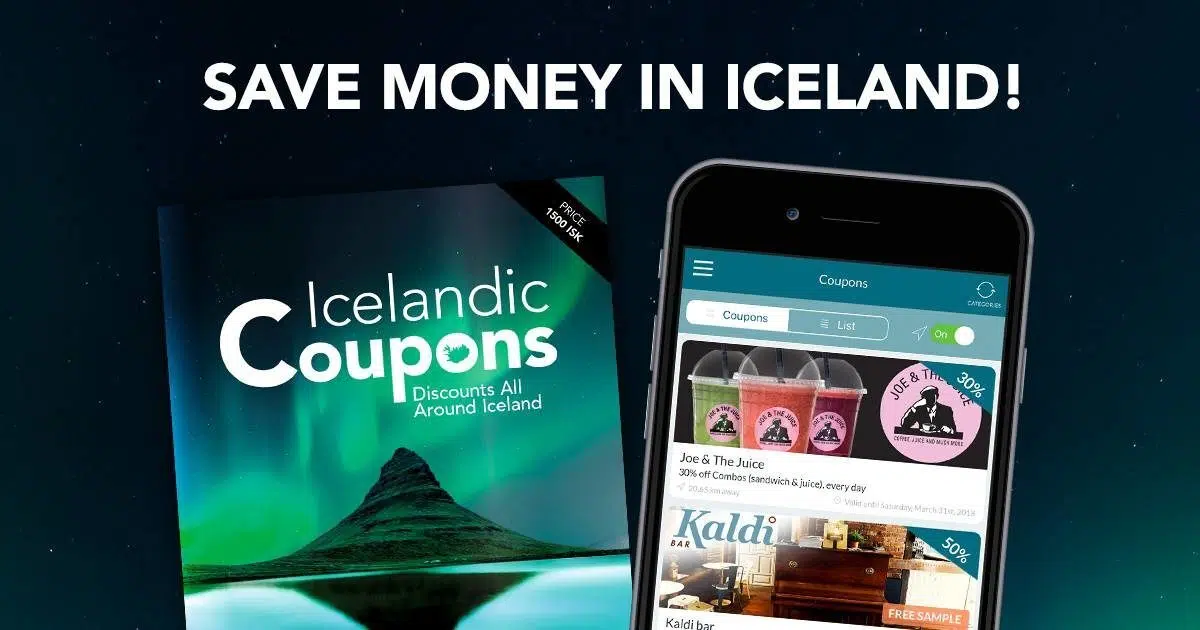 Are you traveling to Iceland? Worried that it might be too expensive? Well, there is an app that helps you save money in Iceland.
Iceland aint cheap
There is no getting around it. Iceland is not what you would call a ´cheap country.´ We get it and quite frankly I don´t think Iceland will ever be what you would call cheap. After all, we are an affluent Nordic country where living standards are high. We do have our ups and down in terms of currency fluctuations. The Icelandic Króna is not exactly steady as a rock! But overall, Iceland is unlikely to be a budget destination (unless the Króna takes another plunge!) It helps though that flights to and from Iceland are plentiful and there are a lot good deals for flights.
Enjoy your traveling to the max
From my personal experience I am unlikely to be penny pinching when I am traveling. After all, you want to enjoy the very best the destination has to offer. This includes food, drink, shopping activities and getting around. I find this to be true of the many travelers who come to Iceland as well. Most people I have talked to are here to experience as much of the country as possible.
Let technology help you save money in Iceland
One good way to save save money in Iceland is simply to download an easy to use app called Icelandic Coupons which is available both for Android phones and the Apple iPhone. You can also buy a coupon book but that has slightly fewer deals than the app. I am a bit of a geek so I am more into the app.
Many categories are available
The Coupons app has several categories, such as Restaurants, bars and & cafés, shopping, entertainment, 2 for 1, breakfast, lunch, dinner, groceries, West Iceland, North Iceland, East Iceland, Reykjavik and South Iceland. At this time the app features over 100 coupons and if you turn on the location feature you can find deals close to you.
Inga Tinna Sigurdardottir is the CEO of Coupons.is. I contacted her to find out more about Coupons.is and what her favorite deals were.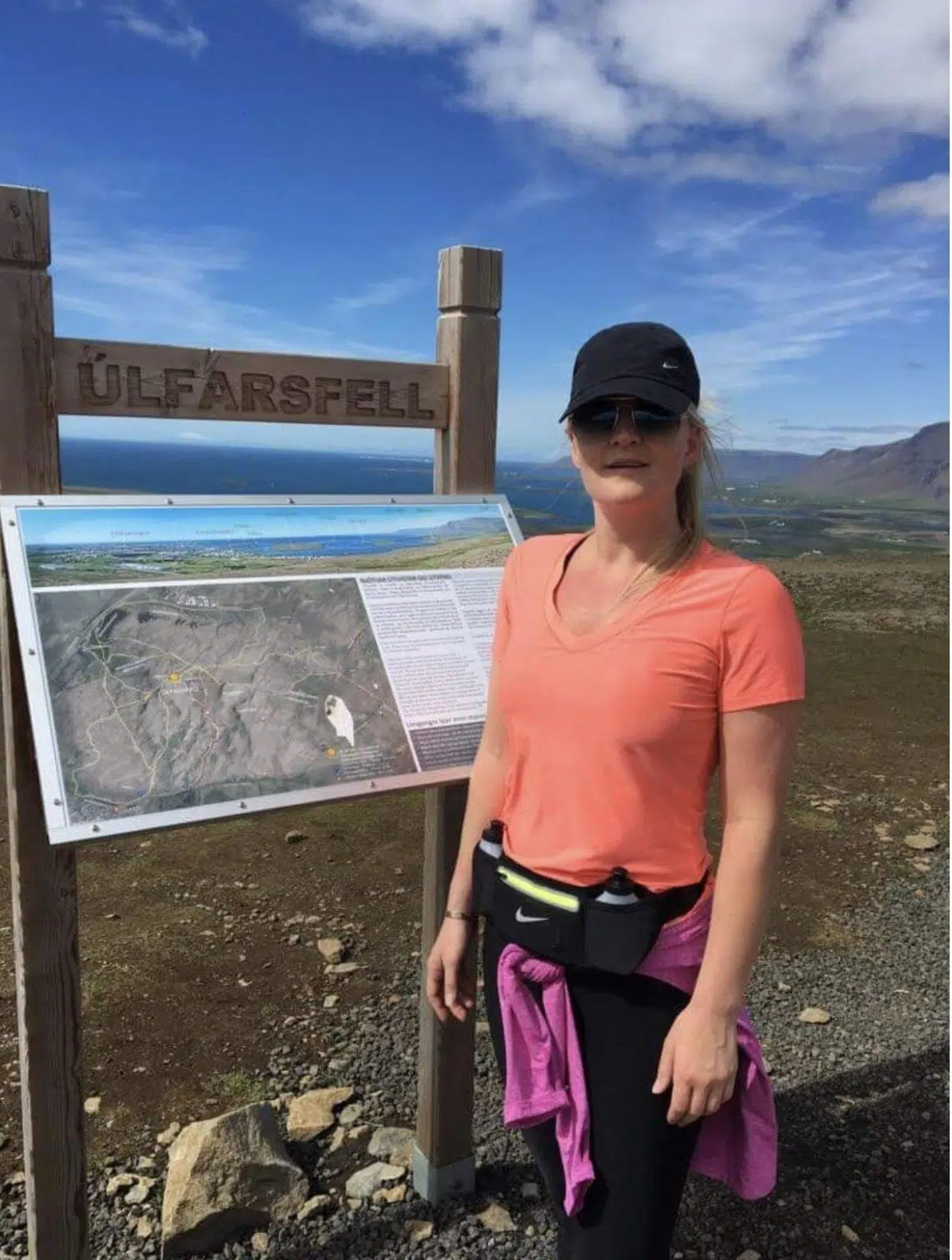 Hello Inga Tinna and thank for taking the time for this interview. Can you tell me about your company and what inspired you to create this app?
Yes of course, with pleasure! In 2015 I was working as a flight attendant for Icelandair. I was travelling a lot to the States. I came across the coupons culture there. Americans are very clever with planning their purchases around their coupons. They get the best deals available every time. You buy blueberries on Monday because you have a coupon for blueberries valid on Monday and strawberries on Friday etc. I think it's really clever and of course it benefits the customer. The stores benefit as well. They tend to get the customers back. Stores are also able to cross sell other products on their full price.
From napkins to smartphones
In my job as a flight attendant it's very clear that I am a concierge. Passengers very often ask places to go to in Iceland. They ask about restaurants, bars, cafés, adventures and so on. No wonder, the flight attendants are from Iceland!
I had been writing tips on countless napkins when I had the idea of making the Icelandic Coupons brochure. It would include my favorite restaurants, bars and activity in Iceland. In short it would include all my my napkin recommendations! Long story short: I printed the first 1500 copies in 2015 which has grown to 70.000 copies in 2018. Then we added the new Icelandic Coupons app available for those who love smartphones.
What deals are the most popular in the app in your experience?
For restaurants these would be Sæta svínið, Kol Restaurant, Fiskfélagið, Joe and the Juice & Hamborgarafabrikkan (best burgers in Iceland in my opinion, no doubt).
For shopping it would be Feldur verkstæði (Icelandic design of fur products at a good price). We recently added a whole lot of shops to the category since it has become really popular over time.
Do you have insider information about any deals in the app that are really good but people seem to be missing?
Café Haiti is a really good coffee parlour just by Reykjavik Harbour. It is so cute and offers the best coffee in town. The beans straight from Haiti and roasted in-house. Everytime I visit the owner is always there. Her name is Elda and she is so nice. She cooks and makes the makes the cakes & pastry as well as serving lunch and more. At Café Haiti you can get 2 for 1 off coffee and cakes as well as 15% discount of everything every single day with the Icelandic Coupons app. I would recommend going there and the service is 100%.
Do yourself have a favorite deal or deal category in the app? Something you use a lot?
Yes, I use the restaurants category a lot since the app includes my favorite places to go to. In October we will release a lot of new deals at restaurants, bars, shopping and activity. I really look forward using the 2 for 1 deal at Laugar Spa which is my favorite spa in Iceland. It is the spot to go to when you want to relax or enjoy some comfort with friends and family. You can also order food and drink to the spa and I really enjoy snacking in the bathrobe!
Can you reveal any features or new services that are coming soon?
We have the shopping category filling up with new really popular shops so I am very excited to see how people will react to it. Also we have a brand new category: Groceries. we have partnered up with a supermarket that will be offering top deals on popular products every single month. The app actually updates every single month and each time with a new offering of exciting coupons.
Do you travel a lot in Iceland and if so, what are your favorite places or experiences?
Yes I travel a lot since I am always trying to find good spots to share with Icelandic Coupons users. I really like the nature baths in Iceland and most recently I went to Krauma in Borgarfjordur which was really nice. I look forward going to GEOSEA the new nature baths in north east Iceland on the Diamond Circle route. They will offer a discount with the Icelandic Coupons app.
What advice would you give people who are visiting Iceland for the first time?
Get the Icelandic Coupons app and trust the selection there. Me and my team have dedicated our time to curate top quality restaurants, bars, cafés, activity, shopping and entertainment for you to enjoy. In addition, you get to pay less by using the app! You couldn't ask for more, could you?
Related posts