Playing With Lava – See the Icelandic Lava Show
Stuck in Iceland, 8 months ago
5 min

read
115
Playing With Lava – See the Icelandic Lava Show
"I like playing with lava" says Júlíus Jónsson, the cofounder of the Icelandic Lava Show, in the village of Vík as he uses a large steel rod to poke at a semi hardened pool of lava.
Sweating from the intense heat
His enthusiasm is plain to all in the packed room of people. We are all sweating from the intense heat pulsing from the lava. The audience stares transfixed at the glowing lava flow with a mixture of disbelief and amusement.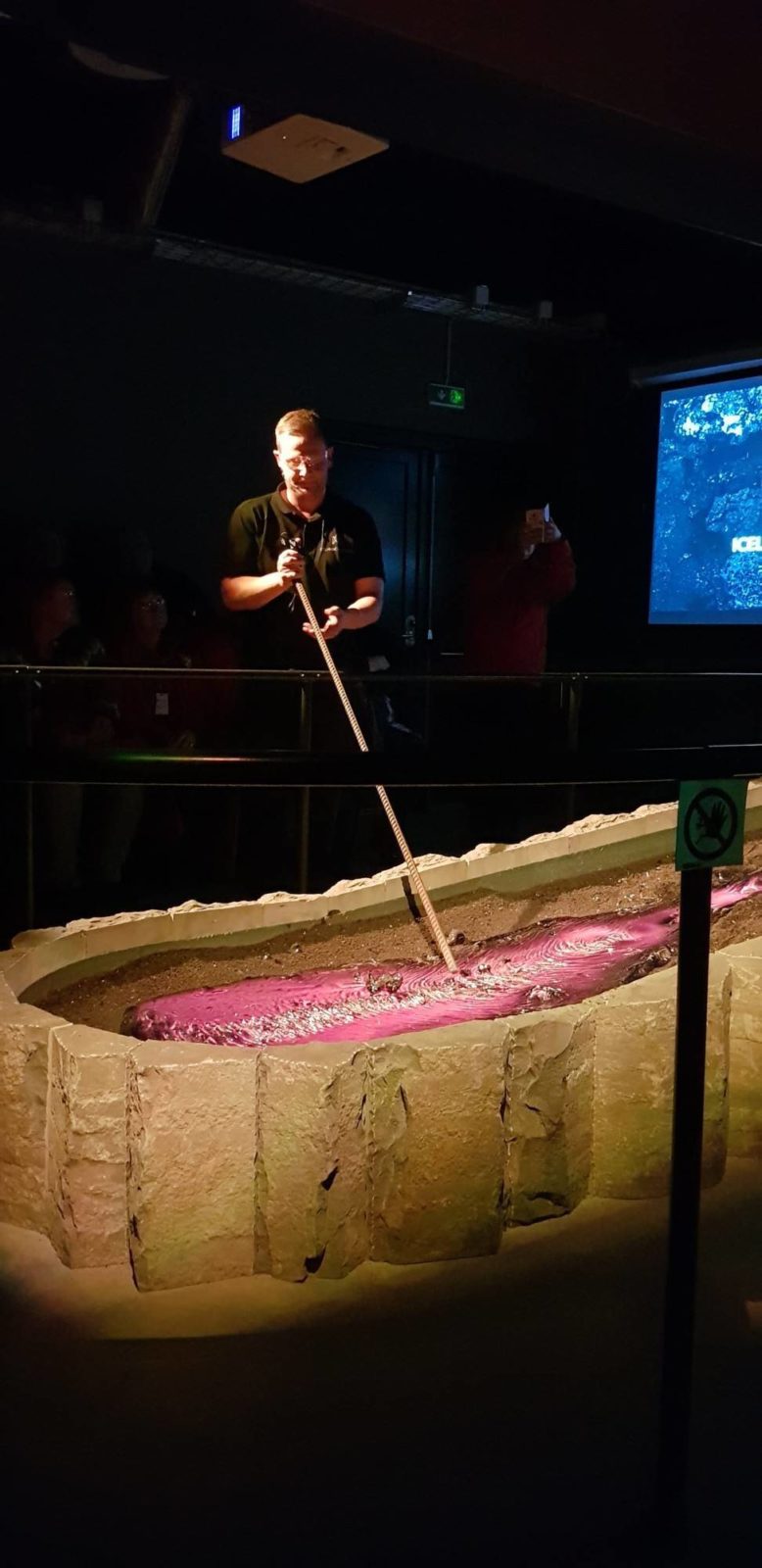 Deceptively simple exhibition
On the face of it, the Icelandic Lava Show is simple. Júlíus demonstrates of how you melt rocks, turn it into lava and run it over a block of ice. The lava bubbles runs, bubbles and hardens in a black obsidian like material. But there are complex layers to this exhibition which Júlíus reveals with skill in his performance.
The Icelandic Lava Show is unique
The Icelandic Lava show is the only place in the world where lava is created and demonstrated indoors. It is the brainchild of Júlíus and his wife Ragnhildur Ágústsdóttir or Ragga as I call her. She and Júlíus are good friends of mine and I have followed the process of setting up the Lava Show with great interest. I obviously thought they were quite mad. Lava is after all, well, lava. You are not supposed to melt rocks at over 1,000 celsius for your amusement. But I guess yet again I have been proven wrong.
Family owned start up
The exhibition is a family owned start up venture. It has set up with creativity, hard work and sheer grittiness by the entrepreneurs Júlíus and Ragnhildur who live in Garðabær with their three young boys. It also represents the growing maturity and quality of the Icelandic travel industry. And it is family friendly as well.  Actually, I would say it is a great place to visit with kids. It is both fund and educational.
Everybody should be able to enjoy a bit of lava in Iceland
The idea for the Icelandic Lava Show came to Ragnhildur and Júlíus when they observed the small eruption at Fimmvörðuháls in winter of 2010. It featured a considerable amount of lava flow which hit ice and snow. And this common interplay of volcanic eruption with ice and snow inspired them. The eruption became a magnet for people and the scene became quite chaotic. Some even cooked food over the intense heat from the edge of the new lava field. It became their vision that everybody should be able to experience the intensity of lava up close.
Narrow escape from the Katla monster
Júlíus has family history which is marked by the presence of the massive volcano Katla which is just about 30 kilometers from the village of Vík. His great grandfather narrowly escaped death when Katla erupted in 1918. He was a young farmer who was rounding up sheep when he noticed a 20 meter high wall of water and icebergs coming at him and his group at high speed. They kicked their horses in high gear and narrowly made it to a neighboring hill but their sheep did not. For many of the local farmers the eruption was a disaster, it destroyed fertile land, killed a lot of life stock and some farms were abandoned. But miraculously no human died.
Living under the shadow of Katla
The exhibition is in the village Vík which lives under the shadow of the volcano Katla. Should Katla erupt, the entire area around the village of Vík is in great danger from flash flooding. In fact, Iceland is probably one of the most geologically active places in in the world. Our island sits on top a mantle plume which rises from the magma in the Earth's core. So Iceland has some 32 volcanic systems with some 130 active volcanoes. 18 of these have erupted since the (historically recorded settlement of Iceland in the ninth century. All of this and more is explained in a clear and concise manner in the Icelandic lava show exhibition. I recommend that you check it out. Just take off your coat before the show starts. Lava is hot.
Nearby attractions to the Icelandic Lava Show
The Icelandic Lava show is an essential stop on the South Coast of Iceland. Please check out our Iceland south coast road trip plan for further information. It is located in the village of Vík which is famous for its neighboring Reynisfjara black beach and Dyrhólaey promontory. The nearby glaciers of Eyjafjallajökull and Mýrdalsjökull are popular for tours. I especially recommend Katlatrack who have quite unique tours up to Mýrdalsjökull glacier where they explore naturally occurring glacier caves and tunnels.  Vík is also close to Sólheimajökull glacier from where there are many interesting glacier tours.
Accommodation close to the Icelandic Lava Show
There is a lot of great accommodation in and near the village of Vík. Use the Hotel Deal Finder from Booking.com below to get great deals on hotels rooms or lodges.
How to get to the Icelandic Lava Show?
Drive on highway 1 in Reykjavik to the village of Vík. The drive from Reykjavik should take you about 2 and half hours.
[amazon_link asins='B01BKHMRTI,B071SD9LC1,B01DXOJ4JC,B072C2M175′ template='ProductCarousel' store='stuckinicelan-20′ marketplace='US' link_id='eb693140-ca64-11e8-bbef-8701184a9940′])
Related posts