The Girl With the Iceland Tattoo
Stuck in Iceland, 3 years ago
7 min

read
111
Words and pictures by Olga Strakhova who got her Iceland tattoo because Iceland is her real home.
Dreaming about Iceland
I dreamt about Iceland since I can remember but I thought it was an unattainable dream. In the summer of 2014, I looked for tickets to Copenhagen, and accidentally I saw an advertisement: "St. Petersburg – Reykjavik", it was a direct flight. Then it struck me "why am I looking for the flights to Copenhagen when I dreamt about Iceland for so many years, why waste my time".
Flying Alone
And I bought the tickets to Iceland! Of course, none of my friends wanted to go with me, they had stereotypical excuses that "it's expensive/cold", so it would be my first trip by myself. I was not particularly trying to persuade someone because I thought that it was my dream and I don't want to share it with anyone. And I flew alone.
Finding the place where I belong
When I was on the plane over Iceland I saw a lot of white, green and black, and I got a feeling that suddenly I woke up. I was where I belonged. When I came off the plane in Keflavik, I realized – I'm home! This week I was absolutely happy, I enjoyed the sun and the rain, simple food, I did a lot of things for the first time in my life – I rode a horse, saw the ocean, walked among icebergs, drank water from the lake, visited the waterfalls. Despite of traveling by myself, I talked to people all the time. The whole day before my return, I spent walking in Reykjavik. For the first time in my life on the eve of parting with the most precious place, namely what Iceland became for me, I did not cry. I knew I'd be back soon. Iceland has taught me to enjoy simple things and every moment and it showed me that we should not be afraid to pursue our dreams. You just need to make a step towards your dream.
Iceland gave me strength
It took me 7 months to return. During that time, I've met a few wonderful people from Italy who shared my love for Iceland. At the same time the crisis happened in Russia, the ruble has plummeted. I had to close my grooming salon and I was almost out a job but it didn't worry me that much. Because Iceland has given me the tremendous strength and gave me a faith in myself, I felt that if some external problems were rough for some time then they will pass soon. I knew that everything was going as it meant to and I would still go no matter what.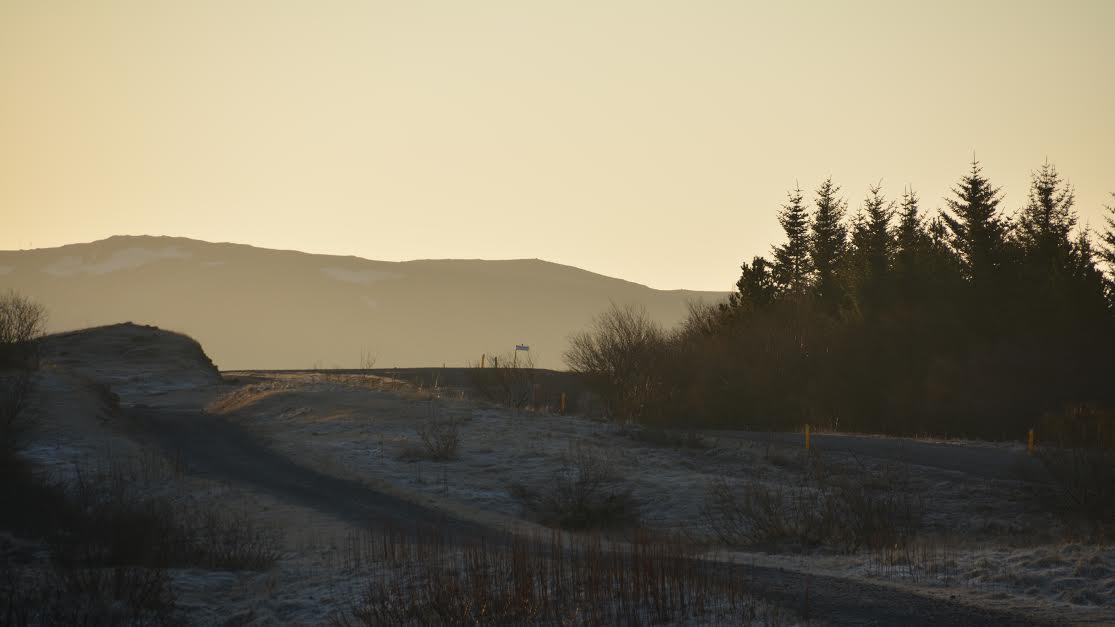 Returning to Iceland for all my remaining money
I bought a ticket in January using all my remaining money, and as soon as I bought it, my business has improved drastically. I came back to Iceland in April. It was the first time I had some sort of semblance of a travel plan. Well, it was rather a list of places that I want make sure to visit. This time I decided not to have an exact plan. I decided to trust Iceland because I knew that it would always give me exactly what I needed and what mattered most at the moment.
Renting a car and getting caught in a sand storm
As soon as I arrived to the airport, I went to hire a car. The first miracle happened there which I could only appreciate later. I wanted to hire a small car but I did not book it in advance and so they offered me to take the Duster. Since I only drive manual cars that was the car I rented. I drove to Reykjavik, and the next day I went to the wonderful waterfall, Skogafoss. This waterfall is my favourite, to me it is alive and very close. I'm not even trying to explain what I feel for it. I guess I just dissolve in it and feel a connection with the world and myself as an integral part of it, the freedom, the love, happiness and the infinite beauty of the world. Just before I got in Skogafoss I got into a sand storm. Somehow, I managed to turn off the road to a farm where I got help to store the car away from the sand storm. I was invited inside to have coffee. After what I went through, I witnessed two men moving a tractor with their bare hands to shield my car better and a host in a café comforted me and told me all sorts of stories, I knew that I would always admire Icelandic people. I've spent two days in Skogafoss and while I was there I've met a guy from Latvia and we are still friends.
Surviving Iceland!
I was going to go back but I felt scared, the memories of the storm were fresh but my new friend told me: "Oh well, the main thing is that there is no wind anymore, everything will be ok". On the way back, every 5 minutes the scenery kept changing: the sun, the rainbow, the snow, the rain, it was such a lively and constantly changing picture of life. When something what seemed bad happens in my life now, I just remind myself of that road trip. The most important thing is to keep moving – doesn't matter fast or slow just don't stop.
Getting through a storm
After visiting Selfoss I didn't know that the snowstorm was awaiting for me. This day is my second birthday now. I do not know how long it lasted and I do not know how fast I was going. That day I understood what is meant by "lost control. " Flashing window wipers and falling snow made me feel dizzy and disorientated. I couldn't stop anywhere and there was no chance for me to stop because of the poor visibility. If I'd stop then somebody behind could easily hit the back of my car. I remember only three thoughts "at least if this is the end, I will die in Iceland", "I still love you, any of you " and "damn, my mother doesn't even know what company I'm insured with ".
Thank you car rental guy!
Nevertheless, I survived. I've said a thousand times thank you to the guy from the car rentals who forced me to take a big Duster 4×4 car.
Iceland will test me again
I'm not sure that I would have survived then. I think that Iceland tested me and it showed me another side of itself – harsh, merciless and spontaneous. But love means to accept all sides of the one you love and respect them. Those who do not respect Iceland are promptly parted with it. For some reason, I have no doubts that Iceland will test me again and again. I also have no doubts in the fact that nothing can change my love for it.
Getting my Iceland tattoo
All those events overwhelmed me. It was necessary to vent. In my life there is something now that will not go away and will not change. It is something what I fully trust and it is an absolute constant. I thought if I have it in my soul then let it be on my body. A great tattoo master gave me a Iceland tattoo. I didn't even think about the sketch, it seemed as if it was already on my mind. And I came back the third time in late July. This time it was birthday, already having a Iceland tattoo. This time I came alone. A week later my good friend came as well. I really inspired her with my enthusiasm and the photos I showed of beautiful places of Iceland which she wanted to see for herself now.
My home is in Iceland
It was my first experience in life to sleep in a tent and spending three nights at Skogafoss. Falling asleep and waking up to 100 meters away. I felt happiness and peace. Noticing a car with the logo of the Italian photographer whose Iceland photos I admired. When I expressed my admiration I found that it had a whole film crew. One of the members was the guy I've met in Milan. He recognized me and we both rejoiced that we've met here in Iceland. This time I left Iceland with a bunch of Icelandic books. I began learning this language. I know that no matter how difficult it is. One day I will speak it, and that one day I will stay forever in Iceland. Because my home is there.
Related posts