Fabulous photo tours of Icelandic waterfalls
Stuck in Iceland, 7 years ago
2 min

read
122
It's been said a picture is worth a thousand words. If so these Google photo tours of some of the most breathtaking icelandic waterfalls must be worth volumes of well written text. I'll let you be the judge of that.
Seljalandsfoss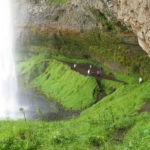 The Seljalandsfoss waterfall is a very popular tourist attraction in the south of Iceland. It's one of the few waterfalls in Iceland you can actually walk behind. It's an experience I highly recommend. Beware though of the path, it's rough and the moisture can make the rocks and mud slippery to cross.
Seljalandsfoss drops 60 meters (200ft) and there are decent facilities there for travellers.
Press here for a Google phototour of Seljalandsfoss
Skógarfoss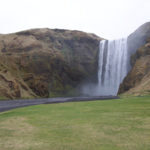 Skógarfoss waterfall is a majestic sight to behold. It's one of the biggest waterfalls in Iceland about 25 meters (82 feet) in width and 60 meters high.
There's an old legent stating that the first viking settler in the area buried his treasure in a cave behind the waterfall. Please don't try to redeam it.
At the eastern side of Skógarfoss there lies a trail upp to the Fimmvörðuháls pass which lies between the glaciers Eyjafjallajökull and Mýrdalsjökull. It's leads to Þórsmörk which is a remarkable place to see.
Press here for a Google phototour of Skógarfoss
Goðafoss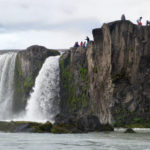 In English Goðafoss means the waterfall of the gods and it's one of the most beautiful waterfall in the whole of Iceland. Just press the photo to see for yourselve.
It's written that in the year 999 or 1000 after the lawspeaker Þorgeir Ljósvetningagoði made Christianity the offical religion in Iceland he thrue his statues of the Norse gods into the waterfall, hence the name.
Press here for a Google phototour of Goðafoss
Gullfoss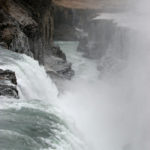 When you gaze upon Gullfoss and feel the raw power of this majestic waterfall you quickly understand why it's one of the most popular tourist attractions in Iceland. It's a sight to behold.
In english the name Gullfoss means the golden waterfall and it's well deserved.
Press here for a Google phototour of Gullfoss
Written by: S.Fjalar
Related posts