Douglas C-47 in Iceland – See the Earthbound Skytrains
Stuck in Iceland, 6 years ago
2 min

read
223
If you'd like to experience something out of the ordinary and don't mind roughing it a bit you could visit the picturesque wrecks of two Douglas C-47 in Iceland. The Douglas C-47 (Dakota RAF) was developed from the Douglas DC-3 airliner for military use. The Douglas was used by the Allies during WW II for transport of troops and cargo. There are at least two wrecks of Douglas C-47 (R4D) aircrafts in Iceland out in the open.
[amazon_link asins='B00IJZID6G,B002YMUUAM,B0078PK0B4,B000U7XKBY,B00ZW1Z2P0,1841767506,B00GR3EP96,B00CBGDIG4,0897473299′ template='ProductCarousel' store='stuckinicelan-20′ marketplace='US' link_id='85b7d056-14cc-11e8-a220-5bc1b241adaa']
The Douglas R4D at Sólheimsandur – The most famous Douglas C47-in Iceland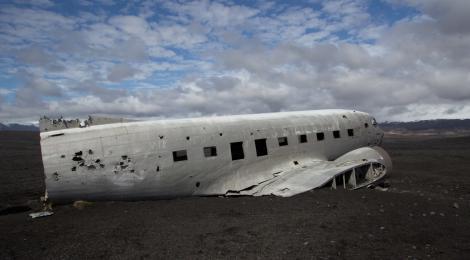 On the 24th of november 1973 the US Navy plane Douglas R4D-8 17171 on route to Höfn í Hornafirði was forced to make an emergency landing at Sólheimasandur. This was due to bad weather conditions at Höfn and low fuel. The emergency landing was successful and the plane suffered no major damages. At the time the US navy was discontinuing it's use of the Douglas C-47. Instead of repairing it, the plane was stripped of all valuables and abandoned in the black volcanic sand. Since then it's been a favorite of photographers and adventure seeking travelers. Currently, access to it is restricted.
How to get there
Drive east on road nr 1 until you reach the turn to Sólheimajökull on your left side. Drive on a few hundred meters you'll have a fenced field on your right. There is an opening in the field you can drive through. This is the track to the plane wreck and you can follow the trail in the sand. The wreck is also clearly visible in Google Maps.
The Douglas R4D-6 150187 at Þórshöfn airstrip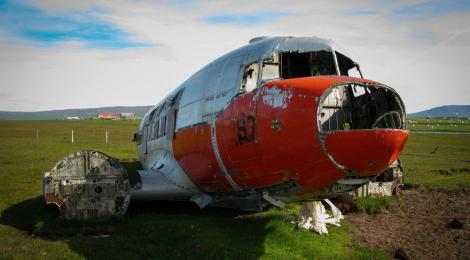 In July 1969 the Douglas R4D-6 41-50187 of the US Air Force destroyed during takeoff at the old Þórshöfn Airport in the north east of Iceland. It was written off and left to it's own devices in a grass closure not far from the airstrip at Sauðanes north of Þórshöfn. For years the farmer at Sauðanes used it for a sheep shelter. In 1996 it's wings were removed. Supposedly the plane was to be restored but something must have upset those plans. Unlike the Douglas at Sólheimasandur it still has some color but otherwise in no better condition.
Related posts