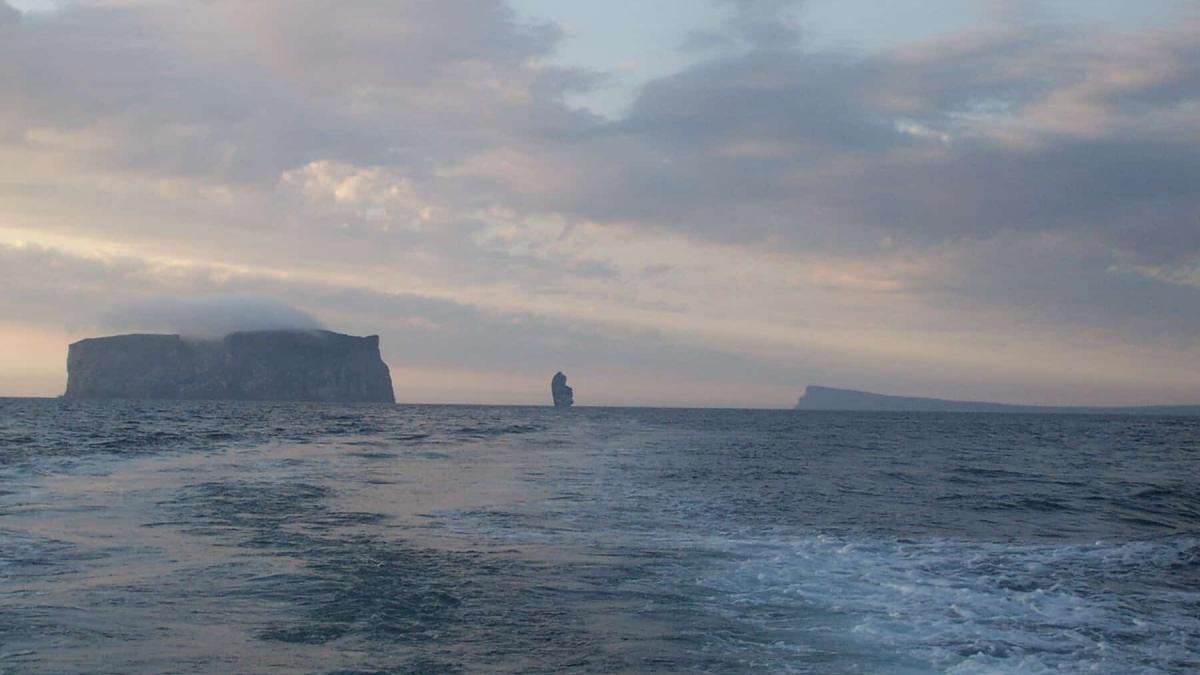 Outlaw´s Paradise
Stuck in Iceland, 7 years ago
4 min

read
320
Drangey island rises from the ocean, mysterious and distant. When you sail towards it it looks imposing and unwelcoming. When you get there you need climb up a steep ladder to get to the top of it. This island does not give up its secrets easily.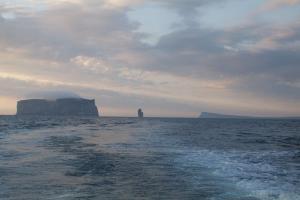 Drangey is located in Skagafjörður fjord in the North of Iceland. In many ways, Skagafjörður is a great tourist destination. It has fantastic river rafting in the Austari Jökulsá (East Glacial River) and loads of farms offer horse back riding tours. Skagafjörður is renowned for the breeding of the legendary Icelandic horse.  And you can visit Drangey and perhaps on the way out there you can fish for cod or pollock which is good fun.
Drangey is a strictly a summertime destination, I wouldn´t be interested in scaling it in the middle of winter. It is also a place filled with legends. In Icelandic culture it is connected to the Saga of Grettir the Strong, an antihero and an outlaw who spent his last years in the island in the eleventh century with his brother Illugi. To make things a bit nicer for them they had a slave with them.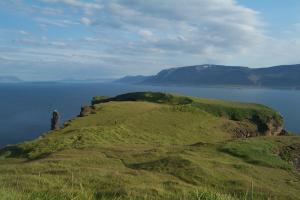 One of the many alleged feats by Grettir is that he swam the  some 7 KM way to the mainland when their fire was extinguished. According to the story he came ashore at the farm of Reykir where he warmed himself in hot pools before he entered the farmstead. As this is a family blog we will not recount the encounter our hero had with a local maid.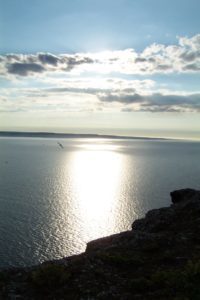 This swim has been repeated by 15 swimmers since 1927. Grettir was brutally assasinated by his enemies as he lay dying from an infected wound and was heroically defended in a last stand by his ever loyal brother. He paid for his loyalty with his death.
The forming of the island was explained by a tale of two giants, one female and one male, crossing the fjord with the fjord with their cow in tow. As seem to frequently happen to giants in Iceland they were exposed to sunlight and subsequently petrified. The male giant turned into an islet which disappeared a long time ago, the cow turned into the Drangey (big cow that must have been) and the female giant is Kerling (Old Hag), a pillar of rock jutting out from the sea south of Drangey.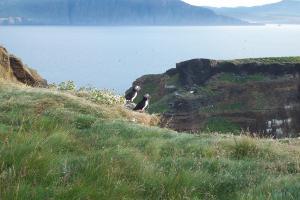 I have to admit that I can hardly tell birds a part but bird watchers should get their money worth in Drangey. Apperantly the island is a home to  guillemots, black-legged Kittiwake, ravens, falcons, fulmar auk and the ever popular hole digging and photogenic puffin. These birds were a valuable source of food in earlier and poorer times. Bird catchers risked life and limb to climb down steep cliffs for eggs. Birds were caught using sea rafts covered with snares made from horse hair. Probably not pretty but times were tough and the 200.000 birds catched per season made a huge difference.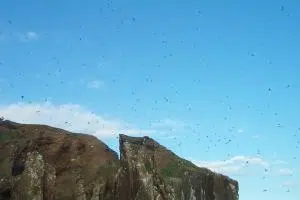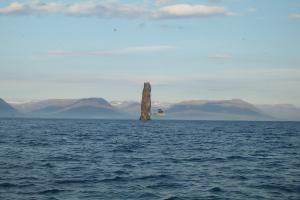 How to get there
Visit the northern town of Sauðárkrókur and you should be able to book trips from the harbour.
Ready for a Road Trip in Iceland?
Support this blog by getting a great deal on renting a car from Budget.
Related posts