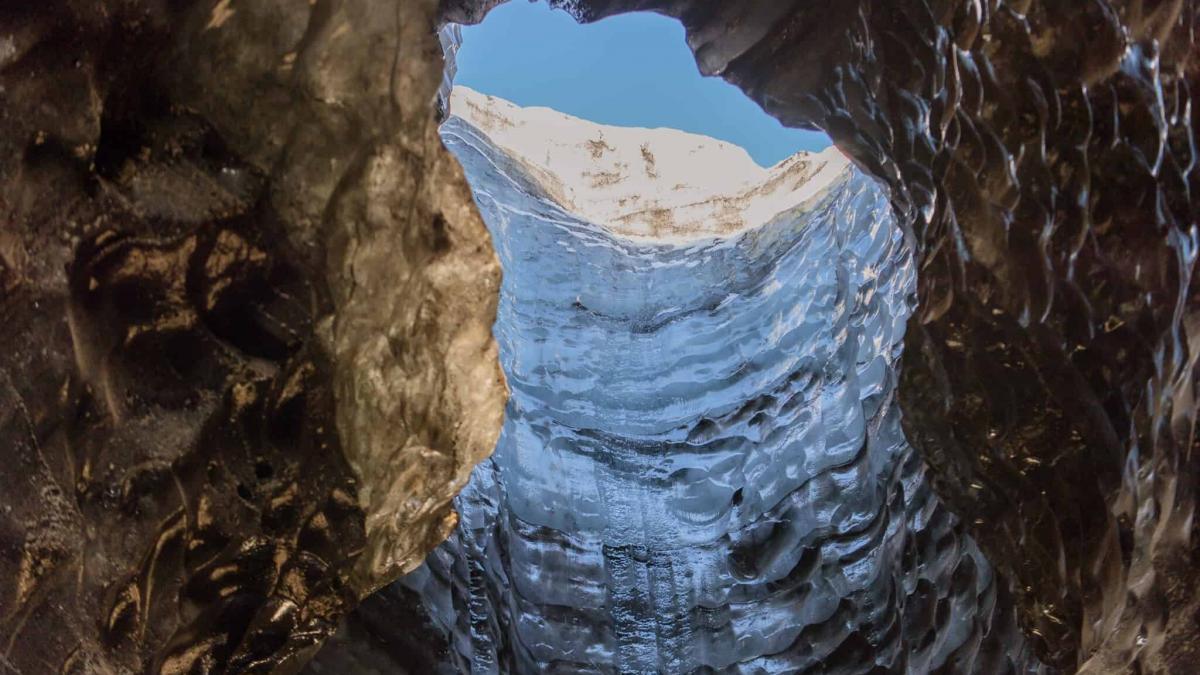 Want to see and explore naturual ice caves carved in to an Icelandic glacier? The right guys to make that dream come true is the company Katlatrack. It is owned by our friend and local guide Guðjón Guðmundsson.
Never go into an ice cave on your own
Glacial ice caves are difficult to locate and you should never enter one without being accompanied by an expert guide. These ice caves are created when the ice is carved by melt water which finds it way through deposits of sand and pumice. When we joined Katlatrack to check out ice caves we were accompanied by our friends Alice and Martin Schulz.
We started out in Vík in terrible weather so we worried that we would not be able to proceed. However, local knowledge kicked in and Guðjón reassured us that the weather would be a lot better on the other side of Mýrdalsjökull glacier.
The ice caves inside the glacial steel
After a ride in Guðjón´s Land Rover which took us through rough tracks up to the edge of the glacier the weather cleared up. Glacial ice is often called glacial steel In Icelandic  (Jökulstál). Glacial steel is apt name for the imposing ice wall of Mýrdalsjökull glacier. The ice wall is streaked grey and black with ancient ash, pumice and sand from Mýrdalssandur desert.
After we had taken a few gigabytes worth of photos Guðjón directed us to the first ice cave we entered. He put up a safety line, gave us crampons and helmets and instructed us never to stay for long underneath a cave opening. There is  always a risk of falling ice. I entered the cave and and was struck by the the glistening steely walls and roof. The light from the opposite end of the cave (or tunnel) glistened on the smooth ice.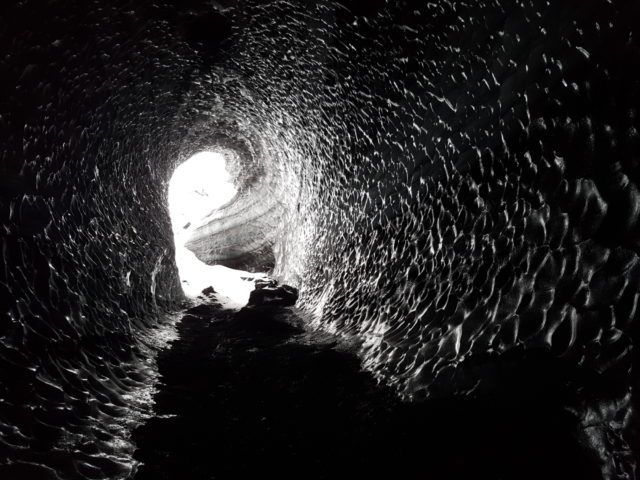 Stepping into a glacial crevice, almost
As usual, I got carried away. I was so preoccupied with the other worldliness of the ice cave I completely missed a crevice right in front of me. It was hidden by a layer of sand. Guðjón was looking out for me and warned me. If I had stepped into the crevice that would probably be it for me. If you listened carefully, you could hear a river running through the bottom of the crevice. How deep that thing went I don´t know. We could be talking dozens or perhaps hundreds of meters. We passed the crevice and passed through the other end of the ice tunnel / cave.
Guðjón also took us to another ice cave that was now nothing more than a crack in the glacial steel. It was all that remained of a huge cave from the previous year. Entering it was like going into a lair of some alien creature.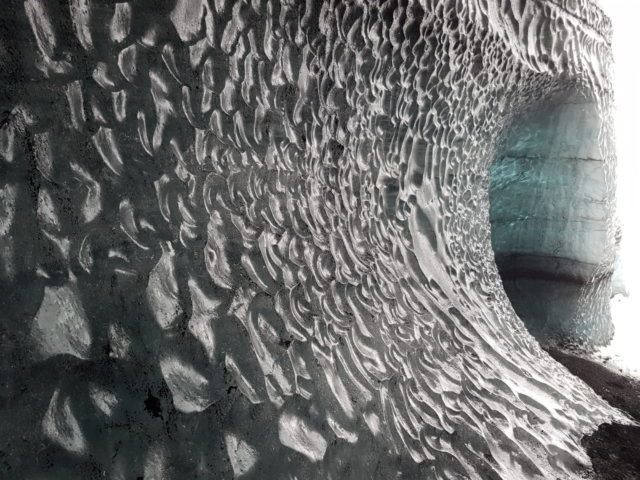 When we had explored the ice caves it was time to leave. We drove to Þakgil ravine. Snow was falling and we were sipping cocoa and eating chocolate. Then the phone rang. Guðjón´s wife had gone into labor and his third child was on the way. It was time to race back.
Related posts